This episode just ripped our hearts out, but it's only going to get SO MUCH WORSE.
"The Walking Dead" continued to give us slight variations of the comics' most famous moments, as we head towards this season's introduction to the Big Bad that is Negan.
This week, we lost one beloved Alexandrian too soon, another left on her own accord, we finally met a major player from the source material and then witnessed Eugene take a bite out of that guy's Johnson. Yeah, it was that kind of week.
Let's dig into the biggest takeaways from "Twice as Far." And get the inside scoop from one of the stars of the show, mullet master himself Josh McDermitt, in the video above -- as he breaks down this episode's most dramatic moments. Check out his full interview right here.
AMC
1.) Denise Will Never Give Tara That Orange Pop
Poor Denise, we hardly knew you! While the character stuck around a bit longer in the comics, Merritt Wever's doctor-in-training was not long for this brutal new world.
She wanted to go on what should have been an easy run, talking Rosita and Daryl into joining her to see if there were any medical supplies in a nearby apothecary. She's never been outside of Alexandria's walls since the zombie apocalypse, but wants to do what she can "to help."
When they get to Edison's, it's covered in bloody walker handprints. They hear a noise inside and Denise goes to investigate. What she finds is horrifying. Inside a back storage room she finds a baby crib, a nasty rotting zombie and a sink filled with blood. Also inside the sink, a baby's shoe. Yeah ... this walker ate its baby.
The sight is too much for her and she runs out. Daryl and Rosita reassure her that she "did good" by finding the place -- but tell her she's just "not ready" for the reality of their current situation.
On the walk back to their truck, Denise spots a cooler inside a car on the side of the train tracks. Though her travel companions tell her to just leave it, she doesn't listen, tries to get it out of the vehicle and ends up with a walker attacking her. While it nearly bites her, she grabs her knife and stabs it through the brain. The incident makes her puke all over her glasses ... but, in her mind, it was still worth it. She found a can of orange soda, something her girlfriend Tara has been dreaming about.
Daryl and Rosita berate her, before she delivers a passionate monologue, explaining why she wanted to go on this run in the first place.
"I asked you to come with me because you're brave like my brother and actually make me feel safe," she says to Daryl. "And I wanted you here because you're alone," she continued, motioning to Rosita, "probably for the first time in your life and because you're stronger than you think you are, which gives me hope maybe I can be too."
"I could have gone with Tara," she continues, referencing her girlfriend's supply run with Heath. "I could have told her I love her, but I didn't, because I was afraid. That's what's stupid. Not coming out here, facing my s--t. And it makes me sick that you guys aren't even trying because you're strong and you're smart and you're both really great people. If you don't wake up and ...."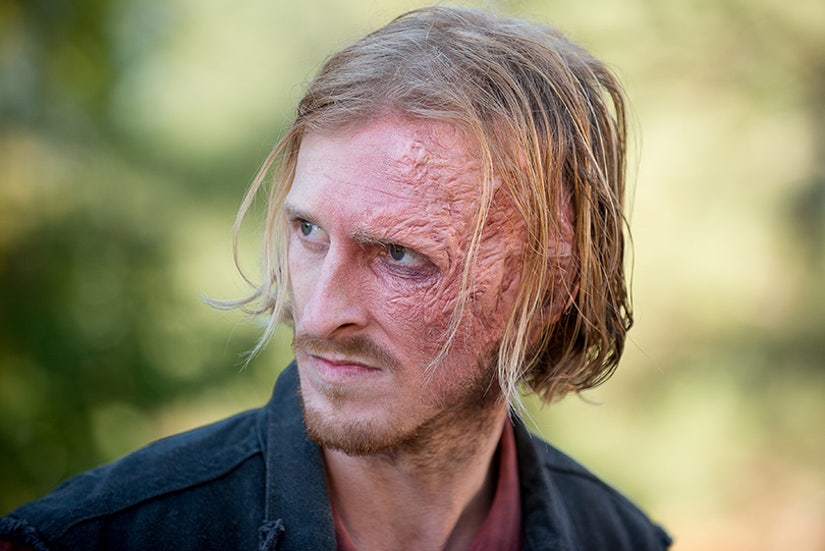 AMC
2.) Meet Dwight, He of the Half-Burned Face
We quickly find out that Denise was shot with Daryl's very own crossbow, which had been stolen by a mystery man (above) and his lady friend in the woods a few weeks ago. The man reveals himself as Dwight, a huge player in the comics.
Warning: The next portion of this section will contain spoilers from the comics that provide some insight into what's going on here. It's unclear whether they'll reveal this intel or change it up for the show.
In the books, Dwight's burns come from Negan. You see, Dwight's wife decided to leave him for Negan, who promised her protection in return. But then she hooked up with her ex again, it was a big no-no in Negan's eyes. Dwight's punishment for sleeping with one of "his" women: a hot iron to the face. He later becomes an ally of the Alexandrians.
We're guessing Dwight was punished in the show for trying to escape before, but the woman he was with may also have something to do with it.
Dwight has kidnapped Eugene, after Abraham left him alone earlier at a metal factory. Daryl tells the Freddy Krueger look-alike that he should have killed him when he had the chance.
Dwight says he wasn't even aiming for Denise, but hit her because the crossbow he stole from Daryl "kicks like a bitch." Way to make Daryl feel even worse about this.
"This isn't how we like to start new business arrangements, but you pricks kind of set the tone, didn't you," Dwight asks, referencing the attacks on the Saviors over the last couple episodes. Between the massacre at their base, the group Daryl blew up with a rocket launcher and the battalion Carol burned to a crisp, the Saviors don't have the best impression of the Alexandrians.
"You're going to let us into your little complex. And you're gonna let us take whatever and whoever we want. Or we blow Eugene's brains out, then yours and then his," Dwight warns. "I hope it doesn't come to that, really. No one else has to die."
Eugene distracts Dwight's squad by giving away Abraham's hiding spot, then bites his junk! Yep, good 'ol Eugene, on his knees, goes right for the Johnson -- and seems to actually take a chunk off. Damn, that was rough to watch. See what McDermitt said about filming this scene below -- and find out how he almost got his teeth knocked out by Dwight's crotch!
Dwight and his lackeys retreat, leaving Daryl's crossbow behind. First his bike, now his weapon of choice, Daryl's back!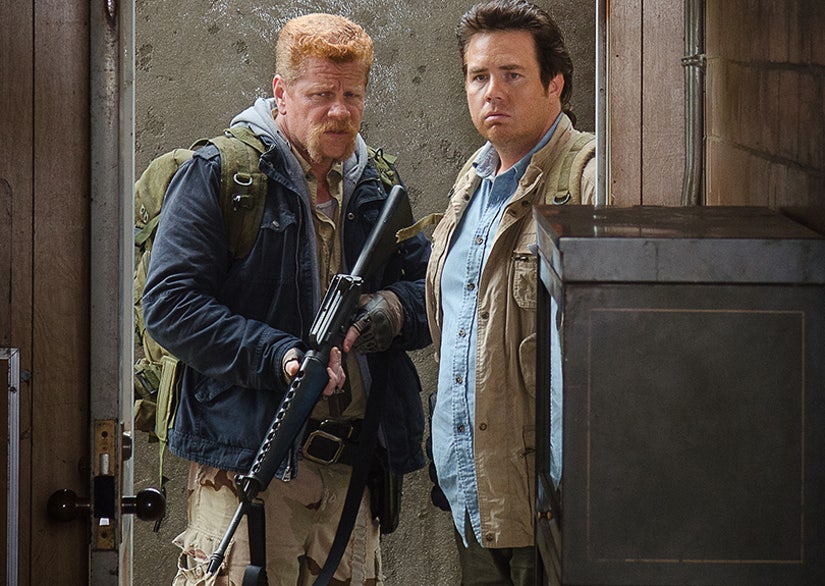 AMC
3.) How Abraham Really Lucked Out
Our ginger friend almost broke up with his BFF and witnessed a brutal standoff ... but things could have been a lot worse for him.
In the comics, it's actually Abraham who takes the arrow to the head by Dwight, killing him instantly. Looks like the show really wants to keep Michael Cudlitz around, sacrificing Denise in his place.
The episode ends with him confessing his love to Sasha, telling her that 30 years with her in Alexandria would still be "too short." She goes for it, inviting him into her home.
So, not only did Abraham not die ... a big plus in his book ... he's got a new love story brewing.
He also got the best line of the night: "You know how to bite a d--k, Eugene. I mean that with the utmost respect."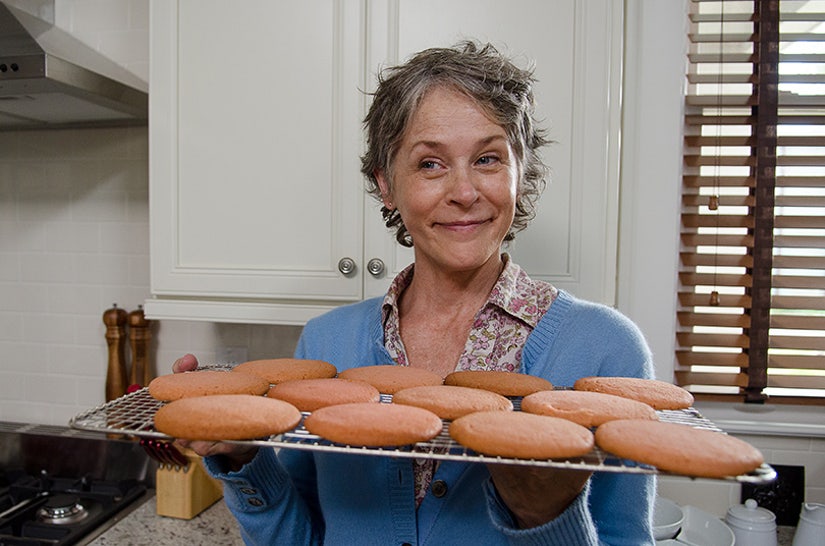 AMC
4.) Was This Carol's Big Goodbye?
Carol's been slowly breaking down since the show returned from break. First, she felt guilty over what happened with Morgan. Then, we saw her showing regret over the number of people she killed -- bristling as she put another name down on the list. Last week, she hesitated to kill the Saviors who kidnapped her, then had a breakdown while captive.
Though it seemed like she was playing them at first, Carol was very shaken up by the end of the episode ... and even gave Alicia Witt's character the chance to escape. Ending the episode by burning a group of men alive really messed her up.
During the final moments of Sunday's episode, we see her say goodbye to Tobin via a hand-written letter.
"I wish it didn't have to end, not this way. It was never my intention to hurt, but it's how it has to be," she writes. "We have so much here, people, food, medicine, walls, everything we need to live. What we have, other people want too and that will never change. If we survive this threat and it's not over, another one will be back to take its place, to take what we have."
"I love you all here, I do. But I'd have to kill for you and I can't, I wont," she continued. "Rick sent me away and I wasn't ever going to come back, but I did and I wound up staying. But I can't anymore. I can't love anyone because I can't kill for anyone. So I'm going, like I always should have. Don't come after me please."
The message was to Tobin, but it sure sounds like it was written for all of the people of Alexandria.
In case you forgot, Rick initially kicked Carol out of the prison after she killed Tyreese's girlfriend Karen and another community member. They were infected with a virus and she feared it would spread. She came back into the fold after the prison attack by the Governor and became a true badass since.
Anyone else really bummed out by this new development? And do you think she's really gone?
5.) Place Your Bets for the Bat
Warning: The rest of this post will also reveal moments from the comics. Stop reading now if you don't want to learn any more!
The season finale is only a couple weeks away, which means Negan will be here any day now.
In the comics, he brutally murders Glenn to punish the Alexandrians for not playing by his rules. The show, however, has a history of switching things up a bit. While we're certain the villain will kill someone, it probably won't be our favorite former pizza boy.
So ... who's it gonna be?
After this week, we're really starting to lean towards Carol or Daryl.
By process of elimination, it kind of has to be one of them. They already almost killed Glenn and it'd hew too close to the comics, they don't kill off a pregnant woman, they can't kill another of Rick's girlfriends so close after the last one, so Michonne's safe, Rick's off limits and Carl already got his eye shot out. Plus, the other characters (Rosita, Abraham, Sasha, Eugene) just don't feel BIG enough for a season finale killing.
There's also no way Carol is just gone. Possible scenario: She leaves, gets kidnapped and then is trotted out by Negan during the finale ... only to be killed in front of everyone. That would send quite the message to both the survivors and everyone at home: no one is safe. We can also see Daryl trying to find Carol after she runs off, and the same thing happening to him.
What do you think will happen? Sound off below!
Other notable developments:
Eugene thinks they can manufacture their own ammo, something which will be HUGE for their defenses if they can pull it off.
Morgan makes a jail, so they'll have somewhere to keep the bad guys the next time one pops up ... instead of just killing them.
What did you make of this week's episode? Sound off below!