Here's something you probably didn't expect Joey Fatone to talk about: his daughter's time of the month.
The former *NSYNC star reprises his role as Angelo in "My Big Fat Greek Wedding 2," picking up 14 years after the first film became a romantic comedy classic. And while his character has gone through some major life changes, so has Fatone himself.
"I think Joey Fatone has matured in a sweet way without losing any of his mischievous boy behavior," Nia Vardalos tells toofab, while promoting the film's partnership with Windex -- and she's right. "To be honest, it felt quite natural to write them all as I felt they would be a decade later, because they mirror the ever-evolving changes in my own family."
At 39, Joey's come a long way from his frosted-tip days as a boy bander. He's also the father to two daughters, Brianna, 15, and Kloey, 6. That being said, he's still a total goofball, as evidenced in our chat with him about the new flick.
Keep reading to see what he told toofab's Brian Particelli about reuniting with his former "Greek" costars, his own issues with having a teenager in the house and how he embarrasses her on the regular. Warning: Minor film spoilers below. For more from Joey, check out what he told us about working with the Backstreet Boys on a new zombie flick.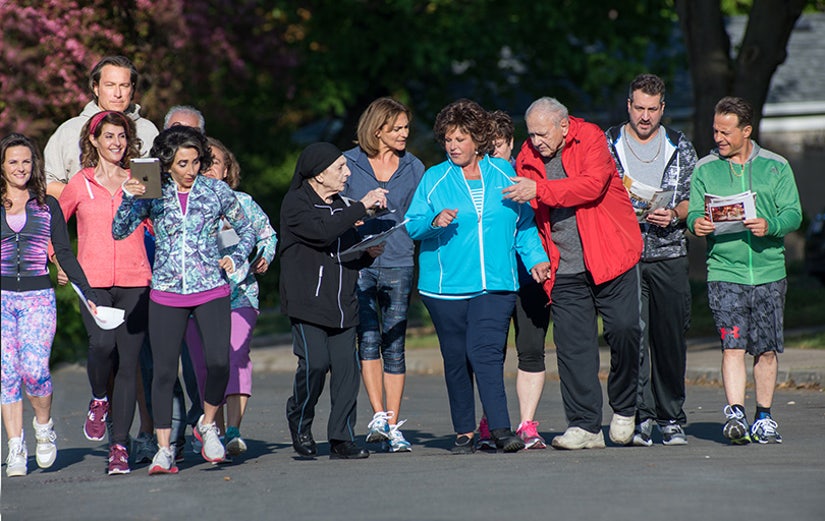 Universal Pictures
toofab: Did you ever think you'd be making a sequel, especially all these years later?
Joey: Nope. It was kind of interesting. We'd heard little rumors here and there, but then, one day, it was like, "Uh, Nia, is this really happening?" And she's like, "You know what? Yeah it is." She kept it hush-hush for a while, as far as writing it, and she's like, "You know what? I'd love for you all -you know, trying to get everybody to come back, the original cast, and do it one more time, and see if it happens."
toofab: And were you on board right away?
Joey: A hundred percent. When you're in pretty much the biggest romantic comedy, and Nia wants to be back, why would you say no? Unless you're too good for it. Then you'd be like, "Listen. I want caviar in my trailer. I'd like to have lobster and steak every night." Which didn't really happen. I asked that, and they told me no.
toofab: Maybe for the third one.
toofab: Were you surprised when you saw the script, what was going to happen with your character?
Joey: Yeah. I mean, I had no idea. What happened was, before we did the table read, I never got the script, they wanted to hand it to me directly. They didn't want to give it to managers or agents or anything like that. They wanted us to specifically have it, and kinda keep it, you know, hush-hush. When I sat with Gia Carides, who plays my sister, she was like, "Hey, did you read the script yet?" I'm like, "No!" And this is the night before the table read with everybody. And she's like, "You don't know what happens to your character?!" I'm like, "What, do I die? Great. Now, great. I'm gonna die now. Great." Then it was like, "No!" And she tells me. And I'm like, "Oh."
toofab: Your character comes out as a gay man in the film, how did you approach that?
Joey: It was a matter of just trying to figure out how to really dig into it without being cheesy or overly dramatic. It's a fine line, you know.
And I've asked friends of mine that have had to tell their parents what's going on in their lives. And it's like, how do we deal with that, with the acceptance of that, and being able to go, "Okay, well, we accept that." Or maybe they don't accept it. And like I said, I've had friends and family - you know, especially friends of mine - that really have done that and been there. And I've asked them, "What is it like? What happened? How did you do it?" You know, so we - we kinda find that line of really figuring it out and making it work.
toofab: And now you, in real life, just like Toula and Ian [Vardalos and John Corbett], you have a teenage daughter of your own...
Joey: Yeah, it's crazy. You know, it is. It is pretty interesting. I mean, my daughter's gonna be - next week, she's actually - s--t, she's turning fifteen. So she's going to be able to get her permit and drive, which is scary.
And my other one is six. So, I'm going through the emotional, "Oh, you just don't understand, and, you know, I'm going through a lot of the hard times." And what's interesting to me, which I never knew how to handle either, was when they get their period. I mean, when they go through the whole puberty thing. That's a whole 'nother ballpark, that just - you just wanna kill yourself.
toofab: So, you've definitely been in Ian's shoes. [In the film, Corbett's character gets tampons for his daughter]
Joey: Yeah, you can relate to it. I think that's what, with Nia, she knows from life experience, and that's where she writes from, really. She really does. She writes from life experience.
toofab: In this one, her character's daughter has a prom at the end. Are you getting ready? Are you mentally prepared to go through that yourself?
Joey: Nope. What was crazy was, even though she's in ninth grade, we actually - it's pretty funny, because in the movie, we go to her college fair -- and even though my daughter's in ninth grade, the private school wanted her to go to the college fair, just to check it out, just to see what the options are and see maybe if something interests her. So, we went to the college fair, and even though she's only in ninth grade, we walked around, and I was like, "Are you serious? We're actually doing this?"
I just did this in a film! It's weird to, you know, make them grow up so fast. It's like, "Wait, they're only fourteen! The kid's in ninth grade! Let her enjoy her life."
toofab: Do you find that you're kind of starting to embarrass her more too?
Joey: I did it all the time. I embarrass the hell out of her, especially when I drop her off at school. I'm like, "Daddy loves you!" And I roll down the window. I'm like, "Gimme a kiss!" Like, "Dad, stop."
toofab: So, you are that parent.
Joey: I'm that annoying parent, yes.
Check out Joey in action when "My Big Fat Greek Wedding" hits theaters this weekend.