Sia Furler has made a career out of blocking her face -- but last night, a lucky few got to see what she's hiding under those wigs.
The singer appeared as a mentor on "American Idol" on Thursday, as the remaining contestants all sang songs from her catalogue. While it's clear some of them got to see what she's got going on under those wigs, viewers watching at home did not.
During her on-camera interview, she once again sported a wig with ridiculous bangs ... and all shots of her coaching the contestants were taken from behind her back or from the neck down.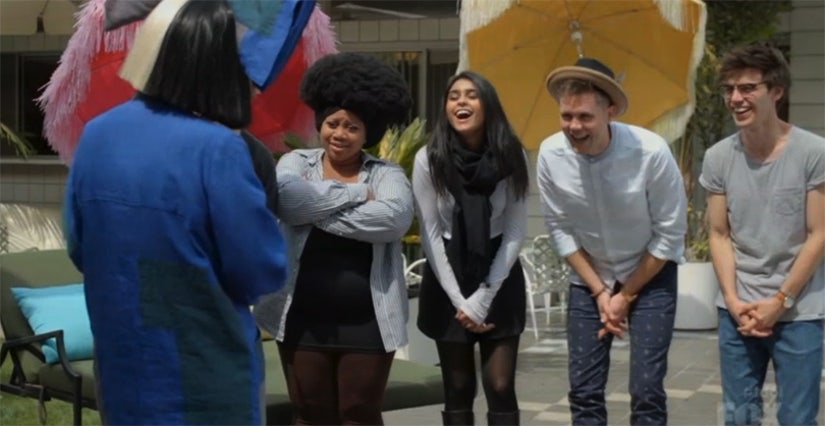 Fox
"I spent 20 years of my career as an indie singer songwriter and I didn't want to do the regular grind I had been doing," she explained of her look in a confessional. "I was like, 'How can I make more music without giving away so much of myself?' I just want to have a normal life. "
"This whole getup is the most useful gimmick I could have ever explored," she added. "Writing is much closer to my heart."
Furler got emotional after her rehearsal time with the contestants, later admitting, "I stood before these kids and they were singing words I had written and I kind of wanted to cry. It was quite moving."
She later performed, still covering up her face.
Though she's done events out of "costume" before (see the photo above from October 2015), the singer's fans have been tweeting around a photo of her from the filming of "Idol" -- where her bangs don't cover her up for once. This is likely how she looked when she coached the contestants.
"I don't wear this unless there's cameras around," Sia said of her wig. "I only wear this to try and maintain a modicum of privacy."
"I was a singer for ten or eleven years to mediocre success. I was an alcoholic and a drug addict, and I sobered up, and decided I didn't want to be an artist anymore because I was starting to get a little bit famous and it was destabilizing in some ways," she continued. "I thought what doesn't exist in pop music at the moment, and it was mystery."
Looks like it's working for her!