There's a new Big Bad in town and his name is Negan.
While "The Walking Dead" has been teasing his arrival all season long, we finally met the dreaded leader of the Saviors during tonight's season finale ... and his trusty sidekick, Lucille.
Fans of the comics have been highly anticipating/dreading this guy's arrival since he was cast, as he's known for committing one of the most brutal acts in the series' history. Tonight, we saw some of it go down.
After her collapse last week, Maggie needs to get to The Hilltop, stat, so Rick, Eugene, Sasha, Abraham and Aaron take her in the RV to get help. Why they needed to bring SO MANY of the town's top fighters is a little questionable. Gabriel and Spencer aren't exactly who we'd want running things if Rick and Co. left town, but we digress.
While all this is happening, Morgan is on the hunt for Carol. Let's quickly go through their storyline first.
When he finds her, she explains why she doesn't want to get close to anyone ever again. "If you care about anyone, there is a price, Morgan, and you're gonna pay it. I have and I can't anymore," she tells him, referring to the number of people she's killed to keep others safe.
He tells her she'll die on her own ... and she proves him right. After giving Morgan the slip, Carol is immediately attacked by the one member of the Saviors who survived her standoff with them last week. Just as he's about to kill her, Morgan shows up and tells him to drop the weapon.
"Stop! You can survive this, drop it, please," Morgan pleads. The Savior isn't having it. But just as he's about to pull the trigger, Morgan does it first, and totally blows the other guy away. "You're gonna come back from this," he tells Carol.
The last we see of them, two men on horseback approach, covered in protective gear. They offer to help.
So ... who the hell are those guys? Minor comics spoilers below.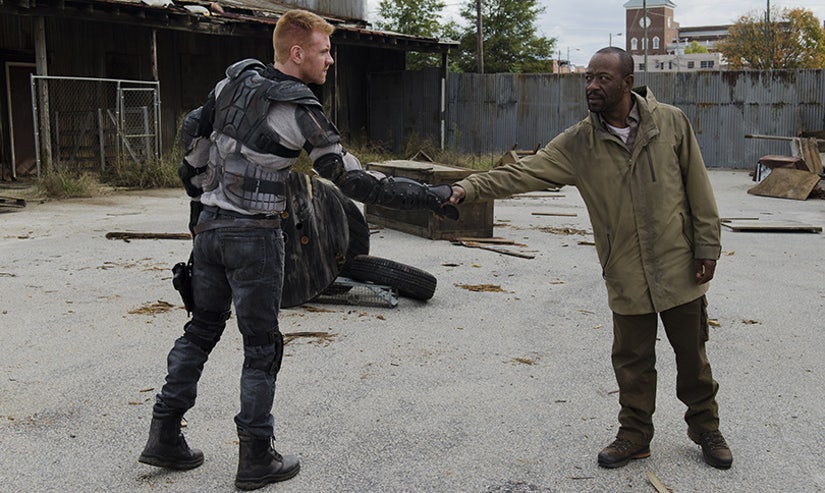 AMC
Fans of the source material will recognize them as residents of The Kingdom, another nearby community that, like The Hilltop, does not want to bow down to Negan's rule. They're led by the dread-locked Ezekial, who has his own pet tiger, Shiva. Going into Season Seven, it looks like we can expect members of The Kingdom, Alexandria and The Hilltop to come together for "All Out War," an especially memorable comic arc that sees a brutal battle between them and Negan's followers.
We're just glad Carol's safe, for now. We were seriously worried about her going into the finale. Thankfully, she did not meet Lucille. That being said, she and Morgan and pretty much the only ones we can rule out as not being Lucille's victim.
After driving into an obscene number of road blocks, Rick and his group are all but corralled into Negan's grasp. The scene showing the survivors getting surrounded in the woods by a group of giant men brandishing equally giant weapons was absolutely terrifying. Their whistles in the darkness as they closed in on the group were haunting, right?
Dwight is also at the meeting point with Michonne, Glenn, Daryl and Rosita. He lines them all up on their knees, next to the Grimes boys, Michonne, Maggie, Abraham and Eugene. It's time for Negan to finally make his entrance.
And boy, what an entrance.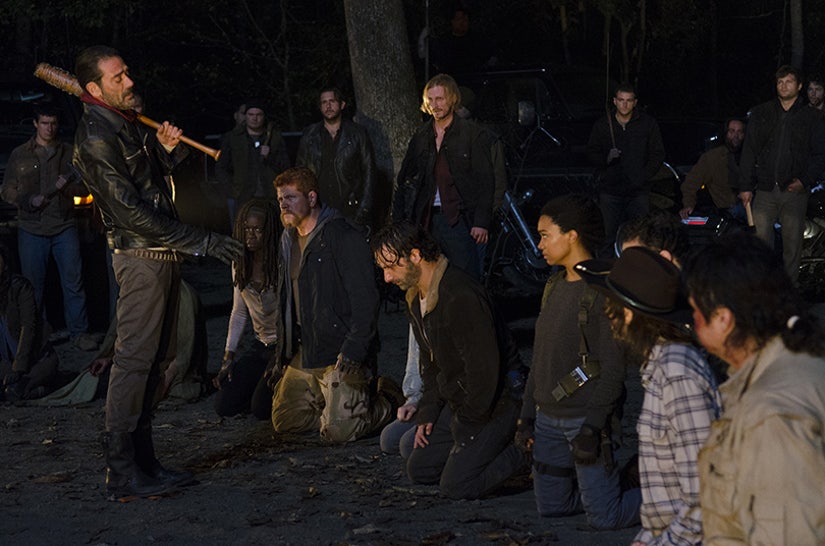 AMC
Jeffrey Dean Morgan definitely lived up to the hype, as he was equal parts menacing and charismatic, just as the character appears in the comics. The only difference: No f-bombs here.
The rest of the episode belongs to Negan, who lays out the new rules to Rick: "Give me your s--t or I will kill you."
"You work for me now. You have s--t, you give it to me, that's your job," he tells them all. "I know that is a mighty big nasty pill to swallow, but swallow it you most certainly will. You built something, you thought you were safe, but the word is out. You are not safe. Not even close."
He tells them he doesn't want to kill them, because that would just be bad business. He needs them alive, so they can work for him. But, someone still had to be "punished." Their punishment: getting their head bashed in by Negan's barb wire-covered baseball bat.
"This is Lucille and she is awesome," he tells them of his weapon of choice.
Negan makes his choice by playing the worst game of "Eeny, Meeny, Minie, Moe" imaginable. Before bringing down the bat, he tells them, "You can breathe, you can blink, you can cry" ... just as he does in the comics.
The screen gets covered in blood before going to black, as we hear thump after thump. "Taking it like a champ," we hear Negan yell, as he continues to beat someone to death. But that's where it ends. That's right, after waiting to find out who Negan would kill all season long, we still don't know. And we won't know until after the summer. That's SO far away!
We can't help but feel let down by the lack of closure here. While this is what a cliffhanger should be, everyone's been waiting to see who he kills all season long. The showrunners better pay it off when the show returns after the summer.
In the comics, Negan kills Glenn, a central character. His death has major ramifications for the group, especially for Maggie, who's pregnant with his child. The show has a history of remixing major comic deaths and events -- so it's extremely possible Glenn won't be the one who dies. If it's not him though, whose death would have as much of an impact? Aaron, Rosita, Sasha, Abraham, Eugene are all good characters, but they're not the leads. That leaves Maggie, Glenn, Rick, Carl, Daryl and Michonne. If it's not one of them, it'll seem like even more of a cop out, right?
What do you think of the cliffhanger? Who do you think he actually killed? Do you think they stayed faithful to the comics or do you think someone else got the axe? Sound off below!