There's some serious tension between these famous exes!
During Sunday night's episode of "I Am Cait," Caitlyn Jenner reunites with her ex, Kris Jenner, during a trip to Mardi Gras in New Orleans, Louisiana.
After a night of fun on Bourbon Street, the former Olympian even plants a big kiss on Kris, who looks less than thrilled about the idea of locking lips with her former spouse.
It's obvious that these two are still struggling to establish a new relationship after Caitlyn made her public debut as a woman last year.
Kris and Caitlyn (at the time known as Bruce) divorced in December 2014 after separating a year earlier. They had been married for 22 years.
The wounds are definitely apparent when Cait's pals asks if the mother-of-six knew about her ex-husband's desire to transition early on.
"He says to me, 'Do you ever want to have more kids?' And I said 'God no.' So he says, 'Either do I. I couldn't have any more kids if I wanted to," Kris explains. "He goes, 'Back in the 80s, I messed around with this or that and kind of screwed up my sperm count.' It could have been steroids for all I knew, because he was an athlete. He never said it was estrogen ... There was no, 'I'm transgender.'"
"I said I had a condition that I had been dealing with forever," Caitlyn says in response. "I said that I was on hormones, and that's the reason it might be tough to get pregnant."
"None of that was 'I want to be a woman,'" Kris interjects. "I certainly told her what was going on," Cait declares.
Despite failing to agree on when Kris found out, the famous momager admits that it came as a shock to her.
"I definitely took it personally," she reveals. "I feel like she was very unhappy for a very long time."
"I was surviving, but I was dealing with a lot," Caitlyn admits.
Things take another awkward turn when Kris asks the group a very personal question.
"If you're a transgender woman, what do you do with the bits and pieces that are below the belt? ... Am I getting too crazy?" she asks.
After a long awkward pause, Caitlyn's friend, Kate, answers the question.
"Genitals really have very little to do with who you think you are. It really doesn't matter what a person has down there."
Caitlyn seems mortified by her ex's question, but she actually addresses the topic earlier in the episode.
The reality star admits that she hasn't decided if she will ever get gender reassignment surgery.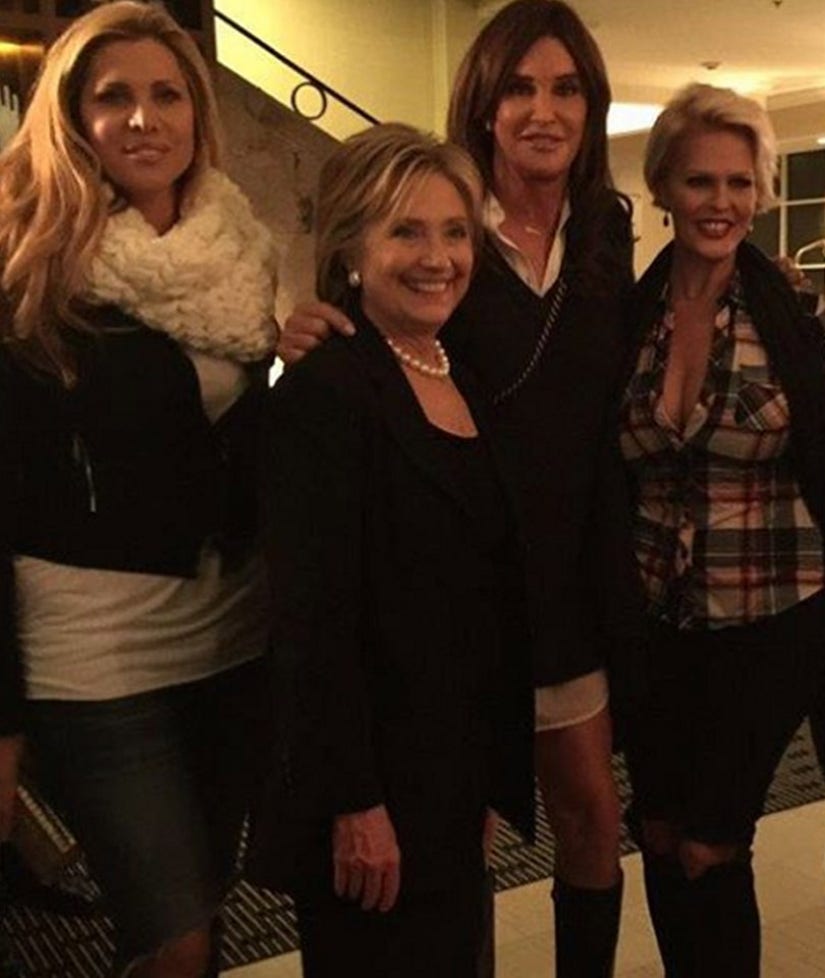 Instagram
Cait and Kris' tension reaches an all time high when the group talks politics.
The "I Am Cait" star has been open about being a conservative Republican, which has become a point of contention with her transgender friends.
"For me it's not that you're a Republican, it's how I experience you expressing your Republican views," Kate declares. "Oh, hallelujah," Kris yells.
After Caitlyn tells a story of meeting Hilary Clinton -- who she calls a "politician" -- Kris goes in on her ex.
"You're not a politician, but you think you're a politician," she says. "Sometimes when you talk to somebody about your views, not everybody is going to always agree. Sometimes you can get a little cranky ... You're really crazy about this one thing, and no one wants to sit around and listen to this s--t, so shut the f--k up and relax."
Caitlyn isn't pleased with her ex, but her friends clearly enjoyed it!
The episode ends with another cliffhanger after Caitlyn says she needs to talk to Kris about something important.
"I need to have a one-on-one conversation with her before she leaves," Cait tells the camera before heading to Kris' hotel room. The episode ends with Kris opening the door.
What do you think happens next? Sound off with your predictions below!