Next month, the epic road trip movie "Thelma & Louise" celebrates its 25th anniversary -- and to celebrate, the film's two stars just reunited for an epic photoshoot with Harper's Bazaar.
Susan Sarandon and Geena Davis recently got back inside their characters' Thunderbird to reminisce on making the flick, reveal where they think their characters would be now (if they lived) and sound off on women in Hollywood today.
Though the film famously ends with the two driving off a cliff, Susan had some interesting thoughts about what would have happened if they survived the crash.
"Well Thelma's definitely not with her husband anymore! One would only hope she found Brad (Pitt) again," Sarandon jokes. "Maybe Louise became a lesbian. That would be fabulous. Maybe she continued her trip and ended up running an Airbnb."
Jason Schmidt
"When we did 'Thelma & Louise,' I really didn't think it would have the kind of resonance it had," Susan adds. "It wasn't seen as any feminist statement. I was very concerned that it wouldn't be seen as a revenge film. The real thing Louise is asking throughout the movie is, 'Why do guys think this is okay?'"
The reaction to the film surprised Geena too, as it exposed some major double standards in the industry.
"There was all this talk about how it was so violent – and this was after 'Lethal Weapon' came out," she tells the mag. "We've been stuck in this world where Hollywood operates under the assumption that women will watch men, but men won't watch women. We never get any momentum because everything's a one-off."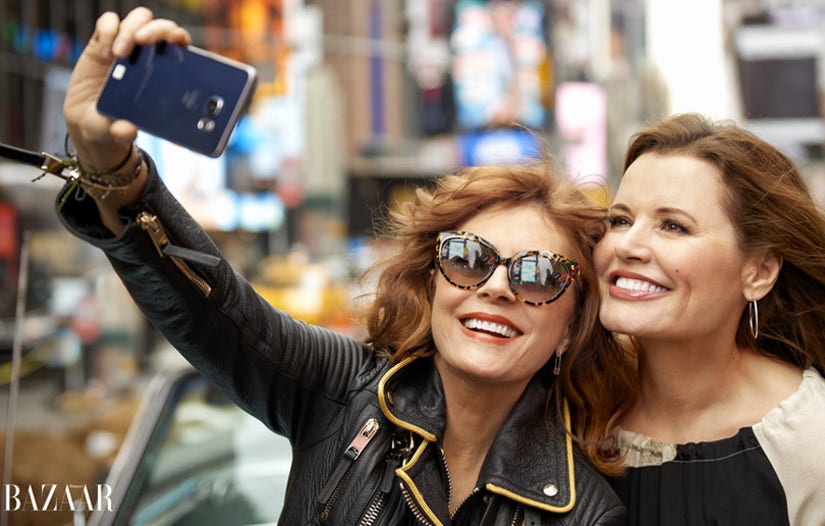 Jason Schmidt
Have times changed at all? Sarandon says she's thrilled to see some of the women flourishing out there these days.
"Today I think there is a crop of young women who are interested in having fun and having lives but are not necessarily trying to please all of the time – even though they are scrutinized constantly," she says. "The Melissa McCarthys, the Amy Poehlers, all of the gals who are creating work, being funny and independent. You don't always have to be about liberation."
"Then there's Shailene Woodley and Ellen Page and Brie Larson — they seem to be creating a life," she adds. "Kristen Stewart. Saoirse Ronan. These women are using their careers instead of being used by them."
Check out the gallery above to see what more women of the '90s look like now!