The early '00s are back with a vengeance!
Last night, the swanky L.A. bar The Faculty played host to the launch of the upcoming My2K Tour. Heads up: these reunions will have you dusting off those handheld CD players and replaying all those discs you saved because you knew you'd use them again one day.
Remember that great girl group Dream? Their first single, "He Loves U Not," was everywhere when it first hit the airwaves in 2000, even nabbing the #2 spot on the Billboard Top 100.
Two years later, the pink-clad P Diddy discoveries released their last album ... but then quickly fizzled out. Individual members had various solo projects in the years since - Holly Blake-Arnstein even became an occupational therapist - but they're finally staging a comeback.
"We've desperately desired to sing together and for our fans for a very long time," Melissa Schuman dished to E! last year.
Holly, Melissa, and Ashley Poole were all at last night's event. Fourth member Diana Ortiz was MIA, but she is on the My2K Tour's website, so here's hoping she's hitching her wagon to the show too!
But Dream's just the beginning. Wait'll you hear who else is on this lineup.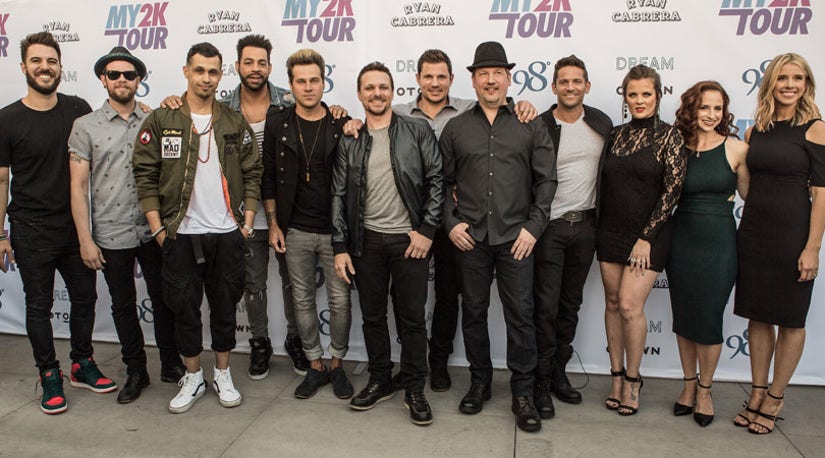 Getty
Ryan Cabrera's kept on plugging away since his debut single "On the Way Down" made it to #15 on the Billboard Hot 100 in 2004. Now 33, he also was briefly on "The Ashlee Simpson Show," when he dated Jessica's younger sister.
Since getting together in 2000, O-Town's shrugged off two members: Ashley Parker Angel and Ikaika Kahoano.
The boy band result of MTV's "Making the Band" still has a core of four: Jacob Underwood, Dan Miller, Erik-Michael Estrada, and Trevor Penick all joined the 2013 reunion, a decade after the band first split up. They're all on the band's newest album, 2014's "Lines and Circles."
And who's our headliner? Ladies and gents, 98 Degrees is back on tour!
The boy band had parted ways in 2002 with millions of records sold, including their quadruple-platinum album "98 Degrees and Rising."
But after playing onstage together again in 2012, Justin Jeffre, Jeff Timmons, Nick Lachey, and his bro Drew Lachey couldn't keep away from each other. They've churned out another tour and another album since then.
The tour kicks off July 8th, with an inaugural performance at Park City, Kansas' Hartman Arena.
Their plans are to spend the summer bouncing around the country, with shows ranging from Brooklyn's Coney Island Amphitheater to L.A.'s Microsoft Theater to Vegas' The Beach at Mandalay Bay Resort & Casino.
The final gig will be on August 20th, at The Mountain Winery in Saratoga, California.
Check out their full tour schedule here to see if and when they're playing near you!