Audrina Patridge is setting the record straight!
The "Hills" alum took to her blog this week, for the 10 year anniversary of the show, to answer fans' burning questions about the beloved MTV reality series.
Though numerous cast members have talked about how scripted the show actually was, Audrina says there were a lot of real relationships too.
And despite what her on-screen ex Justin Bobby said about their romance being solely a "working relationship," Patridge says they were very much a couple in real life and not just for the show.
"I have been asked this question a few times, as well. Long story short: Justin and I met before The Hills," she writes. "We were both ironically from the OC and he slipped me a paper with his number and offered to do my hair. He was a charmer…"
"So, we started hanging out and got to that weird 'what are we' point. He filmed bits for the 1st season doing my hair, but they never made it to air because he wasn't really into it. We kept in touch and were 'together but not together,' if that makes sense. It was a confusingly interesting time to say the least! We had a real connection and love for each other, but we were both also VERY young," she explains.
The mama-to-be also thought Justin and Kristin Cavallari's romantic storyline for the show was extremely odd.
"In the beginning I thought it was super weird and just plain random," she reveals. "Then, I took myself out of that situation, refused to go to the 'Malibu beach house parties,' clubs, etc. because I knew that if I did show up, they wanted fights and drama and tears… and I didn't want to be a part of that anymore. Kristin was in it for the drama and the show didn't seem to really care. At that point, The Hills had transformed into a whole new cast and show in comparison to what it originally started off as. Plus, I was dating someone else at the time and had no desire to keep getting thrown into the fire pit!"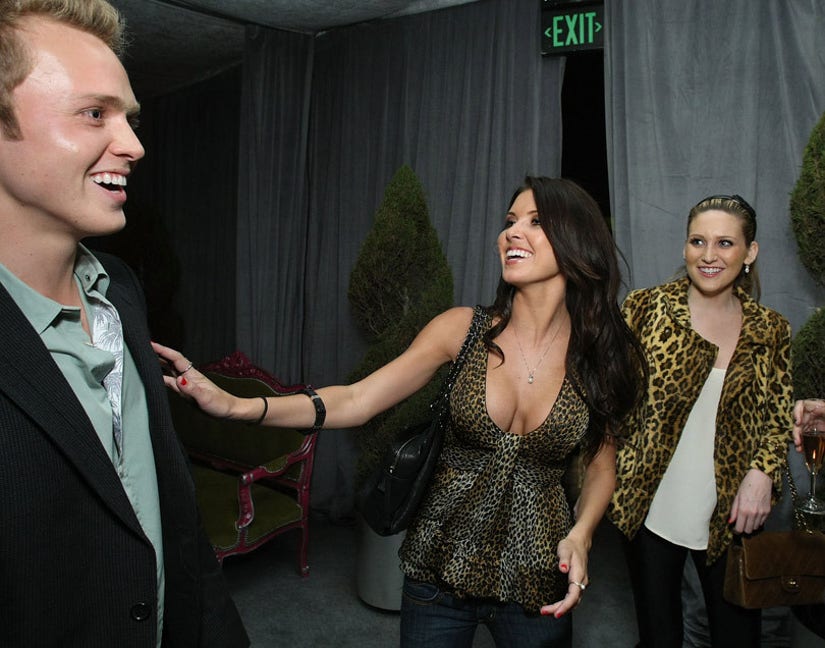 Getty
The 31-year-old also says her relationship with co-star Spencer Pratt was fabricated for the show, and in no way, shape or form did they ever date.
"Absolutely NOT!!" she exclaims. "That was the first moment I knew I could no longer trust the producers. I was on my way to the airport with friends for a Vegas trip and they called me that morning asking me to stop at Pinkberry on the way and said it would only take a few minutes. I did and they had me sit at the table by myself outside and I had no idea what the heck was going on. Then all of a sudden I see Spencer walking up with roses!!!!! I was like omg your kidding me!!!! I gotta go…."
While she has no real regrets about doing the reality TV series -- which was a huge part of her young real life -- she does wish she could go back and change one thing.
"I think if I could go back, I wouldn't let guys get in between our friendships!" she confesses. "And I think I would have said no a lot more and yes to other things."
What do you think about the reality star's candid comments? Sound off below and check out the gallery above to see more "Hills" alums then and now!