Dominic Purcell is on the mend!
The "Prison Break" star took to Instagram on Wednesday to show off his new and improved mug, after suffering an on-set injury earlier this month when an iron bar fell on his face, breaking his nose and cracking open his head.
"Well the recovery has been pretty amazing considering this time last week with my head busted open like a cracked walnut and my nose smashed across the other side of my face," he posted with a photo of his healed face. "Still some swelling around my nose and eyes but should be down in week or two. Thanks too my doc. Dr Bensouda #morocco owe you one mate. See ya Christmas."
It's amazing how quickly the 46-year-old actor has recovered, especially considering he looked like this (below) just six days ago.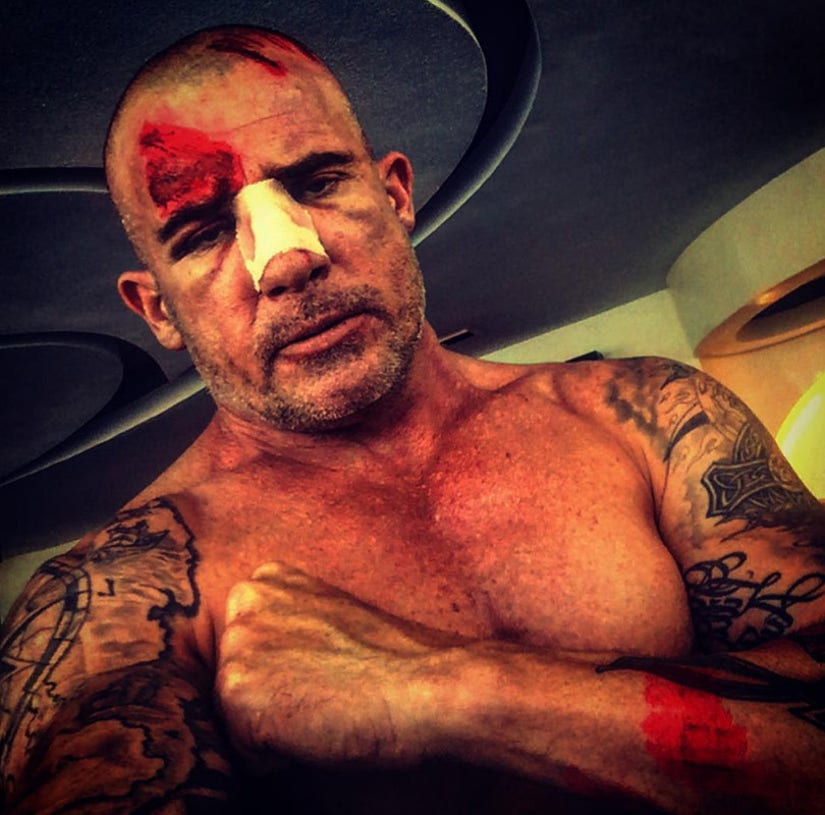 Instagram
"I'm good. #thanksforsupport ... Had a little accident on set. Haha! Back at work asap. Pays to have a thick skull when an iron bar falls on your #head!! busting it open severely also broke my nose in two places," he posted with the photo of his injuries. "Haha. I got a free nose job out of it...... Stoked to be alive. All good. #chill. Oh. I didn't get knocked out took a knee. Ha!! Doc said I have an unusually tough tissue fiber that's what saved me apparently. Thank god for my #Viking heritage hahaha !!!!"
Purcell also shared a video earlier this week of him in the hospital and on a lot of pain killers.
Waiting for your permission to load the Instagram Media.
"Where are we going?" he asks the nurse as she tries to move him up in his bed. "You're in the recovery room, baby" a woman says in the clip.
The actor made it a point to assure his fans that he was fine, and just "having a laugh at my own expense."
What do you think about Dominic's fast recovery? Sound off below and check out the gallery above to see more leading men then and now!
Fox's limited "Prison Break" series will return in 2017.