Lauren Conrad is admitting that things weren't exactly as they seemed on "The Hills."
To celebrate the 10-year anniversary of the show, the fashion designer dropped some big bombshells about what really went down behind the cameras in an MTV special called, "That Was Then, This Is Now."
The biggest misconceptions had to do with her romantic relationships with Jason Wahler and Brody Jenner.
After Jason left the show, he had several alcohol-related arrests, which was never addressed on the show. But during the special, fans got to see more of Jason and Lauren's post-break-up meet-up that never made it to the air.
"After we went on a break from filming, it was like a couple weeks in, I finally decided to end things. We broke up. I said you have three days to get your stuff out, I'm having the locks changed on Monday," Lauren explained. "So when I saw Jason that day, it was the first time I had seen him since we had broken up. It was really hard. What made it harder was I could see he wasn't sober."
In the scene, LC realized Jason was drunk, but he denied it. "It's 10 o'clock in the morning! It's like, yeah, a freckle past a hair," he said. Lauren didn't back down, saying, "You're not normal right now, what is wrong with you?"
When Lauren then said, "I just feel like you're f—ked up and it's my fault," Jason looked at the cameras before saying, "Don't say this right now." Lauren finally pointed out to Jason that the producers wanted her to talk to him on-camera. "I just want to leave, and they're like, no, he wants to talk to you...Because I thought you were like messed up on something. It kills me to see you like that. Like, you're acting so weird."
While it's been a decade since their split, Lauren still got emotional talking about the subject. "That really broke me, because I felt like a responsibility to take care of him, and I felt like when we broke up I was abandoning him," Lauren admitted. "Because there were a lot of nights that I was getting 2 a.m. phone calls and I had to go pick him up passed out in the back of a club. So I was like who is doing that now, I know he doesn't have friends who are doing it...I was like, oh god, no one is taking care of him."
After the show, Jason got clean and has stayed sober. He recently co-founded a men's sober living home, Widespread Recovery, in Laguna Beach. "Jason's story has a happy ending," Conrad declared. "He is sober now and married and very happy."
Getty
As for her relationship with Brody, Lauren also finally set the record straight.
"I definitely had a crush on Brody. But the funny thing was we had zero chemistry," she revealed. "He was my friend, I enjoyed spending time with him, but it just felt forced."
Still, the show played it up, making it more than it was, which Lauren went along with because she felt the pressure to find a boyfriend who would appear in scenes.
She even talked about how awkward she felt after a kissing scene with Brody, saying, "Can we please be done?! This is the most awkward thing ever!"
So, what does Lauren's husband, William Tell, think of her stint on the show?
After LC said he has "never seen the show," she backtracked and said he's seen one scene.
"We were at a hotel once and he was flipping channels and he was like, 'Oh, it's you!' Of all scenes for him to pick, it was like, us in a club, and I flip around, and I'm like, 'I'm at the Roosevelt pool every Saturday!' William was like, 'Nope!' and changed the channel. 'I don't want to know that you!'"
LC also touched on her feud with Heidi Montag and Spencer Pratt, who she believed started a sex tape rumor about her. During the special, she said she felt "set up" by producers when the duo showed up to a birthday party after they all had a blowup fight.
"I definitely felt set up," Conrad said. "I was so hurt by these people I didn't want to be in the same room as them."
"MTV should care what Spencer did to me," she was then seen telling the camera crew in previously unaired video. "It's not okay that they let him up here. It's not f---ing funny when you guys do that. I'm gonna go home now. I don't want to film in the same vicinity as them."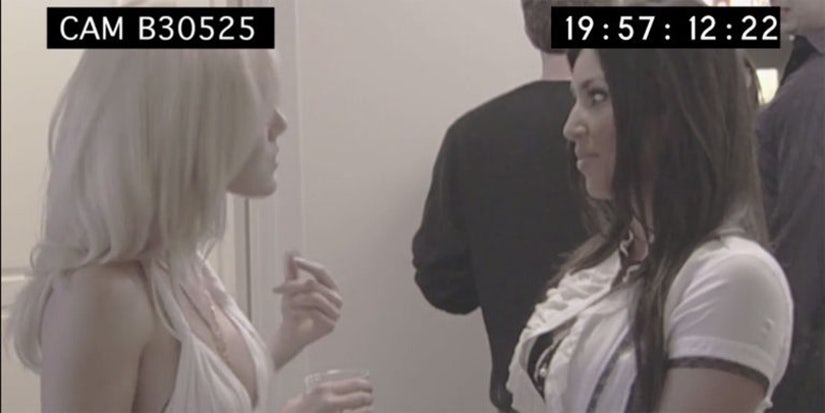 MTV
Another unaired scene from the show's third season revealed one familiar face who was left on the cutting room floor: Kim Kardashian!
The then-unknown Kim was seen chatting with Heidi in the footage, at a party at Speidi's apartment. Montag is seen giving Kardashian a tour, before they talk about Memorial Day plans at the VMAs. In a recent interview with Complex, Pratt told the publication that "[Kim] used to call Heidi to organize Heidi's closet" back in the day.
Click through the gallery at the top to see where your "Hills" favorites are today!