September 9, 2007 is a date Britney Spears probably wishes we could all forget.
The pop star hit the stage that night at The Palms in Las Vegas for the MTV Video Music Awards, in what was supposed to be a "comeback" performance of her new single, "Gimme More." Instead, it ended in headlines like, "Britney's Career: 1998 - 2007," "Britney Makes All The Wrong Moves" and "Britney's VMA 'comeback' a disaster."
While she's appeared at the VMAs in the years since, she hasn't performed ... something that will finally change Sunday night. Though it may not seem like a big deal to some, it is.
Why? Because before Taylor Swift became the belle of the ball, Britney was the "TRL" generation's Queen of the VMAs.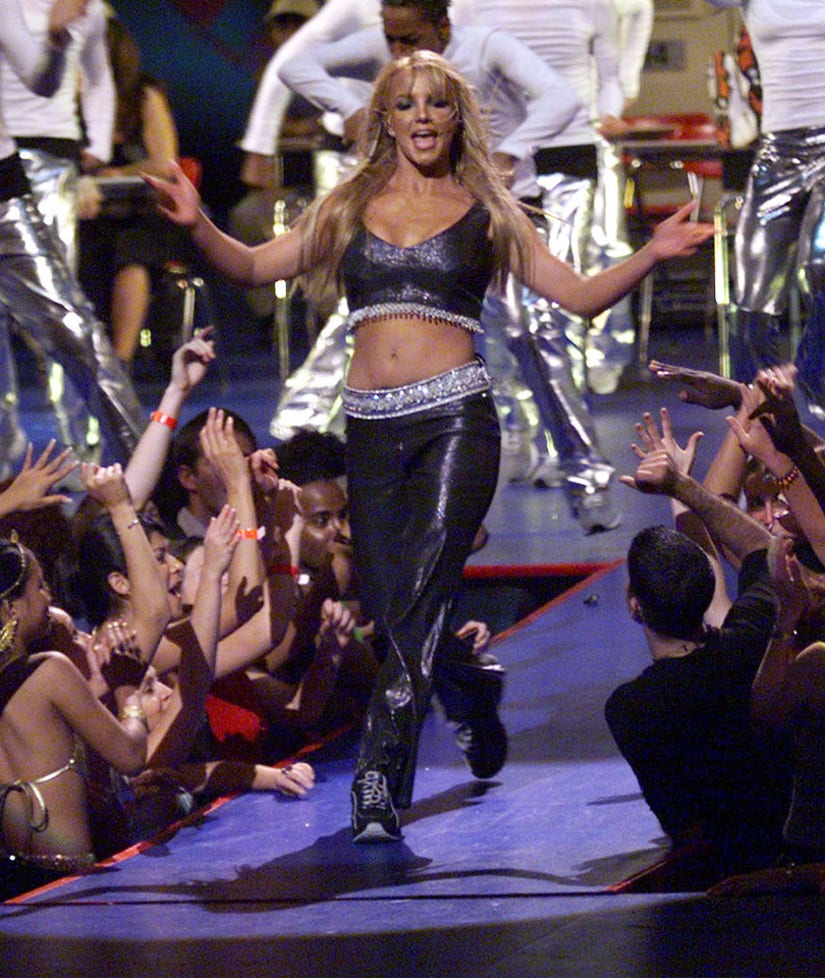 Getty
She made her first appearance back in 1999, when she performed a sexy version of "...Baby One More Time" before fellow pop sensation 'NSYNC hit the stage. With her bare midriff, long extensions and uber-tan skin, it was a killer performance -- and one that was only a taste of the hotness to come.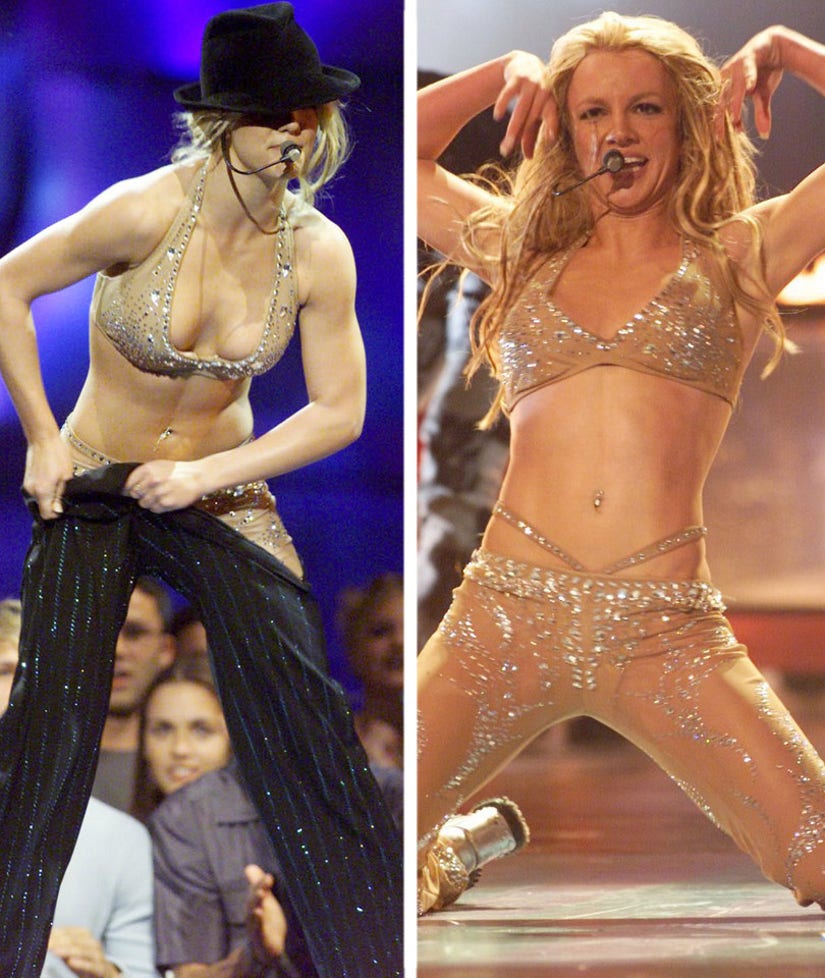 Getty
In 2000, Brit Brit really amped up the sex appeal. She kicked off her performance off with a striptease to The Rolling Stones' "Satisfaction," before tearing off her suit to reveal a sparkly nude two-piece that showed off her ridic physique.
Her gyrations during the second half of the performance were legendary, as she tore into "Oops ... I Did It Again" with serious ferocity. After she was done, host Marlon Wayans famously joked she'd gone from "the Mickey Mouse club to the strip club!"
The following year was Peak Britney, as she slithered across the stage with a giant python while performing "I'm a Slave 4 U." This was definitely a career highlight!
The only way to outdo that wild stage show? Throw Christina Aguilera and Madonna into the mix!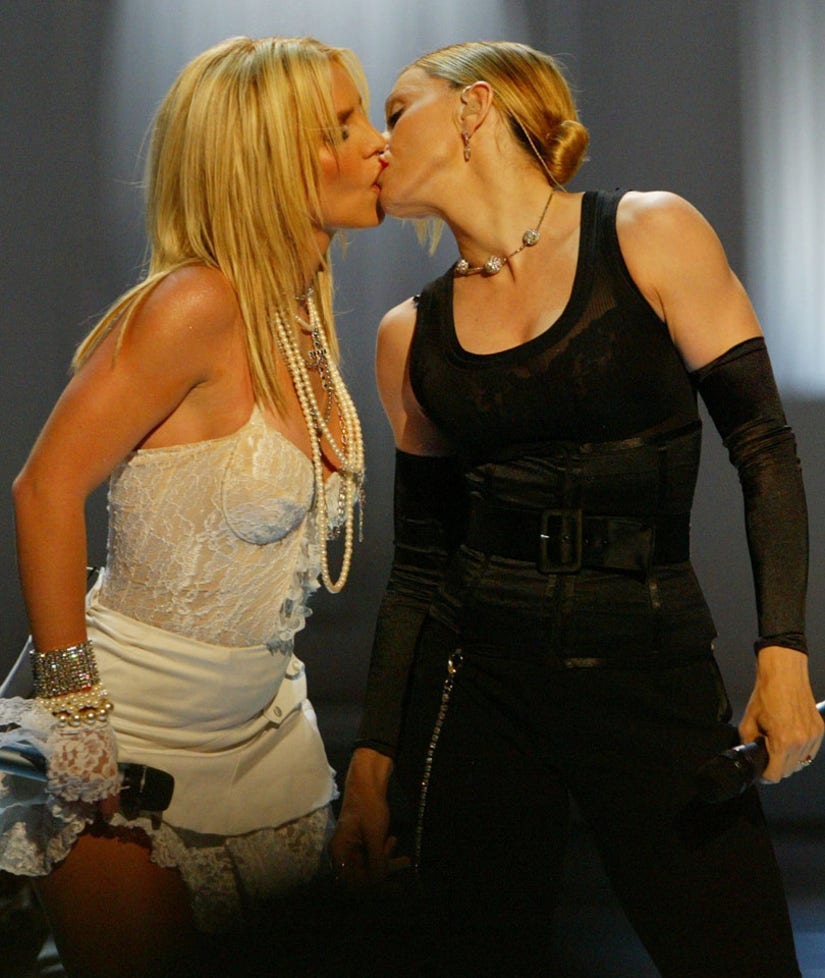 Getty
In 2003, the three performed the Queen of Pop's classic, "Like a Virgin," with Madonna locking lips with both of them. While Christina's kiss barely made it onto TV, the camera definitely lingered on Britney's -- as her ex, Justin Timberlake, looked stunned in the audience.
But then, things started to fall apart.
In 2004 alone, she had a 55-hour marriage that was quickly annulled, canceled a tour after injuring her knee, and hooked up with backup dancer Kevin Federline before marrying him later that year. In 2005, the two welcomed their first son, Sean Preston, together and starred in one of the worst reality TV shows ever, "Chaotic." The duo would split the following year, after Britney gave birth to their second son, Jayden James.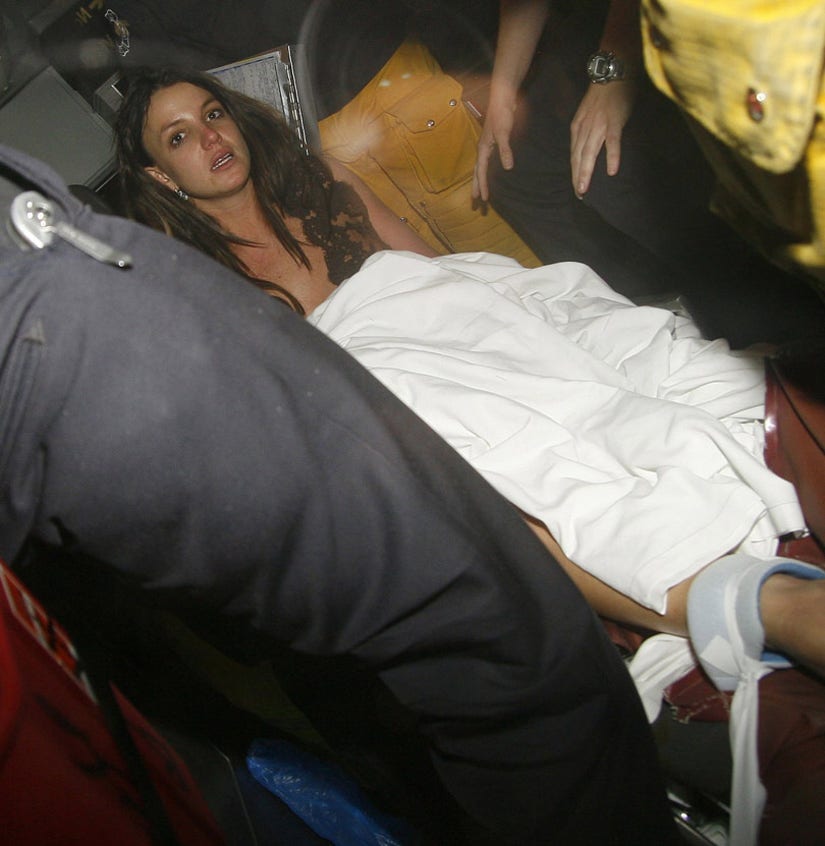 Getty
The year saw her head to rehab, shave her head, attempt a comeback and lose custody of her children. Her behavior was increasingly erratic and only got worse after her now-infamous VMA performance. People like Adnan Ghalib, Sam Lutfi and Alli Simms became household names as her situation worsened. Paparazzi followed her every move as she drove aimlessly around Los Angeles. Thankfully, her family stepped in in 2008, after she was put under a 5150 hold that January. She was then placed under conservatorship that remains to this day.
So ... why is this Sunday such a big deal? Because after all that, this could be the comeback "Gimme More" was supposed to be.
Will her dance moves be as sharp as they were in 1999? No, probably not. Is her new song, "Make Me," as catchy as "Oops"? Nah, not even close. But whatever she's got up her sleeves, basically anything will be better than the train wreck that was 2007.
"She's not one to do the same thing she's done in the past," the awards' executive producer Jesse Ignjatovic told EW about what to expect. "It's going to be something you've not seen her do before. It's going to separate her from other performances."
We've all got our fingers crossed for something glorious!
Britney's become America's favorite underdog -- a crazy title for someone who signed a $35 million deal for her Las Vegas show in 2015 -- and her VMA redemption is long overdue.