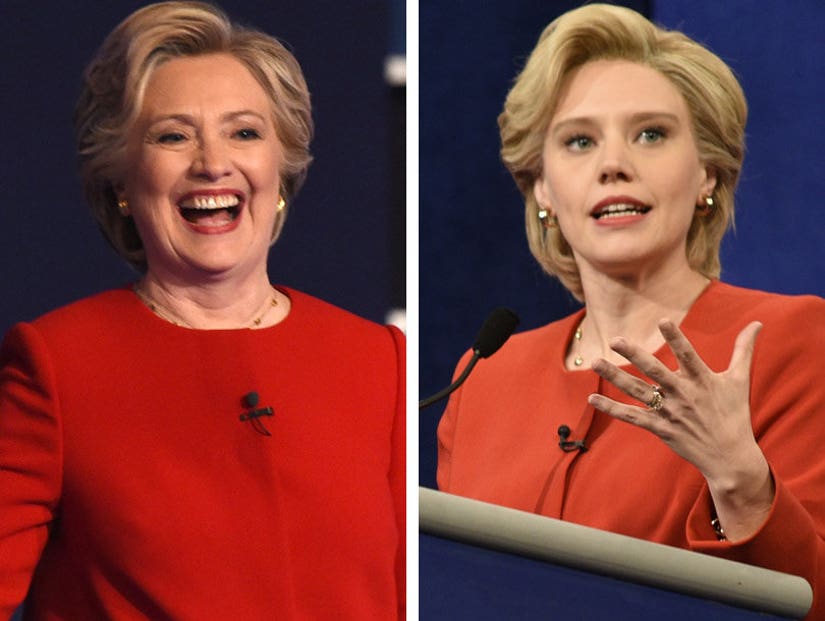 Getty/NBC
Kate McKinnon's got Hillary Clinton's vote!
"Saturday Night Live" kicked off its new season with a sketch spoofing her presidential debate against Donald Trump, with McKinnon stepping into Hillary's sensible shoes and Alec Baldwin taking on the former "Apprentice" host.
The bit was clearly the standout of the evening and helped the premiere generate the show's highest ratings in 8 years.
And while Trump has yet to chime in on Baldwin's hilarious impersonation, Clinton just did -- and it sure sounds like she's a fan.
"I'll tell you when Kate McKinnon came out with the walker, I thought I was going to fall off my chair. She makes me laugh anyway, she is so funny just naturally. Oh, my gosh, she was amazing. I wish I could do the jumps, the splits, the somersault," she tells EXTRA, referring to the Willy Wonka joke at the top of the skit.
She also thought Baldwin was "perfect" as her opponent.
"I can't wait to see what else they're going to do. His look, his scowling, his staring down then muttering his response, he was perfect," she continued. "I don't know who is going to show up at the next debate Sunday night."
Clinton appeared alongside McKinnon on the show back in October 2015, popping up as a bartender in a brief cameo. When asked if she'd swing by again soon, Hillary said she may be a bit busy. "We have a lot of ground to cover in the next 35 days, but I'm always up for standing around the bar."