Christopher Guest is back with a new film about ... wait for it ... mascots!
It's been 10 years since the director's last mockumentary -- a term he apparently "loathes" -- but when Guest calls, these guys always answer the phone. The Netflix original film "Mascots" drops today, reuniting the filmmaker's regulars Parker Posey, Jane Lynch, Fred Willard and more for the first time since 2006's "For Your Consideration."
The flick takes fans into the competitive world of costumed athletic supporters, as they compete for the top prize, The Golden Fluffy.
Posey is a scene-stealer as the free-spirited Cindi Babineaux in the flick, where she's hidden beneath a steampunk armadillo costume as "Alvin." The 47-year-old actress is a familiar face for Guest fans -- having also starred in "Best in Show," "Waiting for Guffman" and "A Mighty Wind" -- and this project was another no-brainer.
"He calls and he says, 'Jim [Piddock] and I have been working on an outline about mascots and I want you to play an armadillo,'" she told toofab's Candice Brock. "This woman who's really too old to be a mascot now and wants to do a competition, and it could be her swan song to the whole business."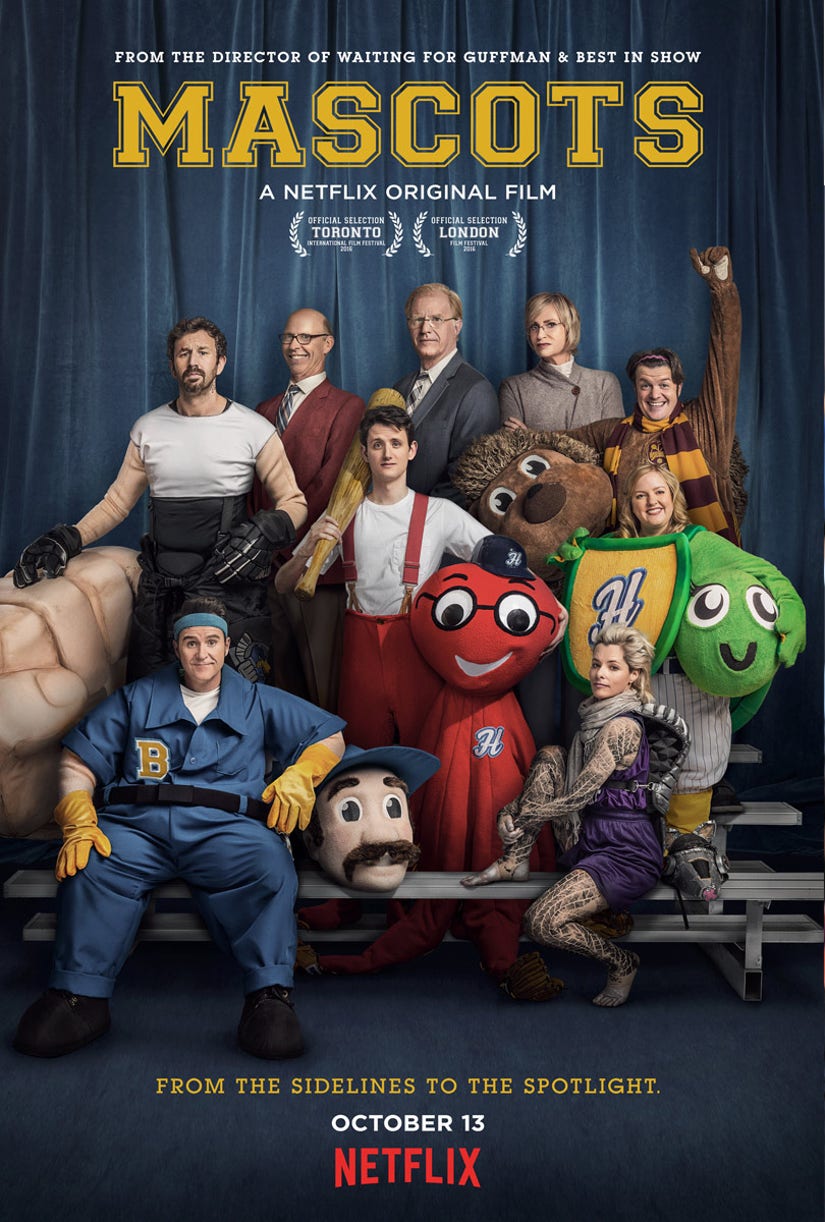 Netflix
Playing opposite Parker is Susan Yeagley, who stars as her sister Laci. Yeagley is new to the director's usual roster, but revealed her on-screen sis took her under her wing in hopes of building a real sisterly bond as soon as she got the role.
"It was immediately just a great engagement and fun time," Yeagley gushed. "We started going through who these sisters were and it was important to us to play sisters, which I think are more like real sisters in real life, we actually love each other."
In the decade since their last collaboration, Lynch started worrying "For Your Consideration" was the gang's swan song.
"I thought it would never come and I did think it would never come," Lynch admitted. "It used to be two or three years in between movies and we went ten, so it was like, 'I guess we're done.' It was great, great to get that call."
"Your first thought is, 'Mascots, why did he pick that?' Then you start hearing it and putting it together," Willard added. "He'll send you, not a full script, but an outline of where it goes, what your character is, what scenes, how you discover certain things. It's up to you to fill in the blank places."
Both Willard and Lynch are seasoned pros at working under Guest's improvised framework, but they admit they're sometimes shocked at what ends up on the cutting room floor.
"I've had a few lines that for years I've wanted to say to Christopher, 'Why did you cut that line?' But I don't want to light a fuse there so I just go along with it," Willard said.
"I forget! I will see the movie and it might hit me on the way home, 'Oh, that didn't get in,'" Lynch added. "I have terrible memory which is probably a good thing."
"Mascots" is streaming on Netflix now.