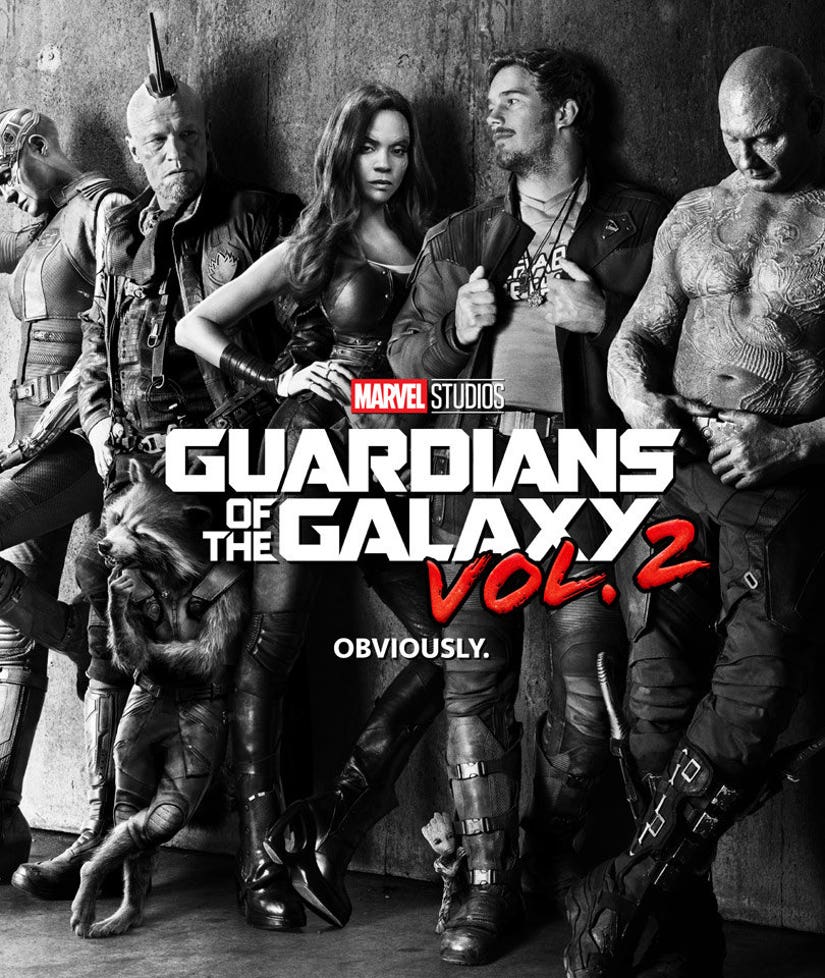 Marvel
Director James Gunn debuted the first footage and poster for "Guardians of the Galaxy Vol. 2," the highly-anticipated follow-up to 2014's hugely successful, sci-fi Marvel flick.
In the poster, we get a glimpse of the stars in their getups as they pose for a black and white photo. Chris Pratt's Star-Lord and Zoe Saldana's Gamora take the center, flanked by Nebula (Karen Gillan), Yondu (Michael Rooker) and Drax the Destroyer (Dave Bautista). Chilling below the title treatment are Rocket (voiced by Bradley Cooper) and a very, very tiny Groot (voiced by Vin Diesel).
The first clip gives us a lot more to go off of, as it's not the usual teaser-for-a-teaser and instead contains substantial footage from the film. "So the 1st #GotGVol2 trailer is coming soon; in the meantime we put together this special sneak peak [sic] for you," teased Gunn.
The video begins with quick shots of the Milano, the Guardians' ship, before showing glimpses of the cast. Blue Swede's "Hooked on a Feeling" on again plays through the clip.
We see a brief, but hilarious, interaction between Quill and Drax as well. "There are two types of beings in the universe, those who dance and those who do not," Bautista's behemoth tells him. "You just need to find a woman who is pathetic, like you."
The money shot: Baby Groot popping up on Rocket's back at the very end of the clip.
If this is just a sneak peek at the trailer, we can't wait to see the real thing!
"Guardians of the Galaxy Vol. 2" hits theaters May 5, 2017.