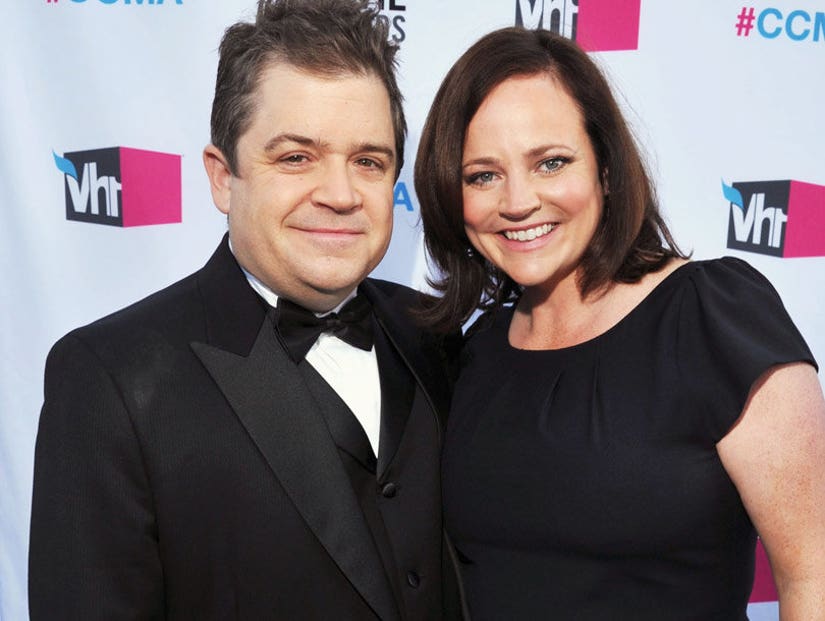 Getty
Patton Oswalt made his headlining return to stand-up comedy for the first time since his wife, Michelle McNamara, passed six months ago.
Halfway through his skit, Oswalt turned serious and took the opportunity to discuss the aftermath of his beloved's death, and addressed how he's still continuing to handle the devastation.
"Six months and 12 days ago, my wife passed away," he began. "There's no way to segue into that. It's just my life and it's kind of all-consuming. And it sucks. It sucks."
"A lot of the terminology that people use when you're going through something like this is just ridiculous," Oswalt continued. "If I hear the term 'healing journey' one more time … it is not a 'healing journey.' It's a numb slog. Its just, 'Well, it's the end of another day — guess I'll do that tomorrow.'"
'It's just a numb slog until you start feeling s--t again," he continued.
"Because if they call it a 'healing journey' and it's just a day of you eating Wheat Thins in your underwear, you're like, 'I guess I'm on my healing journey,'" he added. "But if they say you're going to have a 'numb slog,' you sit there going 'I'm nailing it!'"
Oswalt's lovable humor even shone through in a time where most would still be unable to get out of bed, which just reinforces how strong he is, and how strong his bond with McNamara continues to be, even after death.
About Michelle, he said, "I'm very very OCD. I like logic and order and neatness. And sometimes I would fall into that cliché where I would say 'Well everything happens for a reason I guess.' And she would go, 'No it doesn't. It doesn't happen for any reason. S--t just happens.'"
"There's no closure, there's no order and there's no meaning. It's whatever meaning you try to put on it but nothing happens for any reason. Get that out of your head,'" she told her husband.
Even that, he was able to joke about, saying, "Now that's been proven to me in the s---tiest way possible. She won the argument in the worst way!"
"If there is a supreme being — whatever it is, and this was part of his plan that she's gone and I'm not? Then that's a s---ty f--king plan or there's no plan," he continued. "Because again, I'm very happy with what I do — I tell d--k jokes. And she was trying to bring multiple killers to justice. And God looked down and said, 'Let's take her and keep him.'"
"That makes no f--ing sense," he concluded. "No sense."