It's "Mariah's World" and the rest of us are just living in it.
The elusive chanteuse's reality TV show kicked off last night on E!, giving us a full hour of Mimi meticulously draped over furniture as she planned her wedding to James Packer -- which has since been called off -- and new tour.
"There's so little privacy in entertainment anyway, but I think if I don't document this now, I don't know when I'm gonna do it again," she said of why she decided to to the show. "I think it's something I'll treasure ultimately."
And so will the rest of us, because amid all her lounging, there were some dramatic and totally bonkers moments. We're breaking them down below!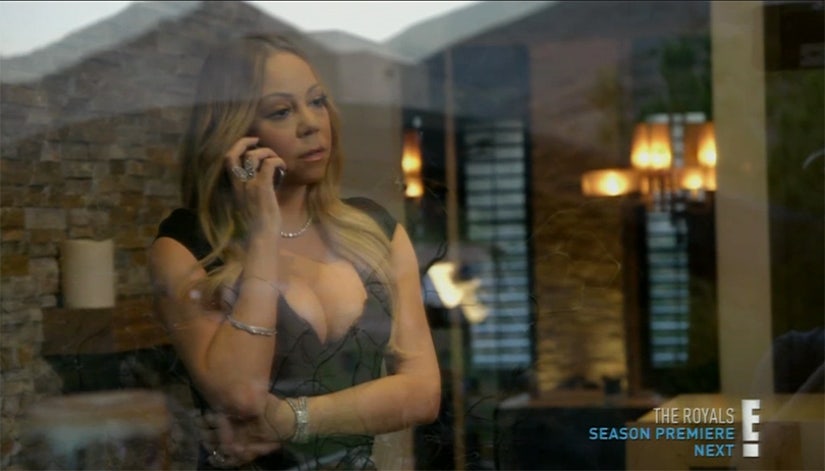 E!
Mimi Puts the Brakes on Her Wedding
While James Packer himself only pops up briefly in the first episode, a lot of the action revolves around planning for their nuptials. At one point, Carey is even seen trying on her wedding dress.
Though Mariah's ball-busting manager Stella says the singer is a "superwoman," she doesn't feel she has enough time to put an entire wedding together while also setting up a new world tour ... and something's gotta give.
"I feel like you'll be putting your professional life before your personal life," she tells Mimi, "but dare I say you postpone the wedding?
"I don't want to disappoint him and I feel really bad. I'm sitting here thinking, how do I do this? Maybe we do the tour and then figure it out afterwards and do it right," Carey muses. "It's not an easy call to make. This is a hard decision to make. I'm sitting here going, how am I supposed to fulfill my professional obligations and not disappoint James?
She then calls him and the two have an off-camera conversation. When Carey returns, she says, "He's waiting for me to figure it out. Like when we're gonna do it, how we're gonna do it and all that."
Stella is thrilled, since she's also been dealing with the couple's prenup -- something she says is "definitely not the most romantic thing I've read, I'll tell you that."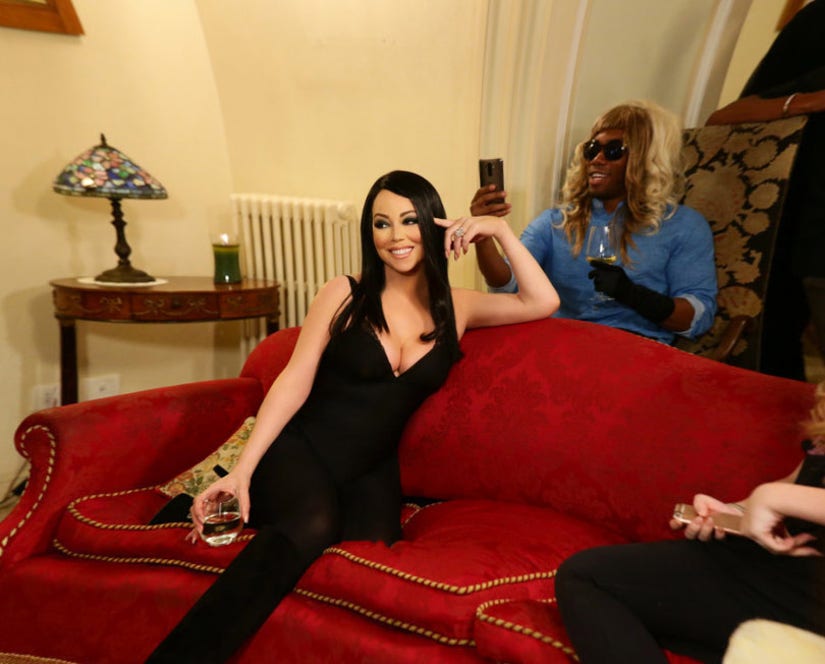 E!
The Return of Bianca Storm
It's been 16 years since Mariah Carey debuted her evil alter ego, Bianca Storm, for her 1999 "Heartbreaker" music video. And last night, she was back!
"I'm here to introduce a documentary about Mariah Carey. What do I think about that? F---ing riveting," Mimi, clad in a black wig and matching lingerie, deadpans with an English accent. "It's sort of a love hate relationship. I would have won that fight if I hadn't had a cold."
"I can't describe Maria because I think she's done well enough on her own," she later adds. "The world doesn't know how awful she really is."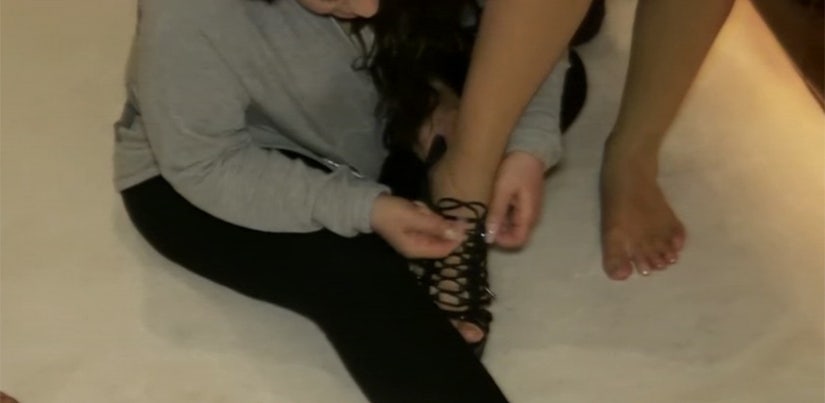 E!
It Takes a Village for Carey to Get Ready
Oprah Winfrey would be so disappointed about this.
While getting ready for a night out in Capri, Mariah is seen just standing there as her glam squad gets her all made up and even put her shoes on for her!
"It's taking me a minute to put these shoes on. They always have to get so cute and then they can't go on right," Carey says as one assistant gets to work. "Oprah told me don't let anyone think you don't know how to put your shoes on anymore ... the problem is, these shoes are abusive and I can't put them on alone!"
It looks like she has just as hard a time getting around in those heels once her team finally gets them on her feet. "I'm really worried about walking in these shoes," she admits.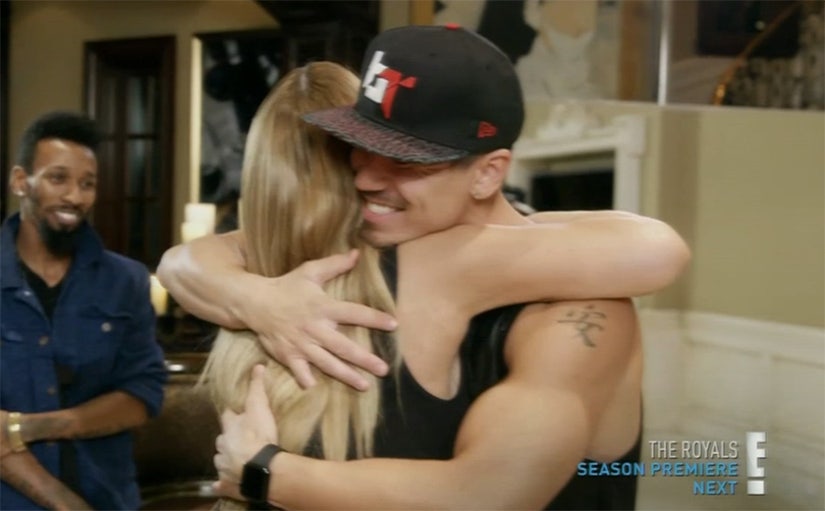 E!
Bryan Tanaka Re-Enters the Picture
While casting dancers for her tour, Tanaka explains how he first worked for the singer back in 2005.
"I was this green rookie when I first worked with her. I grew into a man and she's gone through so much," he explains. "It's gonna take time for us to get back to that comfortability where we were just homies, where we could talk."
This is one relationship to keep an eye on, especially as things start to fall apart with Packer.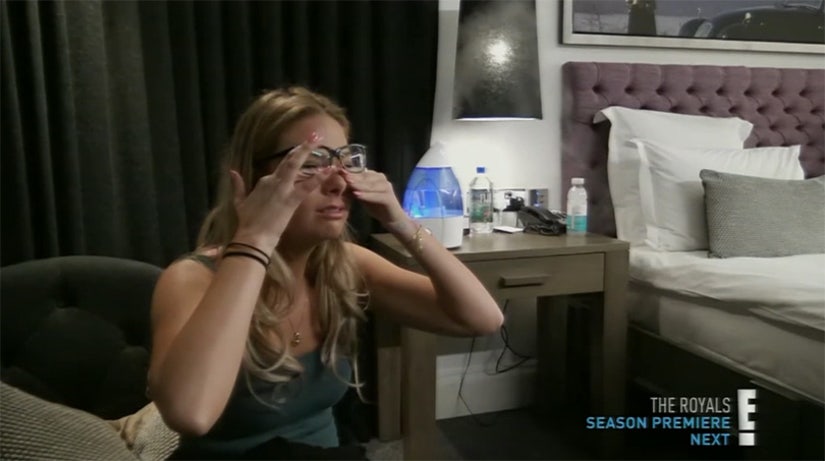 E!
Mariah's Assistant Has a Mental Breakdown ... Over an Apple TV
Mariah's manager hires a new assistant for the tour and things definitely get off to a rocky start. After arriving in Glasgow, Molly has to make sure Mariah's hotel room is set up to her standards.
"The Apple TV, that's the most important thing for Miss MC," Molly explains. "If she can't have the Apple TV playing while she's sleeping, she can't sleep. If she can't sleep, she can't perform. If she can't perform, there's no show. If it's not there, everything else falls apart."
But when Molly can't get it set up correctly, she's the one who falls apart. Poor girl!
What did you think of last night's premiere? Sound off in the comments below!