Ryan Gosling's latest GQ profile raised a few eyebrows with his swearing and his outlook on fatherhood.
On being punch in the face by "Star Wars" actor Harrison Ford.
"[Being punched in the face by Ford] was kind of, you know, a rite of passage. We were just doing a fight scene and, you know, it just happened. But what was funny was, when it was over, they brought ice for my face, and Harrison pushed me out of the way and stuck his fist in the ice. I asked him the other day where he got his sense of humor from -- was it from his mother or his father? He said, 'Sears.' And he didn't have much time to shop around so he just had to grab one and get out."
In the sit down with the famed men's magazine, the "La La Land" actor continued:
"You know, they say don't meet your heroes, but I would say the addendum to that is '... unless they're Harrison Ford.' 'Cause he's a cool motherf--ker."
Ryan is, of course, referring to Ford's cameo appearance in the upcoming "Blade Runner 2049," which Gosling is leading.
Gosling called Eva Mendes a "dream mother."
"Eva's the dream mother, and they're dream babies, and it's like a dream that I'm having right now. I'm dreaming it all. When you meet your kids you realize that they deserve great parents," he said. "And then you have your marching orders and you have to try and become the person that they deserve."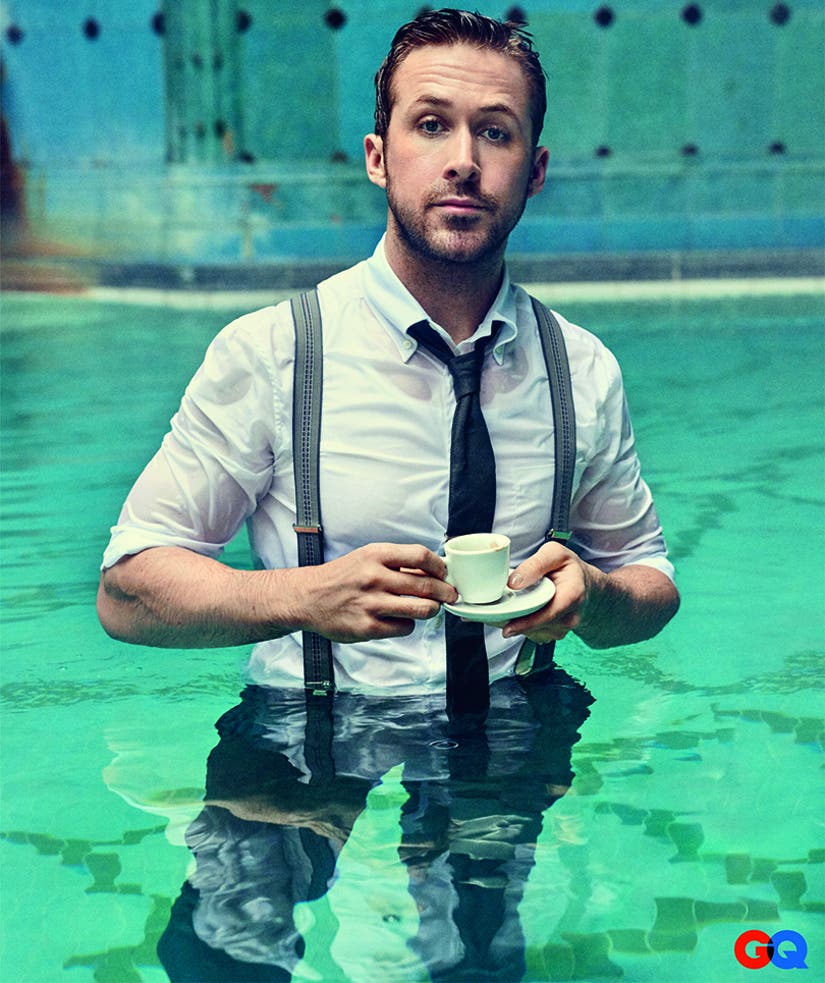 GQ/Craig McDean
On attending special education classes and being homeschooled.
Gosling discussed playground spats that occurred when he was younger. He said:
"I had to get control of my imagination. I was doing very badly in school. [The school] started feathering me into some special-education classes and things like that. I mean, I remember playing chess with a kid who was eating his queen, you know. ... I had one teacher, because I was dancing, he thought that was funny and he would make jokes about it in class, and my mother said, 'You know, if ever you feel like he's being disrespectful, you can just leave.'' And I did one day. I called her and said, ''Hey, I left.' Also, when I was homeschooled for a year, I saw my curriculum come in the mail, and I saw that it was just this tangible stack of books -- I guess I realized that there were other ways to do it. The fact that I could stay home and watch "Planet of the Apes" in the morning and then go downstairs and draw while I learned about some historical battle—draw these maps and scenarios and connect to it in a way that was personal to me -- I just felt like, 'Oh well, then there must be another way to do everything.' "
On the reason he loves acting (No, it's not for the fame and attention).
"I think there's an idea out there that you become an actor because you like to be at the center of attention, or because you're a natural performer. Which in some cases I'm sure is true. But I feel more often than not that what drives you to become an actor is an instinct to disappear. To become someone else. Not yourself. Two things can be true and co-exist at the same time. To me, it wasn't about not wanting to be myself, it was about wanting to not only have to be myself. Because I don't have to. And so why would I?"
Oh how how settling down and getting domestic has change him.
The "Blue Valentine" actor revealed:
"[Settling down was] not something I really thought about, or even thought I wanted. I didn't have a romanticized idea of it. It came about in a very surprising and kind of organic way. There was nothing kind of premeditated about it, you know. It just suddenly was: my life had changed. And thank God it did."
See the hottest photos of Ryan Gosling in the gallery (above).