On Tuesday's "Real Housewives of Beverly Hills," we get to know Lisa Rinna's gorgeous daughters, Delilah and Amelia Hamlin, dig deeper into Eileen Davidson's recent loss and see the tension thicken between Erika Girardi and Dorit Kemsley.
See TooFab's breakdown of the five buzziest moments from the episode!
Eileen Davidson visits her mother's house one last time before selling it:
Eileen, her husband Vinny Van Patten and their son Jesse take one last trip to her mother's house, who passed away over the summer after a long battle with dementia. During the somber visit, Davidson breaks down into tears knowing that this will be the last time she sees her mother's things.
"Are you alright," Elieen's husband Vinny says to her inside the house. "No," Davidson confesses with tears in her eyes.
"In a way it's a relief that she's not suffering anymore," Davidson says in a confessional about her mother's battle with dementia.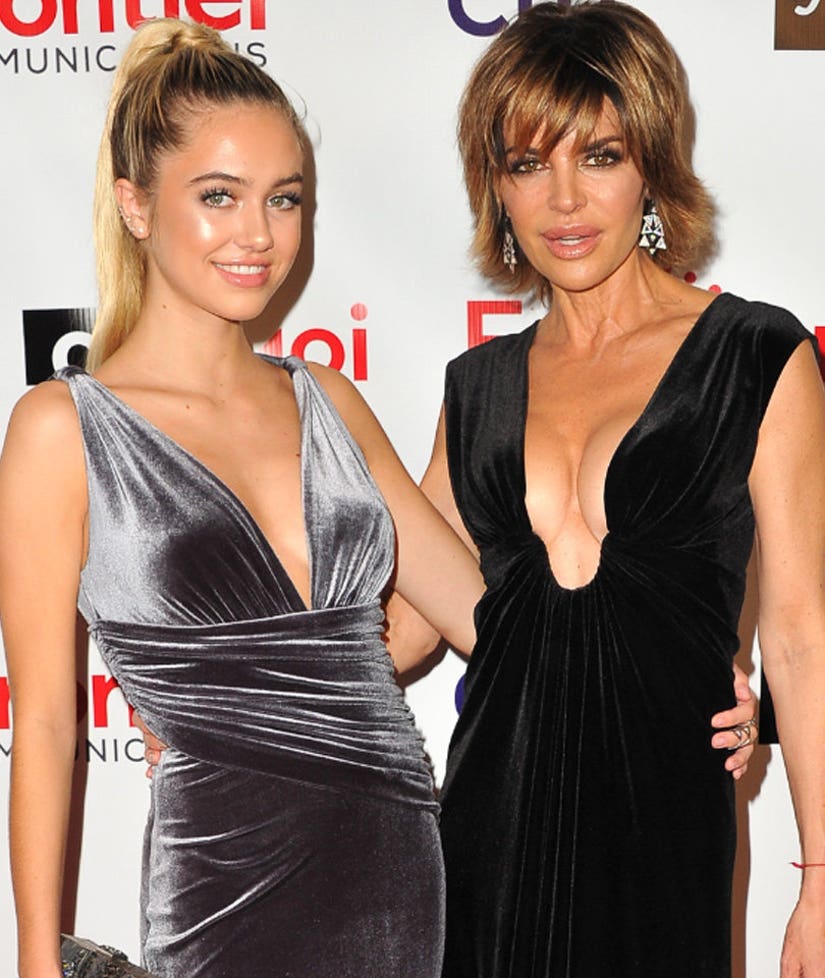 Getty
Lisa Rinna discusses vaginally birthing her daughter Delilah during the 18-year-old's audition for CR Fashion Book:
When Lisa and her teenage daughter head to a potential modeling gig in NYC, the former soap star details Delilah's complicated birth during her audition.
"I had a really hard birth with her," Rinna says during the meeting. "They thought I was a boy," the 18-year-old quips.
"It took 24 hrs and it was really hard labor and I'm pretty small hipped ... and I gave birth vaginally with both kids," Rinna explains. "So she came out and her head was like this long," she says, measuring about a foot. "Because of my birthing canal or whatever."
Obviously, Rinna's daughter is mortified during the conversation.
"So Harry thought she was deformed," she says. "He's going to the nurse, like get a hat, get a hat quick! She needs a hat because it was squished in the birth canal!"
Also in an interview, Rinna's daughter reveals that "the most embarrassing thing her mom does" is run around their house naked ... when their friends are over.
Lisa Vanderpump celebrates Ken's birthday with a $25,000 watch:
After shopping for Ken's gift with Dorit Kemsley, Vanderpump decides to celebrate Ken's birthday with an intimate afternoon for just the two of them.
"I have given my husband many great gifts, but the greatest gift I have ever given him is our children," she says during an interview. "Oh, and the blowjobs in the car," she jokes.
During their lunch, Ken and Lisa decide they're going to help their son Max buy a house. "They've proved themselves, they've worked hard. So I want my kids to have a luxurious lifestyle now."
Lisa and Kyle take their daughters to dinner while in NYC, and Delilah reveals she's on a dating app for the rich and famous:
During dinner, Rinna's daughter Delilah tells her mom that she's on a very exclusive dating app ... and just matched with someone very important.
"You're scaring the sh-t out of your mother!" Kyle says to Delilah, especially because Rinna's getting ready to leave her teens alone for the night in NYC. "How much did I pay for this?" Rinna shouts. "This is not OK!"
Erika Girardi goes toe-to-toe with Dorit during Vanderpump's white party ... and mocks the Connecticut-born beauty's British accent:
"Let's all get fake British accents are start insulting people," Erika says, after Dorit's husband Paul "PK" makes an insensitive joke.
"I do think there is a fine line ... Americans need to ..." Dorit says, before getting cut off by Girardi who points out that she is in fact American. "You're an American, you were born in Connecticut!" she says.
Later in the outing Vanderpump asks Erika if Kyle can barrow her underwear, obviously pointing out that the blonde bombshell's going commando.
"Erika, sorry but Kyle needs some underwear," Vanderpump probes. "I don't have any!" Girardi says, getting a pleasantly surprised reaction from Lisa. "That's right, don't put your hands up my skirt!"
After the party, Dorit's husband says he saw Erika's goods. "Were you a little turned on?" she asks her husband. "Not even remotely," he says.
It definitely looks like this will continue to be an issue next week ... especially when Dorit gifts Erika with a pair of panties.