Bruce Bozzi, stepfather of "Scream Queens" star Billie Lourd, is speaking out in honor of the late Carrie Fisher and Debbie Reynolds and praising his stepdaughter for her strength and resilience.
Bozzi, who married Lourd's biological father Bryan Lourd in October 2016, wrote an essay on Instagram dedicated to the late actresses and his stepdaughter.
"@praisethelourd it's an honor to be your Stepfather," Bozzi said. Sharing a photo of the family on her college graduation day, he said: "This day, your NYU grad day we had so much fun! Yankee Stadium your mom and I laughed our asses off, as she kept one fantastic line coming after the other - no less when we all fell asleep the night before in the smaller ceremony because it was so boring."
See the photo he shared (below) and continue reading.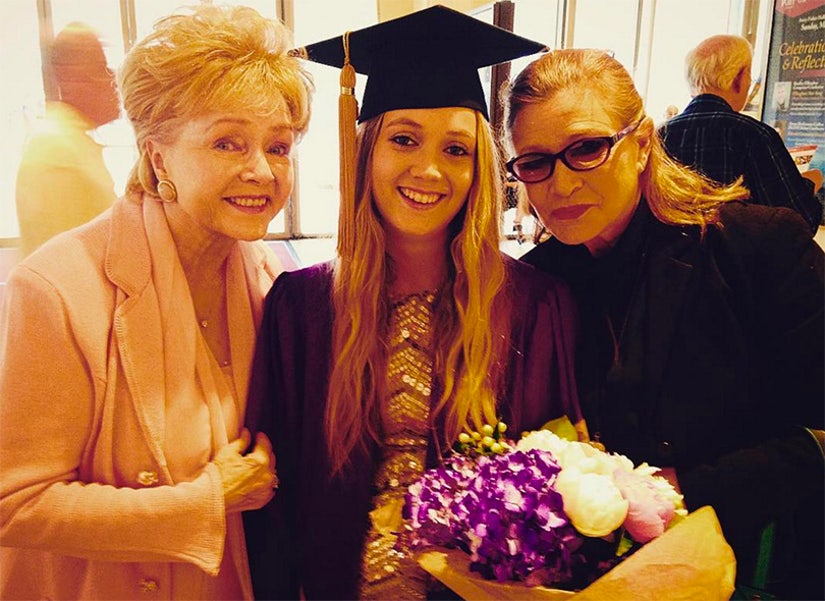 Instagram
"Every time Carrie looked at me she said 'how are you still awake'!" Bozzi said. "Your grandmother with our sweet Ava was the kindest most loving. So...as Carrie said to me years ago 'I'm a good stepmother' I promise I will always be & the strength of these women live so vibrantly in you. I've been lucky enough to see this for a decade! Many decades to come.....heaven just got a s--t load more fun!!!! I love you @praisethelourd xo Bru Thursday 12/29/16."
On Wednesday, TooFab confirmed that Reynolds died in the hospital at 84 years old after suffering a stroke in her son's Los Angeles home.
As TooFab previously reported, a spokesperson confirmed the news of Fisher's passing in a statement on Tuesday that read: "It is with a very deep sadness that Billie Lourd confirms that her beloved mother Carrie Fisher passed away at 8:55 this morning. She was loved by the world and she will be missed profoundly."