Trevor Noah perfectly articulated what President Obama has really been doing during his final days in office – baby-proofing the country before Donald Trump wreaks his havoc.
During Tuesday night's episode of the "The Daily Show," Noah broke down his premise with some compelling evidence, noting while Obama has been openly dedicated to a "smooth transition of power," he's also making a lot of seemingly irreversible moves before he says sayonara.
Obama banned oil drilling in the Arctic and Atlantic oceans by invoking a decades-old law that Noah couldn't help but make fun of.
"You know a black man is desperate when his best option is to get laws from 1953," Noah joked. "Ain't no good s*** waiting for you there."
Obama designated two new national monuments in Utah and Nevada, essentially preserving those lands and keeping them off-limits for any kind of tearing down Trump may or may not want to do. One spot is called Bears Ears (UT) and the other is Gold Butte (NV).
Trevor made light of this, too, predicting Trump certainly wouldn't un-protect land with "gold butt" in the title.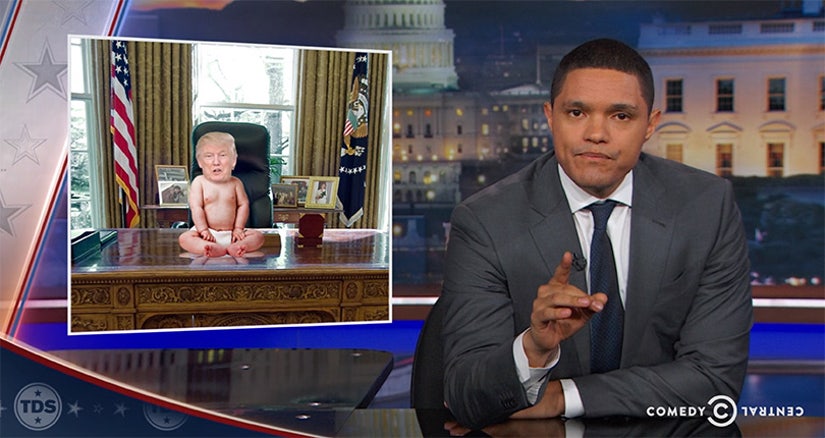 Comedy Central
Obama has been trying to shut down the Guantanamo Bay facility and relocate the prisoners there, while also driving home the point that it's incredibly expensive to operate and it makes no sense to keep open.
Noah took a hard jab at Trump here, saying "If you think Donald Trump cares about cost and reason, you've learned nothing from the last year." Ouch.
Noah even goes on to quote Trump on Gitmo directly about his opposite plans on the remote site, where Trump once said, "Guantanamo Bay, which by the way, which by the way, we are keeping open, which we are keeping open. And we're gonna load it up with some bad dudes, believe me. We're gonna load it up."
Noah took another jab, saying Trump sounds like he's speaking the lyrics to a song – and that John Legend would sound WAY better belting out the same words than Trump does sputtering them out.
Obama has tried to rally Dems to fight the repeal of Obamacare, made it harder for states to deny funding Planned Parenthood and, as Trevor joked, "not mention he changed the password on the White House computer to 'Popular Vote LOL.'"
Noah makes it clear – Obama is definitely baby-proofing the country from "Baby Trump."
"Because if there's one thing we know about this baby," Noah says, "it's never going to grow up."