The 23rd Annual Screen Actors Guild Awards provided the 2017 awards season with some much needed surprises on Sunday night, with movie "Hidden Figures" and TV shows "Stranger Things" and "The Crown" winning some of the evening's major categories.
Here are 5 buzziest moments of the night:
Ashton Kutcher kicks of politically charged night with message about inclusion.
Kutcher opened the show with a poignant message along with a couple political jabs -- and he wasn't the only one to jump into the fray. "Good evening, fellow SAG-AFTRA members and everyone at home. And everyone in airports that belong in my America," Kutcher said to heavy applause. "You are a part of the fabric of who we are, and we love you and we welcome you."Kerry Washington also encouraged Hollywood players not to be silenced by anyone. "A lot of people are saying right now that actors shouldn't express their opinions when it comes to politics," the "Scandal" actress said. "But the truth is, actors are activists no matter what, because we embody the worth and humanity of all people."
Taraji P. Henson's acceptance speech for "Hidden Figures"
In the speech, the actress spoke of unity and overcoming obstacles. "This story is about what happens when we put our differences aside, and we come together as a human race, we win," Henson said. "Love wins every time." Referencing the women at NASA who were responsible for putting the first men on the moon, Henson concluded: "They are hidden figures no more."
"Stranger Things" electrifying win: Harbour's speech, Winona's facial expressions
Actor David Harbour's impassioned acceptance speech on behalf of "Stranger Things'" win for Best Ensemble in a Drama was the icing on the cake after seeing the kids from the cast jumping around in excitement over the win. On stage, Harbour said: "As we act in the continuing narrative of 'Stranger Things,' we 1983 Midwesterners will repel bullies. We will shelter freaks and outcasts, those who have no home. We will get past the lies. We will hunt monsters. And when we are at a loss amidst the hypocrisy and casual violence of certain individuals and institutions, we will, as per Chief Jim Hopper, punch some people in the face when they seek to destroy what we have envisioned for ourselves and the marginalized. And we will do it all with soul, with heart, and with joy. We thank you for this responsibility!"
Meanwhile, co-star Winona Ryder's facial expressions during Harbour's acceptance speech were priceless and almost immediately and fittingly went viral across the internet.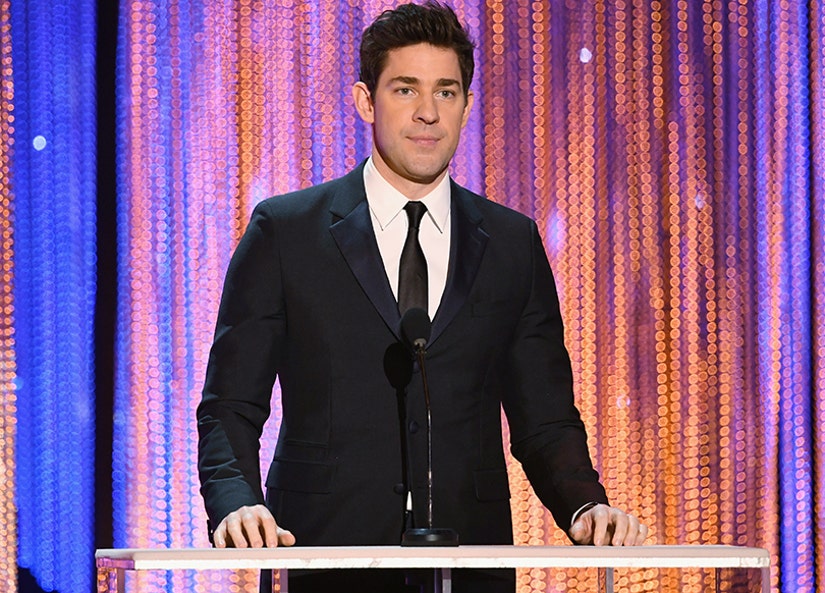 Getty Images
John Krasinski's feminist message while presenting
"As the father of two girls, I am always trying to find words that accurately encapsulate my experience," Krasinski began. "The author William Golding came pretty close when he said 'Women are foolish to pretend they're equal to men; they are far superior and always have been.' As a father, and as a husband, and as a human being, I'm inspired by women every day."
Mahershala Ali's teary, impassioned acceptance speech
Ali gave a tearful acceptance speech for winning the award for Outstanding Performance by a Male Actor in a Supporting Role in "Moonlight," invoking both his mother and his religion. "My mother is an ordained minister; I'm a Muslim," he said. "I think what I've learned from working on 'Moonlight' is we see what happens when you persecute people."
Julia Louis-Dreyfus' intense acceptance speech
The star of HBO's "Veep" won Outstanding Performance of a Female Actor in a Comedy Series. Louis-Dreyfus -- like many of her peers -- took aim at the current political climate. Doing her best Donald Trump impression, she said: "I won, I'm the winner, the winner is me, landslide." On a more serious note she continued, "My father fled religious persecution in occupied France, and I'm an American patriot and I love this country, and because I love this country I am horrified by its blemishes, and this immigrant ban is a blemish and it is un-American. Our guilds are unions of storytellers who have always welcomed those from nations and of varying beliefs who wish to share their creativity with America, we are grateful for them, we stand with them, and we will fight for them."
THEATRICAL MOTION PICTURES
Outstanding Performance by a Male Actor in a Leading Role
CASEY AFFLECK / Lee Chandler – "MANCHESTER BY THE SEA" (Amazon Studios and Roadside Attractions)
ANDREW GARFIELD / Desmond Doss – "HACKSAW RIDGE" (Lionsgate)
RYAN GOSLING / Sebastian –"LA LA LAND" (Lionsgate)
VIGGO MORTENSEN / Ben – "CAPTAIN FANTASTIC" (Bleecker Street)
DENZEL WASHINGTON / Troy Maxson – "FENCES" (Paramount Pictures) WINNER
Outstanding Performance by a Female Actor in a Leading Role
AMY ADAMS / Louise Banks – "ARRIVAL" (Paramount Pictures)
EMILY BLUNT / Rachel – "THE GIRL ON THE TRAIN" (Universal Pictures)
NATALIE PORTMAN / Jackie Kennedy – "JACKIE" (Fox Searchlight Pictures)
EMMA STONE / Mia – "LA LA LAND" (Lionsgate) WINNER
MERYL STREEP / Florence Foster Jenkins – "FLORENCE FOSTER JENKINS" (Paramount Pictures)
Outstanding Performance by a Male Actor in a Supporting Role
MAHERSHALA ALI / Juan – "MOONLIGHT" (A24) WINNER
JEFF BRIDGES / Marcus Hamilton – "HELL OR HIGH WATER" (CBS Films)
HUGH GRANT / St Clair Bayfield – "FLORENCE FOSTER JENKINS" (Paramount Pictures)
LUCAS HEDGES / Patrick Chandler – "MANCHESTER BY THE SEA" (Amazon Studios and Roadside Attractions)
DEV PATEL / Saroo Brierley – "LION" (The Weinstein Company)
Outstanding Performance by a Female Actor in a Supporting Role
VIOLA DAVIS / Rose Maxson – "FENCES" (Paramount Pictures) WINNER
NAOMIE HARRIS / Paula – "MOONLIGHT" (A24)
NICOLE KIDMAN / Sue Brierley – "LION" (The Weinstein Company)
OCTAVIA SPENCER / Dorothy Vaughan – "HIDDEN FIGURES" (20th Century Fox)
MICHELLE WILLIAMS / Randi Chandler – "MANCHESTER BY THE SEA" (Amazon Studios and Roadside Attractions)
Outstanding Performance by a Cast in a Motion Picture
CAPTAIN FANTASTIC (Bleecker Street)
FENCES (Paramount Pictures)
HIDDEN FIGURES (20th Century Fox) WINNER
MANCHESTER BY THE SEA (Amazon Studios and Roadside Attractions)
Outstanding Performance by a Male Actor in a Television Movie or Limited Series
RIZ AHMED / Nasir "Naz" Khan – "THE NIGHT OF" (HBO)
STERLING K. BROWN / Christopher Darden – "THE PEOPLE V. O.J. SIMPSON: AMERICAN CRIME STORY" (FX Networks)
BRYAN CRANSTON / President Lyndon B. Johnson – "ALL THE WAY" (HBO) WINNER
JOHN TURTURRO / John Stone – "THE NIGHT OF" (HBO)
COURTNEY B. VANCE / Johnnie Cochran – "THE PEOPLE V. O.J. SIMPSON: AMERICAN CRIME STORY" (FX Networks)
Outstanding Performance by a Female Actor in a Television Movie or Limited Series
BRYCE DALLAS HOWARD / Lacie – "BLACK MIRROR" (Netflix)
FELICITY HUFFMAN / Leslie Graham – "AMERICAN CRIME" (ABC)
AUDRA McDONALD / Billie Holiday – "LADY DAY AT EMERSON'S BAR & GRILL" (HBO)
SARAH PAULSON / Marcia Clark – "THE PEOPLE V. O.J. SIMPSON: AMERICAN CRIME STORY" (FX Networks) WINNER
KERRY WASHINGTON / Anita Hill – "CONFIRMATION" (HBO)
Outstanding Performance by a Male Actor in a Drama Series
STERLING K. BROWN / Randall Pearson – "THIS IS US" (NBC)
PETER DINKLAGE / Tyrion Lannister – "GAME OF THRONES" (HBO)
JOHN LITHGOW / Winston Churchill – "THE CROWN" (Netflix) WINNER
RAMI MALEK / Elliot Alderson – "MR. ROBOT" (USA Network)
KEVIN SPACEY / Frank Underwood – "HOUSE OF CARDS" (Netflix)
Outstanding Performance by a Female Actor in a Drama Series
MILLIE BOBBY BROWN / Eleven – "STRANGER THINGS" (Netflix)
CLAIRE FOY / Queen Elizabeth II – "THE CROWN" (Netflix) WINNER
THANDIE NEWTON / Maeve Millay – "WESTWORLD" (HBO)
WINONA RYDER / Joyce Byers – "STRANGER THINGS" (Netflix)
ROBIN WRIGHT / Claire Underwood – "HOUSE OF CARDS" (Netflix)
Outstanding Performance by a Male Actor in a Comedy Series
ANTHONY ANDERSON / Andre Johnson – "BLACK-ISH" (ABC)
TITUSS BURGESS / Titus Andromedon – "UNBREAKABLE KIMMY SCHMIDT" (Netflix)
TY BURRELL / Phil Dunphy – "MODERN FAMILY" (ABC)
WILLIAM H. MACY / Frank Gallagher – "SHAMELESS" (Showtime) WINNER
JEFFREY TAMBOR / Maura Pfefferman – "TRANSPARENT" (Amazon)
Outstanding Performance by a Female Actor in a Comedy Series
UZO ADUBA / Suzanne "Crazy Eyes" Warren – "ORANGE IS THE NEW BLACK" (Netflix)
JANE FONDA / Grace Hanson – "GRACE AND FRANKIE" (Netflix)
ELLIE KEMPER / Kimmy Schmidt – "UNBREAKABLE KIMMY SCHMIDT" (Netflix)
JULIA LOUIS-DREYFUS / President Selina Meyer – "VEEP" (HBO) WINNER
LILY TOMLIN / Frankie Bergstein – "GRACE AND FRANKIE" (Netflix)
Outstanding Performance by an Ensemble in a Drama Series
DOWNTON ABBEY (Masterpiece/PBS)
STRANGER THINGS (Netflix) WINNER
Outstanding Performance by an Ensemble in a Comedy Series
THE BIG BANG THEORY (CBS)
ORANGE IS THE NEW BLACK (Netflix) WINNER
Outstanding Action Performance by a Stunt Ensemble in a Motion Picture
"CAPTAIN AMERICA: CIVIL WAR" (Walt Disney Studios Motion Pictures)
"DOCTOR STRANGE" (Walt Disney Studios Motion Pictures)
"HACKSAW RIDGE" (Lionsgate) WINNER
"JASON BOURNE" (Universal Pictures)
"NOCTURNAL ANIMALS" (Focus Features)
Outstanding Action Performance by a Stunt Ensemble in a Comedy or Drama Series
"GAME OF THRONES" (HBO) WINNER
"MARVEL'S DAREDEVIL" (Netflix)
"MARVEL'S LUKE CAGE" (Netflix)
53rd Annual SAG Life Achievement Award