Thursday's new episode titled "Riverdale: Faster, Pussycats! Kill! Kill!" finally dives into the mysterious life of the town's resident rocker, Josie McCoy.
TooFab's Madison Brodsky spoke to actress Ashleigh Murray -- who plays the head Pussycat -- to find out what it was like to enter The CW's reimagined world of Archie and his friends. From meeting her on-screen momma Robin Givens to working with childhood crush Luke Perry, it's been a wild ride for the young star so far.
See what "Riverdale" intel we learned including three steamy (and very unexpected) romances.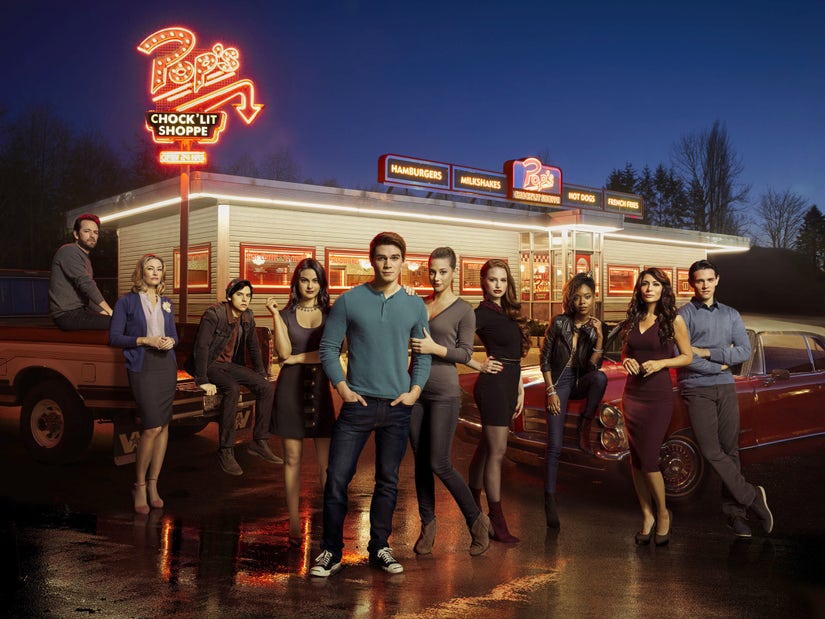 The CW
What's it like working with your on-screen mama, Robin Givens?
"You know it was a lot of fun. We had the chemistry right away from the second that I met her, which was on a shoot during episodes two and three. She was just walking to her trailer and as soon as I saw her I was like, 'Oh my god. Hi I'm Ashleigh' and she was like, 'I'm Robin' and then we hugged and it was great. But it was when she said, 'My amazing daughter Josie and the Pussycats' for the first time while we were filming that I just cheesed at her like, 'Yeah that's my Mama' and it really has been the same ever since. I cannot get enough of Robin. She's just great."
Did you know of Robin before you were cast?
"Gosh yes! I've known Robin for years. She was a household name growing up for me because I really really loved Toni Braxton and she was in one of the videos and ugh, Robin is just the queen."
You said Luke Perry was your first celebrity crush. Does he know now?
"I'd imagine that he does. I think he does, but you know Luke and I have a really great relationship, he's a wonderful friend and he's a wonderful source of wisdom for all of us. I know that he doesn't really get into social media or anything so I don't think he has read about it anywhere, but honestly he probably assumes that."
What happened when you first met Luke?
"When I first met Luke, he walked into the hair and makeup trailer and took off his shirt and was like, 'I hope you guys don't mind, but I need to shave and I can't do it with my shirt on.' More than half the trailer hadn't met him yet, but we were all staring at him and then he looked down at me and was like, 'Oh, hey. What's up? I'm Luke Perry' and I was like 'OMG' so that's how that went."
So it was like your inner fan girl's dream come true?
"It really was! He even showed how much of a gentleman he truly is because the kids of the cast all went out to dinner and drinks after one of our first big days of shooting and Luke came over and sat with us, shared tips about how to deal with the type of fame we're about to go into and how to deal with the industry and then he covered our tab! Luke is just so wonderful."
What drama can we expect from Josie and the Pussycats tonight?
"There is some suspension in the ranks between Valerie and Josie. You'll get to see more of the family dynamic between Josie, her mom and her father, who makes a special appearance in the episode. You're also going to get to find out how Josie got her name, which is really fun, but I can't even really give a hint without giving it away."
What can you tell us about Josie's father?
"Josie's dad is honestly a big part of what she wants to be in life. Her father is also a musician. It's where she gets her talent from, so there's a lot of respect for her dad and also a lot that she has to live up to. You'll see that there's a lot of pressures that not only she will have to live up to, but pressures that her father puts on her as well."
What was it like to be cast as Josie knowing she's always been a pale white, redhead?
"You know it was an honor because Josie is definitely an iconic character. It meant a lot to me because I wanted to be able to do this character justice and bring to life the characteristics about her that everyone relates to. I didn't want to make it about how she looks, but about how she is. In my mind, I'm not erasing who Josie was on the page, I'm just bringing her to life in a way that is like how history repeats itself, meaning I believe my Josie is a reincarnation who happened to have this musical talent and her parents named her Josie and she made a girl group that she named the Pussycats and here they are. I'm not trying to take away from this iconic role, but I am proud of my background so it's important to me that I make myself an idol for other brown and black girls everywhere."
We'll also see Josie finally make an appearance at Pops, the first time you're just one of the kids.
"Yeah and that's something that I don't think Josie really gets to do a lot of and that is 100% her choice, to be honest, because she chooses to spend her extra time with music and become the artist that she wants to be. It's not often that she can just be a kid and go out on a night to the diner and sit down with really cool people in the city that she would love to be in."
We hear there's a shocking kiss tonight too ... any details there?
"You'll have to watch tonight to find out, but when I read that [these characters] kissed, I was like 'WOAH' because from what I know, that never ever happened in the comics."
"Riverdale" airs Thursdays at 9pm on The CW.