A town full of secrets. Quirky characters around every corner. A mystery involving the murder of local teenager. Yes, "Twin Peaks" star Mädchen Amick is back in very familiar territory in The CW's new series, "Riverdale." But shooting this new show couldn't have been any more different.
"Riverdale" -- a noir series starring the characters from the Archie comics -- was almost instantly called a mashup of David Lynch's classic '90s show and "Dawson's Creek," both on which Mädchen appeared.
"I'm also hearing it's a comparison to 'Gossip Girl,' so, hey it's three for three," she joked in a conversation with TooFab's Brian Particelli. "I think the combination is fairly accurate. When I just hear the comparison to 'Twin Peaks,' I think there's definitely an homage or a nod, but it just has a very different rhythm. When you bring in 'Dawson's Creek' or 'Gossip Girl,' I think it's more accurate. I think it's a good combination of both."
And while she conceded the shows share some DNA, the experience on set for the now 46-year-old actress was a complete 180 from when she was just starting out.
"There comes a moment, I don't know when it hit me exactly, when I all of the sudden realized that on my seasons of 'Twin Peaks' we had a lot of younger actors that were for the most part brand new and we had the older actors who were experienced veteran actors," she explained. "And then it just hit me, Oh, I'm the older generation [now]."
"It's fun but it was also a little bit sobering. I'm a part of the older, wise generation," she said. "I think it was during filming the pilot, because a lot of the younger actors were kind of coming to me and asking me for advice. I have a lot of good stuff to share with them!"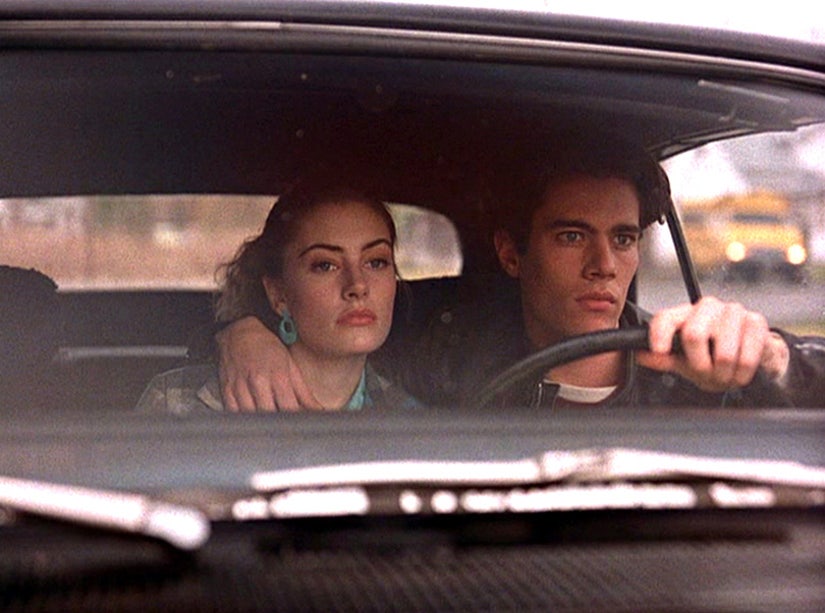 Madchen on Twin Peaks/Getty
Being part of that older, wiser generation also means witnessing a recent shift in Hollywood first hand.
"Slowly but surely we have much better female roles to play and to choose from. When I was just starting out I had two choices: I could be the beautiful girl on the main man's arm as decoration or I would have to do a little independent movie to get any depth in the female character," said Amick. "Nowadays, I see a lot of depth in the female roles, with a lot of diversity and a lot of things they are dealing with so that's very welcoming."
Amick is excited to play Alice Cooper (no, not that one) on "Riverdale," Betty's mom who comes equipped with a "Mommie Dearest" vibe, past tragedies and "deep seeded secrets." And while the show has some solid buzz (we've seen the pilot, it's a lot of fun), she's surprisingly pragmatic with her expectations for its success.
"There's a lot of excitement on set and there's a lot of really great reviews .... [her co-stars] turn to me all the time like, 'Mädchen what's wrong?' And I'm like, no, no, I'm very excited as well, I hope the best for it, but I've been in the business for 30 years and I've done numerous TV shows and you just never know," she admitted.
Amick landed marquee gigs in some high-profile launches such as "Central Park West" with Raquel Welch and John Barrowman and the "Fantasy Island" reboot which were short-lived.
"They were good shows that just got cancelled and for different reasons," she said of her TV past. "Either the head of the network was fired and a new one came in and cleaned house, or there was one series that I was on that was doing well and then the LA riots hit and that was what took over our television screens and the show could never get back on its feet."
"So it's absolutely enjoying the moment but it's not everything you need to keep moving forward, keep your head to the ground and do your work humbly, and keep looking for the next thing because that's what we are," Amick said.
"We are little circus entertainers and we stay in town long enough that they'll keep you there, but when it's time to pack your stuff and move on to the next town, that's what you gotta do."
"Riverdale" premieres Thursday, January 26 on The CW. She'll also reprise her role as Shelly Johnson on Showtime's revival of "Twin Peaks," kicking off May 21, 2017.