"Young Turks" star Hasan Piker spoke to TooFab about why he eviscerated Tomi Lahren on Wednesday over what he deemed a "racist" Oscar rant in which the conservative Blaze host targeted an Iranian director.
Prior to Oscar night, the directors of every nominee for Best Foreign Language Film released an open letter, condemning President Donald Trump's proposed (and, for the moment, squelched) Muslim travel ban. Iranian director Asghar Farhadi stayed back in Iran, and when he won the award, he sent up two prominent Iranian-American scientists to give his victory speech. "I'm sorry I'm not with you tonight," they said in his stead. "My absence is out of respect for the people of my country and those of the other six nations whom have been disrespected by the inhumane law that bans entry of immigrants to the U.S."
Lahren took major issue with Farhadi, tearing into him during her Oscar themed "Final Thoughts" segment this week.
"The real treasure of [Oscars] night was listening to a written statement from an Iranian director about how President Trump's temporary travel ban disrespects his people," Lahren said. "Wow, ain't that something -- a lecture on tolerance and inhumane laws from an Iranian. That's rich."
"Give an Iranian director an award and he feels the need to lecture Americans on our laws and government," Lahren said, "but meanwhile, in the Islamic Republic of Iran -- his homeland -- gays are executed, press freedom is non-existent, government opponents are imprisoned or murdered, women are burned in acid attacks and children are subjected to the death penalty."
"So, what, all Iranians are incapable of understanding tolerance because their government is awful? That's like saying all Americans love to murder Middle Eastern babies because our government has been doing that exceptionally well for some time now," Piker said. "Not all Iranians support their government just like not all Americans support our government."
Lahren also likened Hollywood's glitzy Oscar after-parties invite lists to "extreme vetting."
"More amazing is that Hollywood sits there in their gowns and jewels that cost more than what the average American makes in a year and applaud this crap. And after they applaud this crap, they take their private security and scamper off to their private after parties with their guest list. Sounds like extreme vetting," she said.
"No," Piker responded, "that actually sounds like false equivalence. Also, you sound super bitter that you weren't invited to any of the Oscar parties, Tomi. It's OK; unlike our borders, quite easy to get into. Even a 'dirty Muslim' like me gets to go."
TooFab's Sarah Taylor spoke to Piker so he could elaborate on his issues with Lahren's Oscar tirade.
Is this first time you've taken Tomi Lahren on point by point or have you posted other videos in the past?
I do a Tomi Takedown once a week each Wednesday. Originally I would ask the audience whether they liked the video and wanted to see more each week, but the response was overwhelming so now we talk Tomi on Wednesdays -- which has been great because they usually end up getting three times the views her videos get.
Do you think Tomi Lahren actually believes in what she's saying about Hollywood and the Iranian director in that video or is this just a shtick because it resonates and drives her viewership?
I think it's 50-50. Some she actually believes, some points are probably written on her teleprompter by her producers but all of them are essentially a regurgitation of "Middle America bar talk" talking points. I mean it would be remarkably sad if Tomi truly sat around and got super offended at every big culture moment in America. That would be a very sad life to live.
The point you make in the video about her blaming the Iranian director for his government? Why do you think she seems tone-deaf on this issue?
I don't think she's tone deaf. I think she's willingly ignorant. There is a purpose behind her gross mischaracterizations. She's channeling the "every man" when she makes these statements.
During your video, you call yourself a "dirty Muslim," have you noticed a change in how you're treated on social media since Trump has come into power?
No. The alt-right has been attacking me relentlessly and calling me a terrorist sympathizer for some time now. Their nickname for me is quite funny actually, "Brown Fabio." I love it because 1) They think calling someone "brown" is a slur when it's not and 2) Because Fabio is an attractive successful male model so while they're trying to belittle me they end up complimenting me. Oh the irony!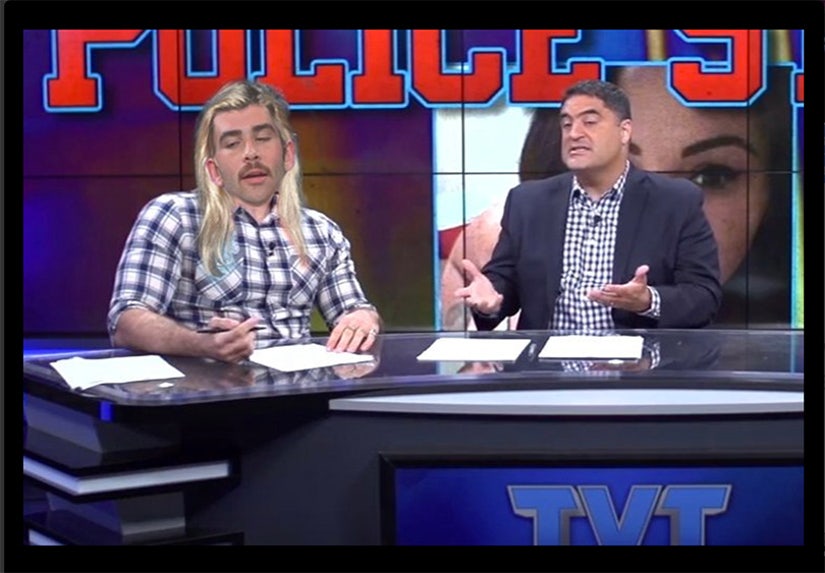 Twitter
How do you handle prejudice and discrimination from internet trolls?
I know where it's coming from so it doesn't bother me at all. I have a very stoic approach to dealing with trolls online. In the end of the day some people will love me and some will hate me. I have no control over that whatsoever, but what I can control is how I let it affect me. I know that each comment is coming out of a place of fanaticism, whether it's pure hatred or admiration. There's an aspect of "please validate my existence" within each comment. So I use positive reinforcement and repost the fun stuff. I will also retweet really clever dismissals as well -- because those jokes still take some time to craft and I value that.
Have you invited Tomi Lahren on your show? If so, has she answered back?
My subplot on the weekly Tomi videos are that I ask her to DM me to go on a date. This is largely a joke, but also a testament that I'm a true believer in open discourse. My overall goal was to engage in a cordial and honest discussion despite our differences. I recently found out that she blocked me on Instagram after a fan wrote an article and tagged both of us in it. I was shocked since I never even followed her to begin with. But I guess one can still dream!
Have you received backlash from the far right and alt right since posting this anti-Tomi Oscar rant video that now has 1 million plus views?
Quite the contrary actually. These videos are somewhat of an entertaining distraction for me and my audience from the insane news cycle we're experiencing everyday, and I think given my "fact-based" approach, people across the political spectrum enjoy the videos. I've gotten messages of praise from conservatives as well as progressives. Another reason why the alt-right doesn't really get to me much is because I resemble the stereotypical "bro," a "woke" one but still. Okay, wokebae.
Tomi Lahren really seems to have an ax to grind with Hollywood, but do you think she's even had firsthand encounters or experiences with actual celebrities to speak as if she's so informed about their every intention and thought?
This question is as loaded as a baked potato. I don't think she cares about what Hollywood stands for outside of how it can advance her backwards-minded, bigoted narrative that channel. And one of the biggest "celebs" she's ever had on her show is Joy Villa. [laughs] I don't believe Tomi's genuinely upset at Hollywood liberal elites -- after all, she's desperately trying to become a celebrity herself. She even had an event at Sundance! Also our commander in chief is not so different than Tomi in this regard, Trump has spent an entire lifetime trying to get near celebrities and become one. I sometimes genuinely think Trump ran just to become famous. Sad.
Hasan, you seemed really passionate in that video, are you sure you're not harboring a secret thing for Tomi? Would you go on a date with her if she asked?
I would go on a date with her, but only to use it as an opportunity to understand her position and find out why she believes what she believes. Or, if she actually believes in any of the things she says. My speculation, that I've laid out on all of my videos, is that Tomi is in fact no more than an opportunistic mouthpiece. The problem however is that her vitriolic hot garbage final thoughts serve as propaganda for an administration that actively tries to purge Latins, ban Muslims and disenfranchise Blacks.
Watch Piker's original video below.
Waiting for your permission to load the Facebook Video.