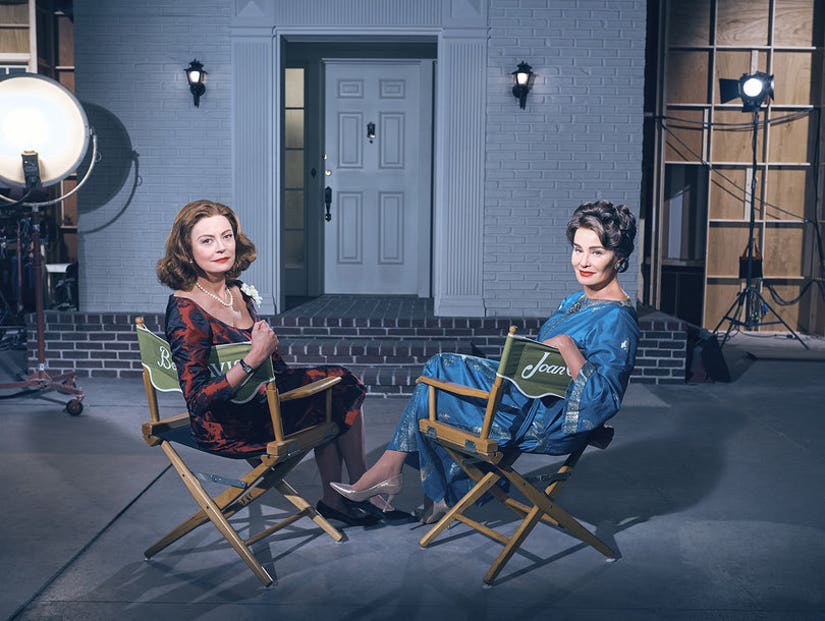 FX
Ryan Murphy's new FX drama "Feud" lived up to expectations on Sunday night and delivered the kind of clever, savvy cattiness that our Sunday nights have been missing since the end of ABC's "Desperate Housewives."
The series starring Jessica Lange and Susan Sarandon as Joan Crawford and Bette Davis, repectively, documents the real-life bitter rivalry between the two Hollywood icons during the filming of "Whatever Happened to Baby Jane?"
Though Murphy has been adamant in interviews that he was not going for high camp, but rather human drama in the retelling of the Bette-Joan feud, it still delivered a side dish of bitchiness that we were oh-so-ready for.
The tales from the set and Oscar aftermath involving the actresses are a thing of legend around Hollywood. Not only were these women pitted against each other, but against a male-dominated industry that favored the younger, fresher generation of actresses.
In a show filled with lines like, "Day 5 I get to kick her in the head. Can't wait," here are 5 of TooFab's favorite moments from the premiere.
1.) Joan Crawford Disses Marilyn Monroe
After an intro from Catherine Zeta-Jones' Olivia de Havilland, the show cut to the 1961 Golden Globe Awards, where Joan watched the curvaceous blonde pick up an award.
"I've got great tits too, but I don't throw them in everybody face," she said.
In real life, Crawford reportedly made a similar comment about Monroe's low-cut dress when they both attended the Photoplay awards in 1953. "Look, there's nothing wrong with my tits, but I don't go around throwing them in people's faces," Crawford apparently said at the time.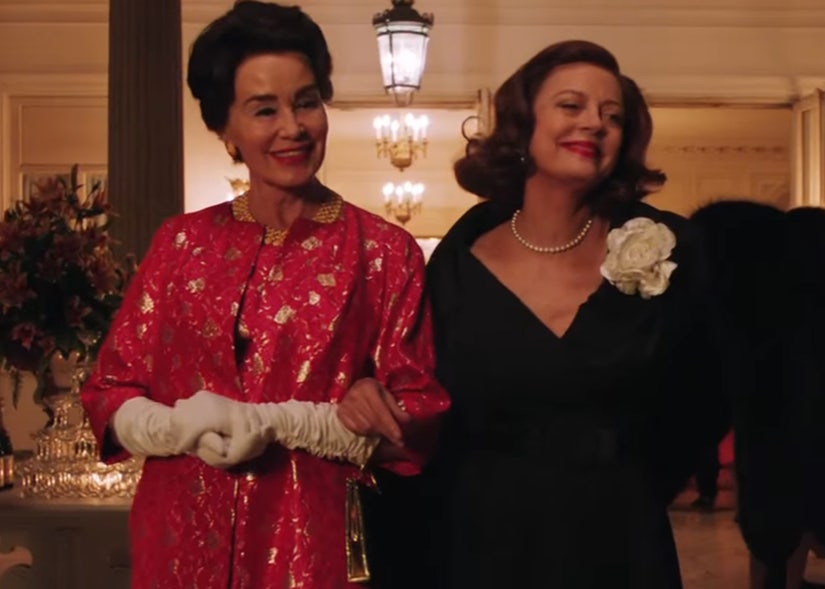 FX
Once Joan convinced Bette to co-star in "Whatever Happened to Baby Jane?," the two announced the film during a press event in which they inked their contracts.
The tension was palpable as they posed for photos together. "Usually I play the bitch, but this time I can sit back and watch Bette do it," Crawford said as Bette gave her the stink eye for her shilling Pepsi during the photo-op.
But the real highlight: seeing the two women battle to be on the photographer's left hand side. Why? Because whoever was on the left would get top billing in the photo caption in the paper.
While Bette thought she had it after taking the seat, Joan one-upped her by simply signing the contract over her shoulder.
The contract itself was also a point of contention, as Joan saw Bette was getting $600 in living expenses. Crawford refuses to sign until she was given $1,500.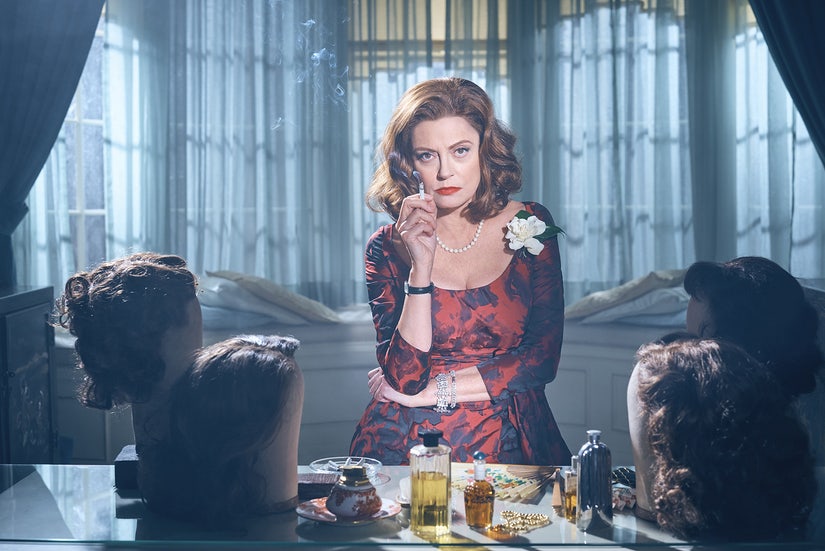 FX
3.) Joan's Reason for Hating Bette
During a chat with her current boyfriend, Joan revealed her history with her new co-star. "She tried to screw by boyfriend," Crawford explained. "She knew he was mine and that's why she tried to take him away."
"I married him out of spite," Crawford added. "Do you realize Bette Davis is responsible for one of my failed marriages, personally responsible."
She went on to call her the "queen bitch who always thought she was better than me, more talented than me. I admire her talent and her craft and I will have her respect. Even if I have to kill both of us to get it."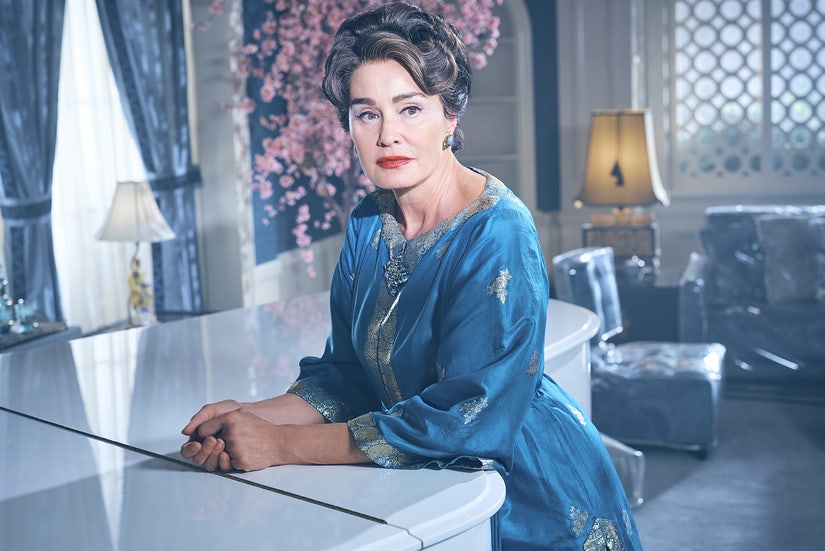 FX
4.) Crawford Wins Over the Crew
On her first day on set, Joan arrived with gifts for everybody in the cast and crew of the film.
No, she probably didn't do it out of the kindness of her heart, but instead to "get better lighting and props."
She also gifted the set with a Pepsi-Cola machine, which would later ignite a war of its own (we're sure this will be a thing later in the season).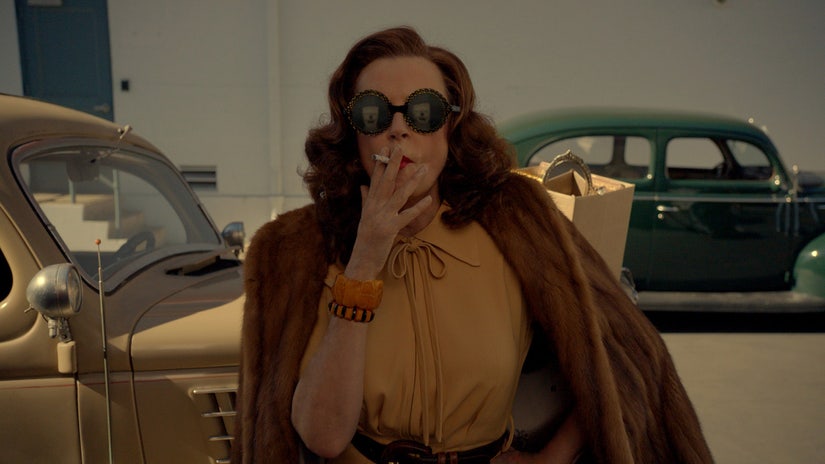 FX
5.) First Day of Shooting
As Joan prepped her hair and makeup, Bette stopped by her dressing room to catch her co-star taking a swig from a flask.
"Drinking already?" Davis criticized, before joining her for a drink.
In another catty moment, Davis pointed out exactly how long it's been since her last project. "You haven't worked in three years," she interrupted ... not that she was keeping track or anything.
"Lets cut through the bullshit. I don't like you, you don't like me, but we need this picture to work, both of us," Davis then told her. "When you're good Joan, god dammit, you're good. I've always thought so."
But, she couldn't leave the room without a final dig: "One last thing, lose the shoulder pads. And cut back on the lipstick."
Davis kept pushing for Crawford to de-glam her look, something Joan was not on board with. Did Bette do this because she thought it'd be good for Joan's character ... or simply because she wanted her co-star to look bad?
Things are only going to get crazier from here -- what did you think of the premiere, are you hooked?