Marlon Wayans was inspired by his personal life to show the world a more loving side of divorce on his new NBC sitcom, "Marlon," which premieres this summer.
But still expect the actor's signature inappropriate humor he's displayed throughout his career, in comedies including "Scary Movie," "White Chicks" and "A Haunted House."
"It's like someone put an IV into my vein and took everything and put it on the screen," Wayans said at a press event TooFab attended. "I am over-the-top. I'm loving, right, but sometimes inappropriate. My kids was asked in an interview – they said, 'Hey, one word to describe your father.' And my kids looked at each other and they said, 'Inappropriate.'"
"I think the approach about a divorced family, but really the divorced family staying together, it's more of a family show than it is a show about divorce," he said. "You know, it's scrapping divorce and going, 'Nah, divorce is what you make it. This is my family for life, and it's all about love.' And that's what I love about this show."
Wayans even admitted that he still calls his ex, Angelica Zachary, "baby." The couple was never married, but had two kids together before splitting up.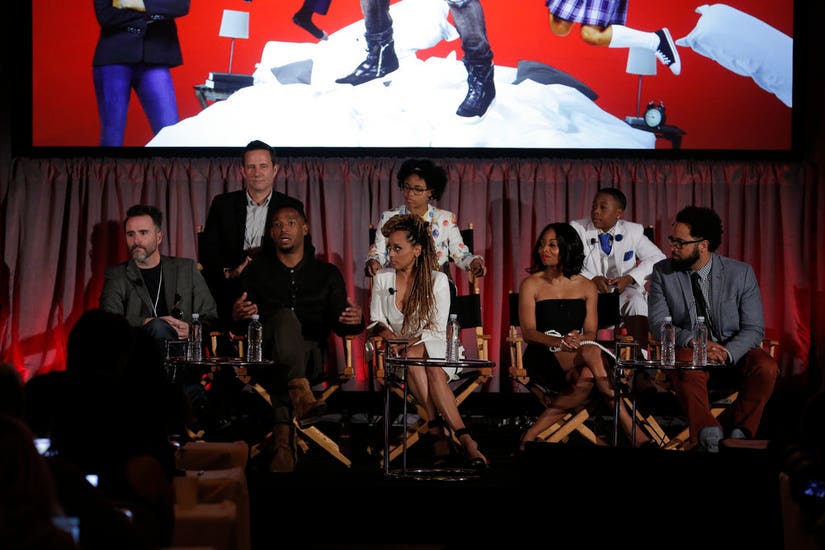 NBC
But as for possible cameos from his nine famous siblings, Wayans is just excited to focus on doing his own thing for a little while.
"Hopefully, one day, but for right now, you know, I just called the show 'Marlon' because there's too many damn Wayanses. They always want a check," Wayans said. "It's really good to step out on my own and be mature enough for this moment to do a show with my point of view."
Actress Essence Atkins, who plays Wayans' ex-wife on the show, praised her co-star for his real-life parenting skills that she's seen him put into practice.
"He told me that he had just purchased a piano and started taking piano lessons. And I said, 'OK.' And he said, 'You know why?' And I said, 'No. Why?' He goes, 'Because I wanted my kids to see me suck at something, work at it, and get better.' And that was such an astonishing piece of advice, life advice," Atkins said. "But this is the man that is Marlon Wayans. As funny and crazy and ridiculous as he can be, there is a very thoughtful person, there is a very smart person, there's a person who is constantly growing. And I think you'll see that in the show as well. I think you will fall in love with this guy, but you will also understand why she had to leave."
"Marlon" premieres on NBC on Aug. 16. Watch the trailer for the new show below.
For the record: This article previously stated that Angelica Zachary was Wayans' ex-wife, but the couple was never married.