While most people know the Versace brand and about Gianni's horrific end, the details about his murderer's life and Cunanan's other victims are certainly less widely known. The series is largely adapted from reporter Maureen Orth's book, "Vulgar Favors: Andrew Cunanan, Gianni Versace, and the Largest Failed Manhunt in U.S. History," with screenwriter Tom Rob Smith filling in the blanks when it comes to the conversations between all the key players. Working backwards, each new episode takes place before the last.
Each week, TooFab is breaking down the biggest moments, drawing comparisons to Orth's book, interviews with the real people involved and news reports from the time to try to understand what actually happened.
Here's what could use a closer look from "Descent":
Andrew's Relationship with Norman Blachford: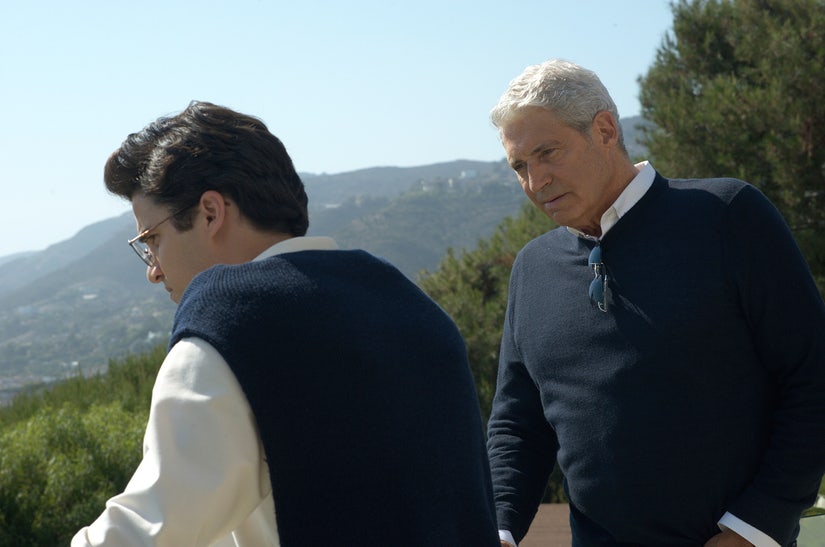 FX
"I curate his art. I find pieces of antique furniture, there's nothing sexual between us," Cunanan told one of his friends about his relationship with Blachford on Wednesday night. This, of course, wasn't exactly true.
According to Orth's book, the two met in mid-1994, three years before the murders. Blachford was 58 when they met and grieving the loss of his partner of 26 years, who had recently died of AIDS. Orth added the elder gentleman was "amazed by how much Andrew knew about architecture and paintings. Cunanan moved into Blachford's La Jolla condo in 1995, after Andrew's previous boyfriend was murdered. A man named Kevin Bond pled guilty to that killing.
In 1997, the Washington Post reported that Blachford agreed to pay Cunanan "$2,500 a month, presented him with a new car, a dark green Infiniti J30, even treated him to vacations in France." The two split in 1996 and Blachford has never spoken publicly about his time with Cunanan.
That Birthday Celebration
On Wednesday's episode, almost all the men in Andrew's life attended his birthday celebration in a lavish affair thrown at Blachford's home. Not only did good friend Jeff Trail and "love of his life" David Madson show up, but Lee Miglin also popped in to say hello.
That group photo they all took does not exist, however, as there's no proof Miglin or Madson even went to the party. While the show presents it as fact that Miglin and Cunanan were intimate, there was never any evidence the two knew each other before the Chicago businessman was murdered.
Trail did go to one of two soirees -- one for Andrew's friends and one for the older crowd -- that Blachford threw. Yes, Andrew did give Jeff a pair of Ferragamo shoes to wear and another to present to him as a gift in front of everyone, but he wasn't hoping to impress Madson. According to Orth, Cunanan saw the bash "as an opportunity to shine in front of Norman."
His Falling Out with Jeff Trail: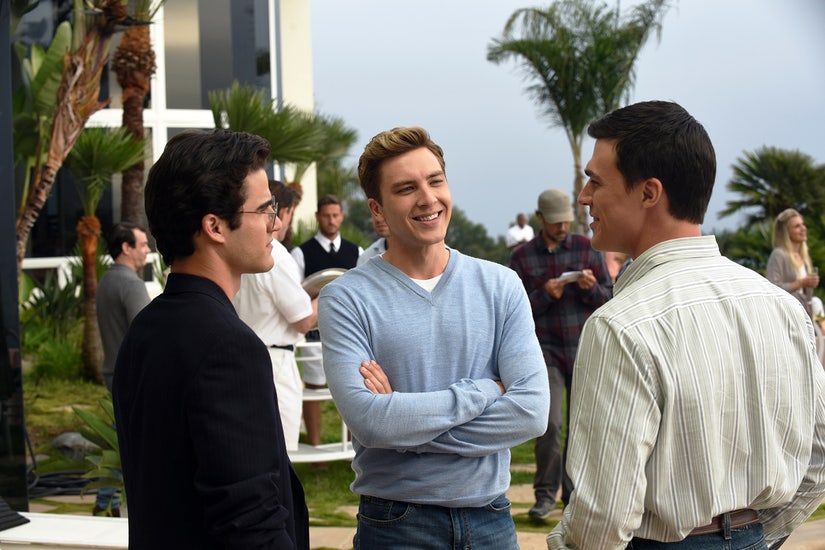 FX
The postcard Cunanan allegedly sent Trail's father reared its ugly head again on Wednesday, as viewers watched Jeff receive a phone call from his dad asking what it was all about. When confronted about it, Cunanan played dumb, but Trail was not having it. They fight, before Jeff told Andrew that he was leaving Minneapolis. He made sure to say it wasn't because of David, who the show hints he was in a relationship with at the time of their murders.
In all our research we didn't come up with anything that suggested the postcard incident ever happened. There was also no evidence supporting the idea David and Jeff had a secret relationship.
As for why they really fell out, nobody really knows. In an interview Jeff's sister did with PEOPLE back in 1997, she said she got an indication that things between her brother and Cunanan were tense around mid-April of that year, shortly before Trail's murder. He told her Cunanan was coming to visit in Minneapolis, but he expressed concern, saying, "I've got another relationship going on, and Andrew has always wanted more."
Another friend told Orth that Trail had "a big fallout with Andrew and never wished to see him again," though it's unclear what they were fought about. Despite their fight, he still allowed Cunanan to stay with him during the Minneapolis visit -- though he arranged it so he wouldn't be home when Andrew crashed at his place.
His L.A. Weekend with David Madson
Viewers learned more about Cunanan's obsession with Madson, who Andrew tells his friend Lizzy is "a future" for him. Unfortunately, things didn't go as planned after David flew him out to Los Angeles for a weekend at the Chateau Marmont.
In the show, Cunanan bought him fancy clothes, set up a lavish dinner in their amazing suite and even proposed. That proposal was met with rejection, as Madson told him he only came out to see if "we could take the next step" and decided it wasn't possible.
According to Orth's book, the trip did happen, though two of Madson's friends had to persuade him to come out. She writes:
Andrew FedExed David a $739 round-trip ticket from Minneapolis to Los Angeles and rented a $395 room at the Chateau Marmont in Hollywood for himself and David. He also took along a trunk full of sex toys—slings, harnesses, restraints, and dripping wax—he had picked up in San Francisco at Mr. S Leather.
She said Andrew bought David a $1,200 suit from Armani and the two, along with two of Madson's friends, even hung out with Lisa Kudrow during the visit. Yes, THAT Lisa Kudrow. Orth also wrote that Cunanan was "furious" when Madson wouldn't have sex with him. There's no evidence, however, that Andrew ever proposed.
After getting turned down by David, Andrew turned to drugs.
Orth's book is filled with passages about Cunanan not only using drugs like cocaine, pot, ecstasy, mushrooms and crystal meth, but also dealing.
His Relationship with His Mother
With nowhere else to turn, Cunanan returned to his mother MaryAnn Schillaci-Cunanan's apartment for a shoulder to cry on. She's seen giving him a bath and ignoring his cries for help, as he tells her he's not OK. From there, he took off for Minneapolis, where his murder spree would begin.
In Orth's book, Cunanan's relationship with his mother is described as "complicated."
"Her personality was fragmented, and after having been used as a doormat by her husband for years, MaryAnn was both needy and smothering," said the writer/reporter. While we'll cover her husband/Andrew's father Modesto more in Episode 8, he high-tailed it to the Philippines in 1988 to avoid embezzlement charges.
MaryAnn did speak with Orth for the book, where she's described as "being heavily medicated and having a tenuous hold on lucidity in conversations about her youngest child." Her other son, Christopher, reportedly told the San Diego Times" that, "She is very vulnerable and emotionally frail. Mentally she's just not right."
It's unclear what happened to her in the years after Andrew's suicide, though there are online obituaries saying she died in 2012. It's unknown if her son actually did visit her before beginning his murder spree.
Andrew's Conversation with Gianni Versace
Yeah, that obviously never happened, as it's even presented as a drug-fueled dream on the show.