In 2016, Demi Lovato made it pretty clear she probably wouldn't be attending another Met Gala, and now we know why.
Speaking with Billboard for the magazine's new cover story, the singer opened up about her disastrous time and explained why fashion's biggest night drove her straight to attending an AA meeting.
"I had a terrible experience," she said, with the author noting how Lovato's voice rose in pitch "for the only time during our conversation." "This one celebrity was a complete bitch and was miserable to be around. It was very cliquey. I remember being so uncomfortable that I wanted to drink."
According to Lovato, she went to a 10 p.m. Alcoholics Anonymous meeting from the event. "I changed my clothes, but I still had my diamonds on -- millions of dollars of diamonds on in an AA meeting," she explained. "And I related more to the homeless people in that meeting who struggled with the same struggles that I deal with than the people at the Met Gala -- fake and sucking the fashion industry's dick."
While it remains unclear who Lovato is talking about, she did go viral after the event when Nicki Minaj posted a photo of herself, designer Jeremy Scott and Lovato on her Instagram page, but made no mention of Demi whatsoever. Lovato posted series of emojis in Minaj's comments, including a crying face, peace sign and a thumbs up, before sharing a side-eye snap from the carpet on her own page. "This picture pretty much summed up my first and probably last met #cool #sof---ingawkward #notforme #sweatpants #forensicfiles #whatsgood," she captioned the shot, referencing Minaj's "Miley, what's good?" moment from the VMAs.
Lovato also took to Snapchat to share an image of her distorted face pondering a question with the caption, "When you aren't mentioned in a post but didn't do s--t to the other person." She later tweeted out, "p.s. some of y'all need to learn how to take a joke.. I'm obviously laughing at the fact that 1. I look incredibly awkward and 2. That the shade being thrown in this picture actually gives me life."
Other 2016 attendees included Katy Perry, Lady Gaga, Kim Kardashian, Beyonce, Madonna and Taylor Swift.
Speaking with Billboard, Lovato also mentioned some of her more authentic celebrity friends.
"The people that aren't willing to chill with you at home are the type of people that just want to be seen with you," she said. "When Ariana Grande and I hang out, it's super chill. One time I went over to her place. She had never heard of the Charles Manson murders." The two later went to Sharon Tate's home on Cielo Drive. "We were spooking ourselves out!"
Of bestie Iggy Azalea, she added, "She's super low-key; she doesn't drink or party. She has struggled a lot. 'No money, no family, 16 in the middle of Miami.' That lyric explains a lot of her story. She's very outspoken, and sometimes it can turn people off. But that's one of the reasons I love her. She's not the type of person who lies to you."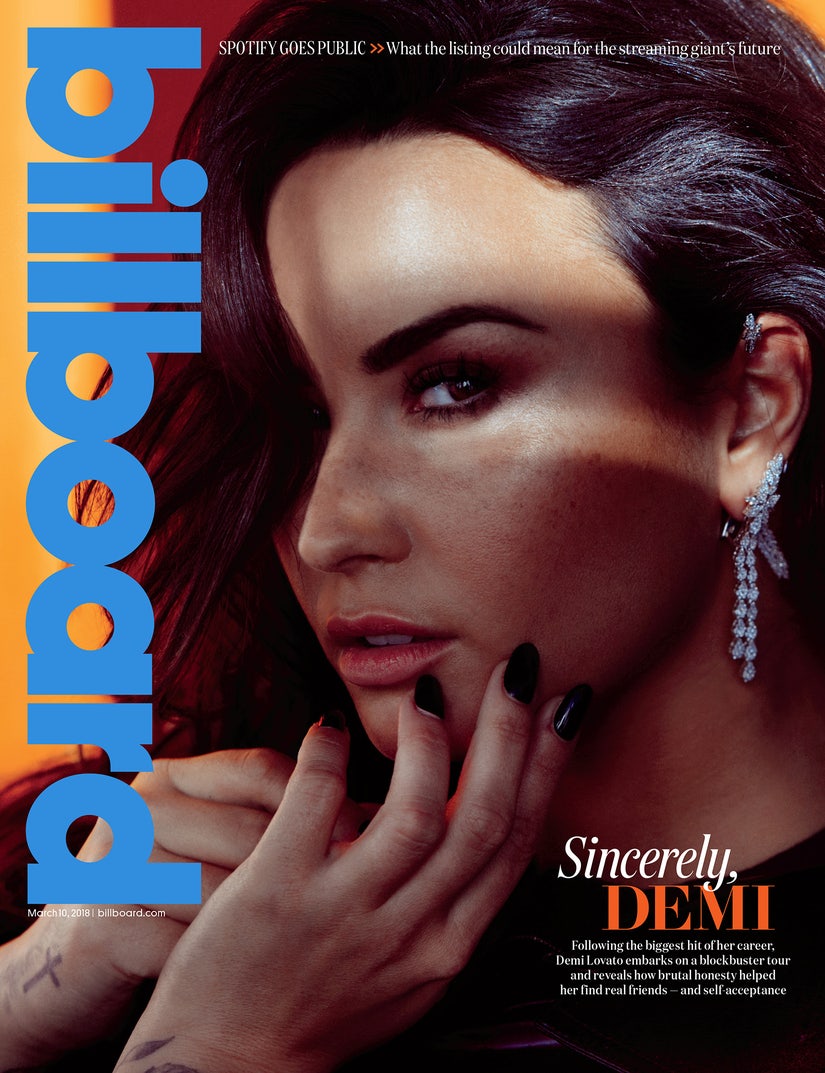 Billboard