At one time in the late 1970s, John Travolta was America's heartthrob, but in recent years he's become the butt of one too many jokes.
With back-to-back smash hits in "Saturday Night Fever" (1977) and "Grease" (1978), and his star-making role on television's "Welcome Back, Kotter," everyone knew who Travolta was by the close of the decade, and everyone loved him. After a career lull through much of the 1980s, he roared back again in 1994's "Pulp Fiction," and everyone loved Travolta again.
These days, everyone still knows who he is, and he's still drawing acclaim for his on-screen performances -- earning Golden Globe and Emmy nominations for his role as Robert Shapiro in "American Crime Story: The People v. O.J. Simpson" -- but the veteran actor seems to get even more press for his side-gigs.
While everyone remembers the one-two punch of his touchy Oscars night in 2015 with both Idina Menzel and Scarlett Johansson, those are by no means the first time Travolta had us scratching our heads. In fact, for every moment he's been cooler than every one of us, there's another time he made someone's skin crawl just a little bit.
Below are eight of John Travolta's most awkward moments.
When you think of the musical stylings of the "Saturday Night Fever" and "Grease" star, Bobby Brown is the first name that comes to mind, right? Yeah, we didn't think so. And yet, as part of the promotional package for his 2009 film "Old Dogs," he tackled Brown's "Every Little Step."
As if that wasn't strange enough, Travolta even made a music video for the single, featuring some spoken word exchanges between him and his young daughter Ella Bleu. Between those moments, the dancing portions, and clips from a not-so-great movie, the whole video is an exercise in awkward. We challenge you to make it through the whole thing!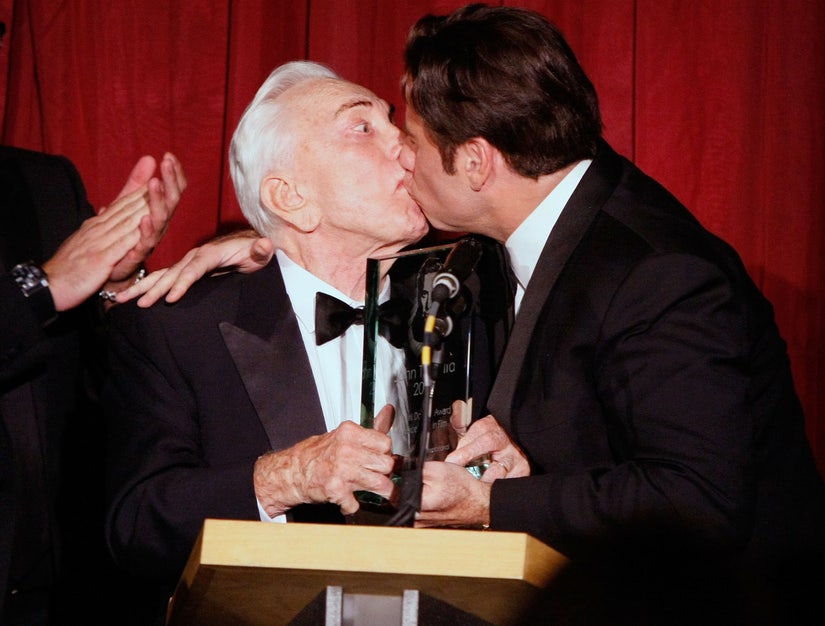 Getty
Kirk Douglas was 90-years old in 2007 when he presented John Travolta with an award at a Los Angeles ceremony. Douglas extended a hand of congratulations to Travolta as he approached the dais, but the actor had another idea.
He planted a big kiss right on the lips of the legendary film actor, whose look of stunned surprise was captured on film forever. We get wanting to get close to your film idols, but this might be taking things a little too far. Scratch that, it totally is taking things too far!
It was just a few years ago that Travolta offered his services to a Brazilian rum company to help them shill some of their products. The ad started off simply enough, with Travolta walking along the beach and getting recognized by people.
He then impressed by kicking a soccer ball off of a palm tree and into a net for a go-o-o-o-oal! From there, it was time to abruptly break into some dance moves with a few more locals. If the idea was to make us want to drink, the ad was pretty successful.
There's a tradition for the musical "Hairspray!" to cast a man in the role of Tracy's mother, but Travolta was certainly an odd choice. The film's producers were hoping to tap into some of that "Grease" magic, but that was nearly 25 years prior, and Edna Turnblad is generally played for laughs.
Nevertheless, Travolta picked up the stage torch most recently held by Harvey Fierstein and gave it his all while buried in an awkward fat suit and stilted makeup. He created an accent that was a terrible hybrid between Baltimore and New York and managed to be more hammy than hilarious. In an otherwise stellar production, Travolta was the odd-man out, with an emphasis on odd.
We loved John Travolta and Olivia Newton-John in "Grease," but then they kept trying to recreate that magic in subsequent projects where they learned that greased lightning doesn't always strike twice.
Their latest effort was a bizarre country-vibe Christmas song and video called "I Think You Might Like It." It has the production values of a high school A/V Club and features awkward dancing and hackneyed acting. Sorry guys, we don't like it.
Introducing "Adele Dazeem"
What's that? You don't know who Adele Dazeem is? That's okay, she only exists in the brain of John Travolta. He was supposed to be introducing a performance by Idina Menzel from "Frozen" at the 2014 Oscars, but that name was apparently too difficult for him.
What's most impressive, though, is that he didn't even come close. Idina Manzel and Adele Dazeem don't sound remotely the same. Travolta later blamed a phonetic spelling of her name on the teleprompter for his flub, but we're thinking he probably should have just worn glasses.
It was bad enough that he butchered her name while introducing her at the 2014 Oscars (Adele Dazeem, John? Really?), but then he doubled down and made it even more awkward the following year while trying to make up for it.
After adorably mucking up his name, Menzel brought Travolta out only to have him grab her chin and coo compliments at her while she looked about as uncomfortable as humanly possible. The whole thing was later revealed to be scripted that way -- including the touching -- but it was all just so weird.
Holding Scarlett Johansson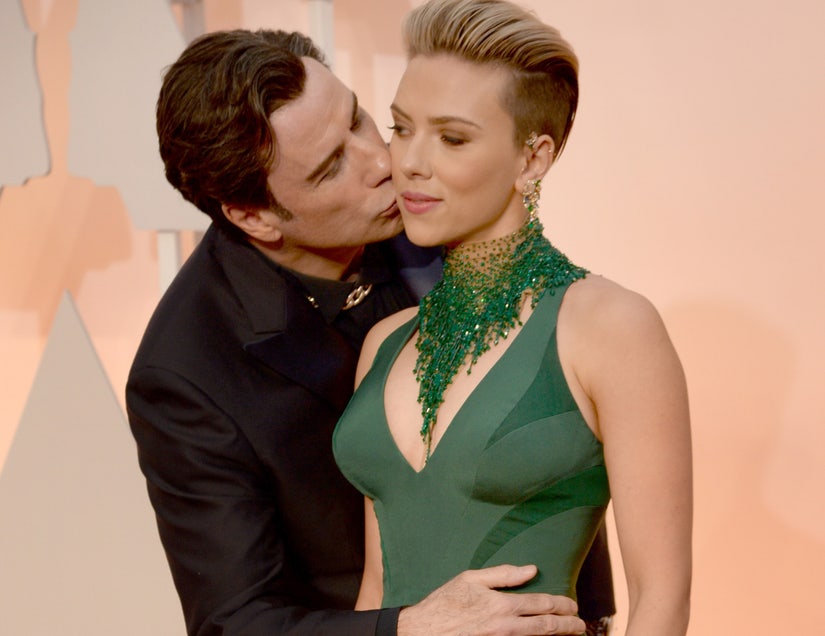 Getty
A lack of personal space seemed to be the theme of the memes on Oscars night in 2015, and it was all about John Travolta. Not only did he go overboard on Idina Menzel's face, he also got a little handsy while going in for a kiss with Scarlett Johansson on the red carpet.
Photos captured the moment with Travolta's pucker looming, his hand firmly on her waist and Johansson looking like she wanted to be anywhere but there. The actress came to Travolta's defense saying there was nothing unwanted about their exchange and she enjoyed their interactions. But can we still be uncomfortable for her, then?