"Grease" is the word and has been for four decades now, with no signs of slowing down, so TooFab reunited on-screen couple Didi Conn (Frenchy) and Barry Pearl (Doody), along with Pearl's T-Bird pal Michael Tucci (Sonny), to dig into all that grease and look at all that shine.
It's incredibly rare that a film becomes such a mainstay in popular entertainment, but with a recent live production on television, it seems this classic musical is as popular as ever. "The thing is it's never left us," Conn, a.k.a. the "Beauty School Dropout," told TooFab of the film's enduring legacy. "The movie has generated a new audience every decade and it seems like everybody just wants 'Grease.'"
She chalks a lot of the film's success to the chemistry of the cast, both on-screen and off. "We really, really had a good time. We really love each other. When you're acting and you say we'll always be together, you don't know it's gonna be like this."
"If you ask anybody why their particular project had the success that it did -- this was a big surprise to us," added Pearl, who played Frenchy's boyfriend. "But like Didi said, we all got along. We do love each other, and we did then. And the camaraderie manifested itself. We had no clue, we were just having a good time. 15 weeks. It was a labor of love."
FROM THE STAGE TO THE SCREEN
"One other thing that's very rare is that Barry and [Michael] Tucci and John [Travolta] and Jeff [Conaway] and the others were all either in the Broadway version of 'Grease' or in the national company, so they knew this world, this greasy world with greasy hair and greasy food and greasy everything," Conn said.
And that familiarity came not just from playing these characters in the film, but from manifesting and understanding different takes and characters throughout their stage runs. "[Conaway] played Zuko the first time I ever saw the play," Pearl said. "It was Jeff playing Danny Zuko and John was playing Doody, but not the Doody that I bring to the screen. I was doing Sonny."
"You go back to the basics," Michael Tucci told TooFab. "When we did the play, you raise the curtain and you just see the people, you see the T-Birds and the Pink Ladies, and basically everyone identifies with those people, trying to be popular and trying to be rude."
Conn noted another aspect that helped them manifest those characters so fully. "When we got into our makeup and, some of us, our wigs, we started calling each other by our character names," she said. "The hair people, the makeup people, I was Frenchy. I was no longer Didi. And that was great, because we were older than the teenagers we were playing. It gave us the license to act goofy and crazy."
When asked if there was concern about so many of the actors being in their 20s, and in some cases their 30s, portraying high school students, Tucci said that was a result of the show's roots in live theater.
"When you get a Broadway play, unless you're Harry Potter, it takes time," he said. "You've got to audition. And with a play like 'Grease,' which was kind of ethnic like 'West Side Story,' it doesn't come around much, so you're competing very strongly in that variable. So by the time you get there, you're in your 20s."
That license to act crazy led to plenty of goofy antics on set, but they couldn't quite agree on who brought the most laughs. "I think it was the three guys, the three stooges," Conn said of Pearl, Tucci and fellow T-Bird Kelly Ward. "Yeah, you were the funniest."
Pearl countered that Eddie Deazen, who played classic nerd Eugene, was pretty funny, but Conn shut him down. "No, you guys," she insisted. "You were always coming up with something -- always, always, always."
One of the things Pearl came up with was for the T-Birds to channel the actual Three Stooges. "I love the Stooges and I felt Sonny, Doody and Putzie [Ward] were Stooge fans, too," Pearl said. "As it turns out, our director, Randal Kleiser, was a huge Stooge fan so he said, 'Why don't we make this a bit of an homage to them.'"
Kleiser even went so far as to have Paramount set up a private screening for the three of them. "Oh, I never knew that!" Conn marveled with a laugh. Tucci was less familiar with the Stooges and might not have chosen them to homage. "That was Pearl's choice," Tucci said. "I was a Marx Brothers fan, which was better than The Stooges. But Pearl loved The Three Stooges; it has a legacy because of him."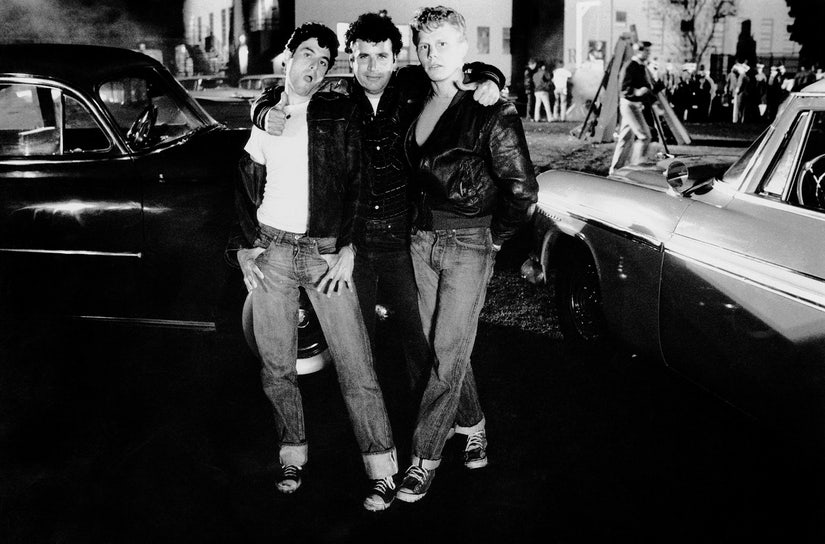 Everett
Even though they stuck tightly to the script for the most part, with a cast expressing such great chemistry and enthusiasm they were encouraged to try different things. "Improvisation was introduced right at the top," Conn said. "Being that we stayed in character the whole time just gave you that option to keep making up things."
With a laugh, she recalled one of the film's most famous improvised moments. "When I came into the dance and I had to wear that ugly yellow dress-- I hated that dress. I remember trying it on and I hated it, I hated the wig, but I couldn't say anything. This is what they gave me to wear. But Barry looked at me and said, 'What's the matter?' And he made up that line about, 'Boy, you look like a beautiful pineapple.'"
"Blonde pineapple," Pearl clarified.
"Blonde pineapple, yeah," Conn laughed. "He just made that up and there it is in the movie. And there were a lot of things like that that happened because it was encouraged."
With all that laughter and playfulness, surely some of those relationships were taken to the next level? "I had a girlfriend at the time, but I had a crush on Didi, I had a crush on Dinah [Manoff], but she was only like 19 or 18; she was a baby so you had to be careful," Pearl said with a laugh.
They agreed that Jeff Conaway may have had the most "success" on set, with Pearl saying he "made out like a bandit." "Yeah, his Winnebago was rocking and rolling," Conn agreed. It was legend."
"We all had crushes on each other because we were allowed to," Conn added. "But there really was true -- and it's to this day -- chemistry between John and Olivia."
Even as they were starring alongside them, Tucci said that they were watching the star power of the film's two leads. "We were watching John fly, and that was great focus," he said. "And then Olivia, I mean, Olivia Newton-John at the time was like Dinah Shore or Barbra Streisand. She was exactly the way she was to the crew as she was to us as she was to John."
It was all happening very quickly for Travolta when he stepped onto the "Grease" set. "He did a wonderful play called 'Over Here' about the Andrews sister," said Tucci. "And he got to dance for Jerry Lewis and 'Welcome Back, Kotter,' and I was kind of watching his path. I'm 28 trying to get the understudy in 'Grease' and he's already next door getting a Tony."
While he never actually scored a Tony for "Over Here!" Travolta was certainly at a career Zenith. "Saturday Night Fever" had catapulted him to super-stardom the year prior and "Grease" only cemented his heartthrob status.
Tucci said it was Trovlta's family that kept him grounded. "I got an opportunity to meet his brother and his sisters and his family, which is very evident in Travolta. You saw that. I call it the Italian thing."
While Travolta has come under some scrutiny for a few of his more recent awkward encounters with women, particularly Idinia Menzel and Scarlett Johansson, Tucci was quick to defend his friend and co-star, saying, "Travolta in my opinion is very shy." He went on to clarify, "What he portrays is basically who he is. I never saw problems around him or him getting involved in those things. Basically, he has a very private life. John's a good boy."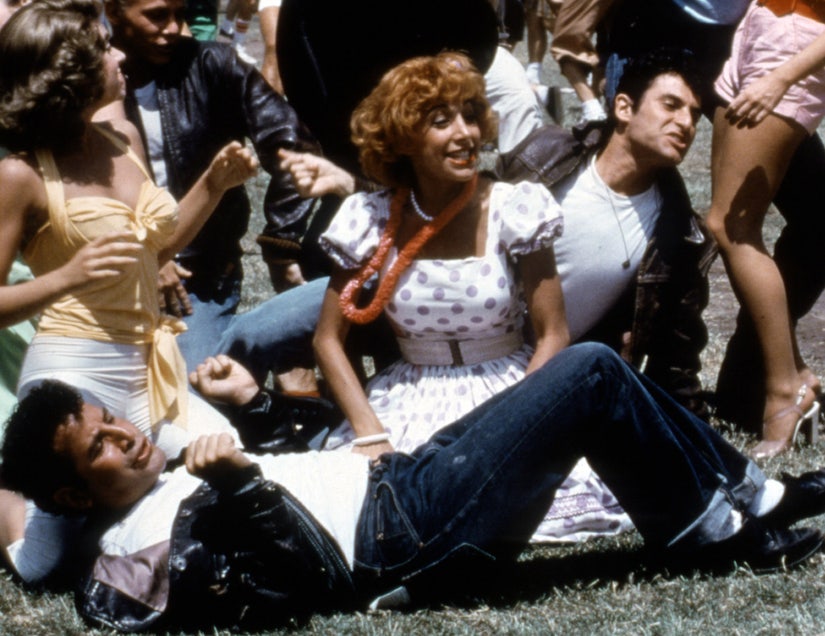 Everett
BEING PART OF 'GREASE LIVE'
When Fox decided to bring "Grease" to television in a live three-hour production in early 2016, they tapped Conn and Pearl to represent the film and join the cast. It was a whirlwind experience for the two veteran performers, but just as exciting for the fresh-faced new cast.
"They were so honored to have us there, "Pearl said. "These guys are monsters in the industry and that they should be honored to be with us was such a gift."
Conn took on the role of the waitress in the diner where "Beauty School Dropout" happens, which set her up to share the screen with the newest Frenchy. "The first time I saw Carly Rae Jepsen I just burst into tears, and so did she!" Conn said. "It was like the daughter I never had, you know. It was the first time I really felt the 40 years had gone, 39 at the time. When can you measure your life like that? But I just loved it. It was brilliant from the top to the bottom."
"A similar thing happened to me the first time I saw them go through "Greased Lightning,'" said Pearl. "I was just so moved that Zach Greenlee had done what he had done choreographically to that 'Greased Lightning' number. I was just beside myself with joy that they had represented this piece in the typically delicious fashion that he did."
While Tucci called the Fox production his favorite, he did have one criticism. "With Pearl and Didi they could have gave them a little more justice in the film. If you're gonna put them in, put them in," he said. That was one thing he appreciated about his version of the story, adding, "[Producer] Alan Carr, through Randal, focused so everybody had a moment."
When Conn and Pearl came out for the curtain call, they brought the homage full circle by wearing their original T-Bird and Pink Ladies jackets. "It was my idea, because I had the jacket and she had hers," Pearl admitted. "It was about where could we do it? And so the best place to do it would be the curtain call."
There's no better way to end a discussion on "Grease" than to discuss the ending of "Grease." It was one of the strangest left turns in film history as Danny (Travolta) and Sandy (John) jumped into Greased Lightnin' and literally soared into the sky. Four decades later, people are still talking about it and trying to figure it out, and if the cast knows what that was really about, they're not saying.
They are more than happy to stir some of the most popular theories, except for the latest one speculating that Sandy never recovered at the beach in the beginning and the whole film is a fantasy she has as she's dying. In that scenario, the final liftoff is her death and rise to Heaven. "First of all, you don't want to kill Sandy. I think it's a bad joke," Tucci said of the theory. "Alec Baldwin, he can do it on 'Saturday Night Live'; make it some Trump thing."
So what was his take on the ending? "Go for the stars. You look at the little problems you have down on Earth. You've gotta know when you gotta to leave the fair, when it's time to move on."
The debate looks to continue with the new 40th anniversary DVD/Bluray release, too, as it features a new high-flying ending. "In the different ending where the car flies up, the way it is now they look back and you see the group of us waving. Well, they never look back! John looks at her, pulls her close and gives her a big, delicious kiss. She doesn't pull away, either. She likes it.
"Randal said he wanted to use that ending, but Paramount liked the other," she added.
Pearl revealed that the iconic shot was achieved with a crane, but the studio also filmed it with a helicopter to try another angle. "And then what happened was they lost the film, the helicopter shot, so they redid it," he laughed. "It cost them $50 grand at the time, and that was a lot of money for a shot, and we still never used it. Maybe they didn't use it because it was too far right, too high, I don't know."
"They were in Heaven already, babe!" Conn laughed.
The new 40th Anniversary Edition of "Grease" is available on Blu-ray, DVD and Digital now.