The nominations for the 70th Annual Emmy Awards were announced Thursday morning, and some of the reactions from the television stars (or their family) lucky enough to snag a nomination were priceless.
John Legend was nominated twice for "Jesus Christ Superstar." His wife, Chrissy Teigen, was ecstatic. As for John's father-in-law -- not so much.
Chrissy Teigen's Dad Doesn't Care About John Legend's Noms
Chrissy Teigen shared her excitement for her hubby's nom on Twitter, writing, "13 nominations for 'Jesus Christ Superstar' this morning! John got two Emmy nominations! If he wins, he will complete his EGOT and my Spike TV award will probably be moved. But it's ok. I AM SO PROUD!"
She also tweeted, "MORE IMPORTANTLY (because it's me), 'LIP SYNC BATTLE' WAS ALSO NOMINATED! I cant find the microphone, so that is a hammer, plug and bolt." The aforementioned emojis were included in her tweet.
And then, Chrissy posted the best tweet of all -- a screenshot of a text conversation she had with her dad, who either didn't care about John's nominations or was simply a man on a very important mission.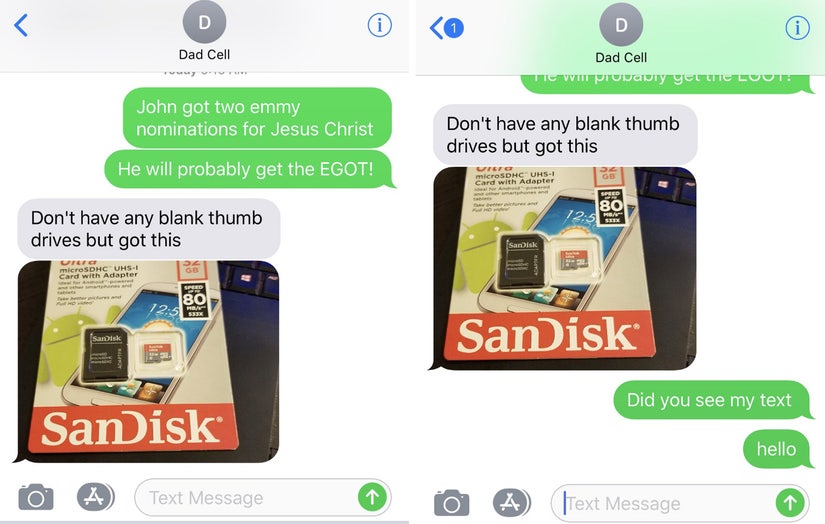 Twitter
Betty Gilpin Needs a Medic and a New Phone
Betty Gilpin was nominated for her role in Netflix's original series, "GLOW," in the category of Outstanding Supporting Actress in a Comedy Series -- and from the sounds of her tweet, she needs both medical attention and a new phone.
Jonathan Van Ness' Purest of Reactions to 'Queer Eye' Love
Jarett Wieselman, who works at Netflix, captured "Queer Eye" star Jonathan Van Ness' "too pure" reaction to finding out about his show receiving four nominations.
Samantha Bee 'Only Got Yelled at by the President Once'
Samantha Bee came under fire earlier this year when she referred to Ivanka Trump as a "feckless c--t" on an episode of "Full Frontal." Despite the controversial comment, she received a nomination for Outstanding Variety Talk Show.
"It's been an interesting year for the show, to say the least, and none of it would have been possible without each person on my staff and each suit at TBS (it's OK to say that -- they're very nice suits)," she said in a statement. "TBS bravely put a woman over 45 on TV, and in turn, I only got yelled at by the president once. We have some seriously special people on our staff, and hearing them go crazy in the office right now is just the medicine this world needs."
Tiffany Haddish MIGHT Just Buy a New Dress
Tiffany Haddish was so stoked to be nominated for Outstanding Guest Actress in a Comedy Series for her appearance on "Saturday Night Live" that she might just buy a new dress for the big night.
OVERJOYED to be nominated for an #Emmy for when I hosted @nbcsnl!! I might even splurge for a new dress for this one!! Thank you everyone for your love and support! #sheready

@TiffanyHaddish
Sterling K. Brown Is All Smiles