While Miley Cyrus and Liam Hemsworth fans are scared the couple may be on the verge of calling it quits, the pop star is simply scared her fiancé might crash their car.
The video shows the couple happily bopping along to music in the car before Hemsworth lets out a scream, "AHHH!"
Cyrus appears somewhat shaken, then turns to him to say, "I'm going to beat the sh..."
"Number one!" a happy Hemsworth exclaims.
Miley Cyrus & Liam Hemsworth end their breakup rumors after Liam posts a video on Instagram where they are seen happily together dancing to music while driving! 😍 pic.twitter.com/XOjDqR5FlM

@musicnewsfact
Speculation and concern about the state of their relationship comes after Cyrus deleted all the content on her Instagram feed and blacked out her profile picture.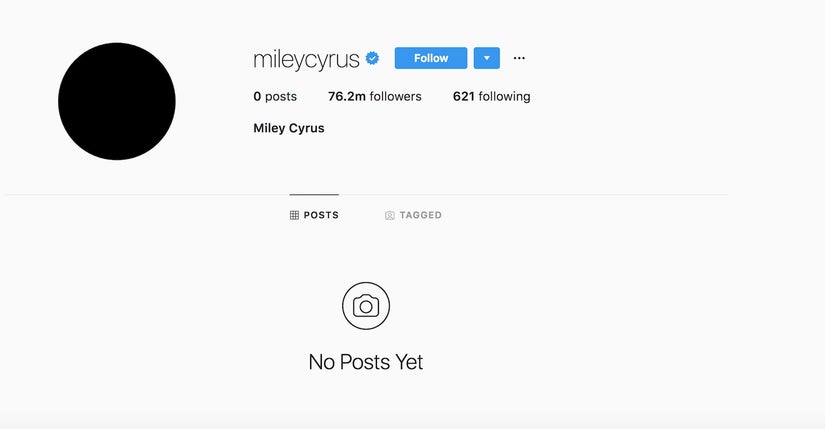 Instagram
Her Twitter profile picture is also black, but the content remains. The last tweet was a picture from her Fourth of July celebration.
At first fans were expecting some kind of viral marketing stunt, perhaps a new reinvention of her image to promote new music, but now they're bracing for bad news about her personal life as an Australian tabloid report that the couple called off their engagement makes waves.
Miley and Liam have split up and love is dead, thanks for listening to my ted talk

@mollyynewman
Miley and Liam split is the worst news ever

@shobona
DID MILEY CYRUS AND LIAM HEMSWORTH REALLY BREAK UP I NEED TO KNOW. I AM OVER THIS #FAKENEWS TREND THAT ALWAYS HAS ME GUESSING

@Lizzie9822