Mama June and Alana "Honey Boo Boo" Thompson were determined to get that crown, but they faced four major obstacles. Sugar Bear and his wife Jennifer surprised Alana on her big day and June was furious that they came backstage to wish her good luck. This was Pageant Day Problem #1.
Last season, June shocked them by rocking her size 4 figure at their wedding. But now Jennifer has undergone the same surgery, shaving off 130 pounds while June has packed more on to become a size 18.
"I knew that Jennifer and Sugar Bear were going to be in the audience, but having them come backstage that is too much," June said in a confessional. "I mean I know Jennifer's parading her slight little skinny ass around. She's trying to knock me off my game and it's not gonna work."
Right away, the two had a feisty back and forth.
June: "Look what the cat drug in."
Jennifer: "What drug you in? A mule?"
June: "Looks like you lost a bit of weight."
Jennifer: "Looks like you gained some."
June: "I thought you liked big girls, Sugar Bear."
Jennifer: "Do you like me?"
Sugar Bear: "I love you."
Jennifer: "Did you like her?
Sugar Bear: "Not really."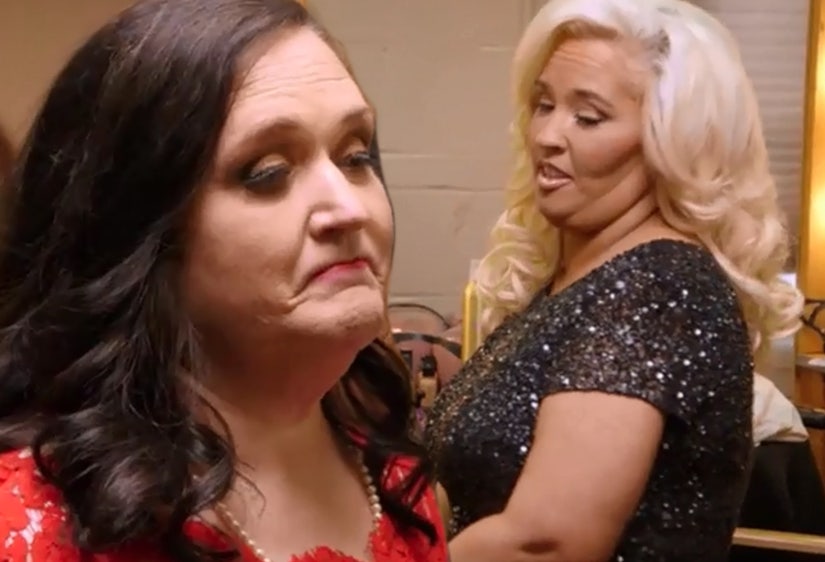 WEtv
Mama June then confronted Jennifer about talking to her new man, Geno. "Don't think whenever Sugar Bear leaves you because you're skinny that you're gonna come after my man," she snapped.
"I called Geno because you're stupid bitch self weren't answering the phone," Jennifer fired back.
June was already stressed about the pageant and that just made it way worse. "Jennifer is the reason Geno's isn't here today and I am pissed as hell right now," the reality star added in a confessional.
Jennifer made it clear throughout the episode that she wanted June to fall on her face and break a leg, literally. At one point in fact, Jennifer called June "butt up ass ugly." We're not kidding.
Pageant Day Problem #2: June's Stress Eating Continues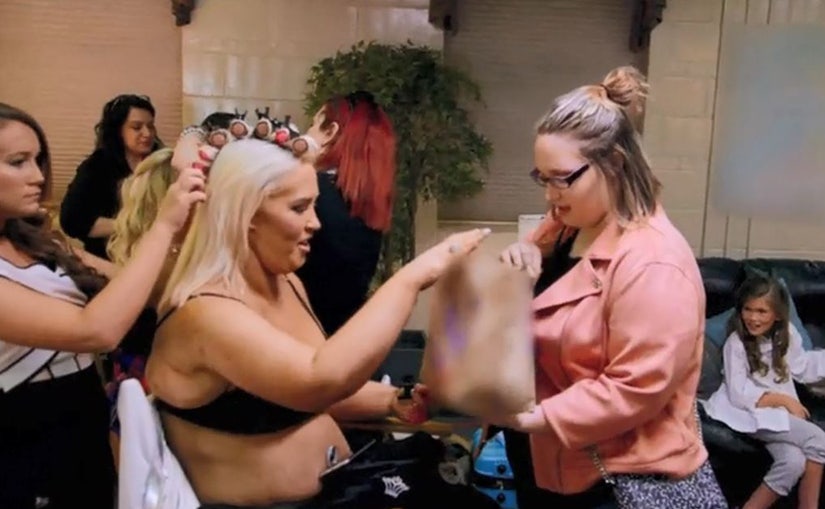 WEtv
When Mama June is nervous, she eats, and then she gets more nervous because of all the eating, leading to more food. The day of the pageant was one of those days. Last episode showed only the hours leading up the pageant, where June stuffed eclairs into her mouth along with some ding dongs.
While backstage, June chomped on some chips and some fast food -- possibly Taco Bell -- that she had her daughter Pumpkin bring her. Alana and Mama June's pageant coach, J.J. Smith, noticed and was very upset.
"Fast food has no place in pageantry, especially before you walk out on stage," he snapped at her.
However, June's biggest concern was fitting into her dress. With a lot of help from her stylist, June was able to fit into the gown, but it was a size 18. June explained that she couldn't believe she let herself "go this bad."
Pageant Day Problem #3: Alana Is A Hot Mess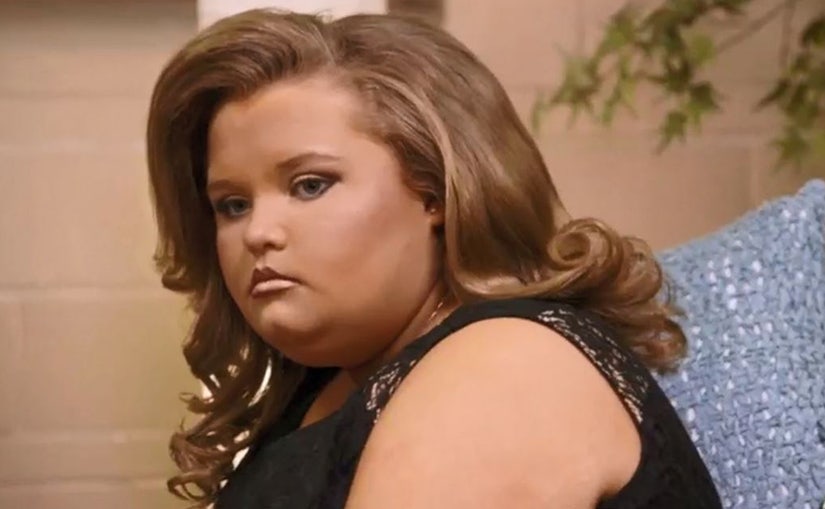 WEtv
Whenever the bitchy girls have bullied Alana, she has been able to bounce back. But she was tested at this beginning of this episode when Queen B Hannah -- daughter of Deborah, the mom who tried to buy the same dress as June -- told Alana that she should just go home and not do the pageant. Although she took the words to heart at first, Alana snapped out of it and realized who the real pageant queen was.
"Hannah might be a wannabe princess barbie doll, but I'm the real queen here and no one is going to mess with my Honey Boo Boo rep," Alana told the camera in a confessional.
But thanks to Geno and June's explosive fight last episode, Alana was worried he wasn't going to show to support them, resulting in nervous energy that was amplified by the talent portion of the competition. After seeing the other mother-daughter duos put on their incredible and impressive performances, Alana became so nervous that she felt like she was going to be sick.
The episode ended with June and Alana heading onstage to give the audience a country western performance they'll never forget.
Pageant Day Problem #4: Geno Is FREAKED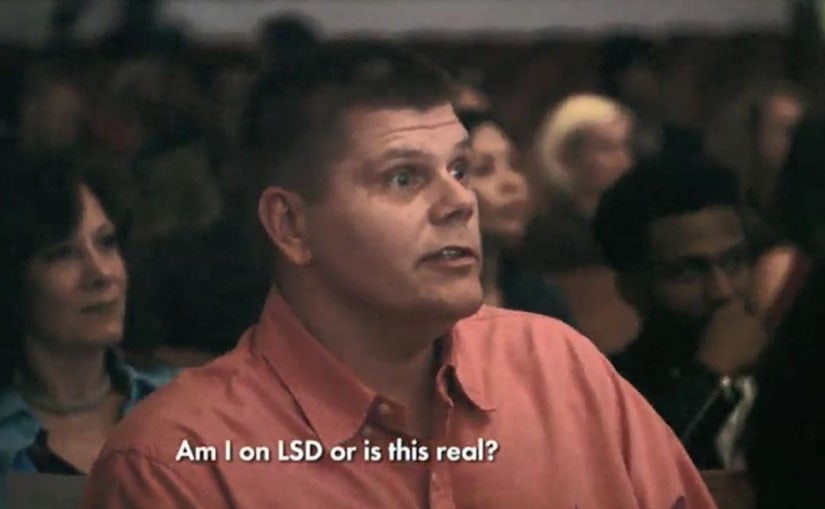 WEtv
In Geno's defense, he has had a lot thrown at him lately. June proposed to him and assumes they are getting married, although he never technically said yes. Jennifer called him to help her and Sugar Bear with Alana, which caused him and June to fight. During the episode, Geno had another bomb dropped on him when he showed up at the pageant to support Alana.
Pumpkin's fiancé, Josh, asked if Geno would be his best man for his Vegas wedding -- in three days. Geno was at a loss for words and told Josh the truth that he wasn't sure if he was even going to go to Vegas anymore because of all of the drama with June.
We do know from previews that Geno does end up attending the wedding, but how he ends up getting there and if he decides to be Josh's best man are still up in the air.
"Mama June: From Not To Hot" airs Fridays at 9 p.m. ET on WETv.