Kravitz goes nude to pull off something her mother couldn't back in the day.
It's been 30 years since former "Cosby" star Lisa Bonet stripped down for Rolling Stone's 1988 Hot Issue and now, her daughter, Zoe Kravitz, is following suit.
Waiting for your permission to load the Instagram Media.
"I think she was a little bummed when they used the shirt picture as the cover," the "Big Little Lies" star explained, pointing out how Bonet's nude photo only appeared inside the magazine. "I think she just thought, 'I'm doing it, let's do it!' It's less about the picture and more about doing the thing my mom intended to do. That feels cool."
Kravitz said she "always loved that cover so much," adding that "it's a really striking image of her. It's beautiful."
In the accompanying article, Kravitz spoke about her unique upbringing, explaining how her parents "were not planning to have a baby" when Bonet got pregnant. "Total surprise. I have to confirm if this is true, but my dad told me she may have thrown a hair dryer at him," she added. PS, Lenny said it wasn't a hair dryer, but the pregnancy test itself.
Bonet's pregnancy led to heightened tensions between her and Bill Cosby. "Her and him never got along," Kravitz told the publication. "Whether he was attracted to her, or he resented her having a mind of her own, she always got a weird vibe from him. A dark vibe." She added that she recently came across a photo of her with Cosby when she was a baby, calling it a "really disturbing picture." She said, "His face is not a sweet face at all. It's kind of creepy."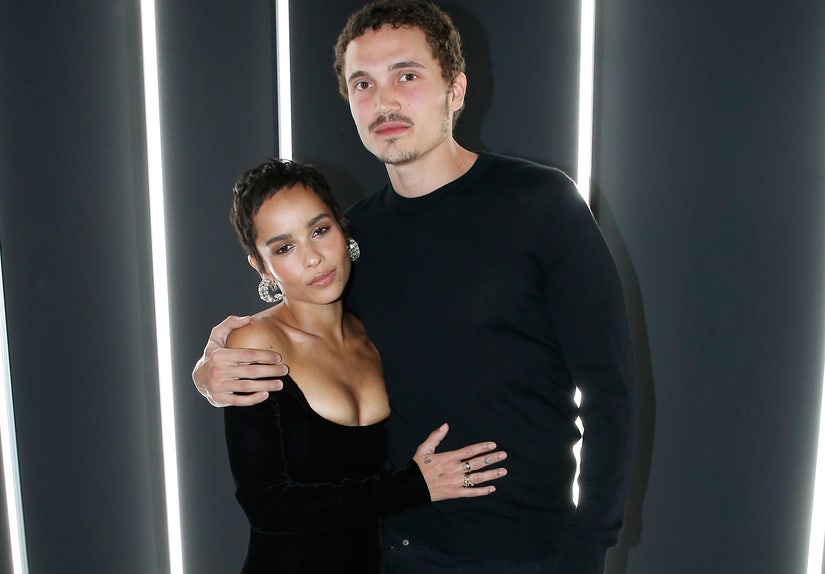 Getty
During the interview, Kravitz also let it slip that she's engaged -- and has been since February!
When the reporter asked about the large ring on her ring finger, she nonchalantly confirmed, "Oh yeah, I'm engaged. I haven't told anyone yet — I mean, I haven't told the world. I wanted to keep it private."
Her fiance is actor Karl Glusman, who popped the question while they were in their NYC apartment. "I was in sweatpants," Kravitz explained, "I think I was a little drunk." She added, "He nailed it. A and I love that it wasn't this elaborate plan in Paris. It was at home, in sweatpants."