The actress also spoke about the #MeToo movement and working with Weinstein accusers years before the scandal.
Natalie Portman has taken her early career under review, and she's not happy with the results.
From being sexualized at a young age for films like "The Professional" and "Beautiful Girls" to playing nothing more than a catalyst for male characters to undergo transformation ("Garden State"), Portman has run the gamut of exploitative industry tropes.
"I was very lucky that what I was cast in wasn't anything deliberate -- serious adult fare and not child -- appropriate things. But I feel like I totally ended up in female tropes, like Lolita," Portman said in an interview with Vanity Fair published online Tuesday. "And clearly I was part of the Manic Pixie Dream Girl coining. I find it very upsetting to be part of that."
The Manic Pixie Dream Girl is exactly like it sounds, a storytelling device that according to Nathan Rabin, who coined the term, is a female character that "exists solely in the fevered imaginations of sensitive writer-directors to teach broodingly soulful young men to embrace life and its infinite mysteries and adventures." The MPDG does not have an arc of their own, they exist solely to serve the story of the male characters. Portman's character in 2004's "Garden State," is considered to be a prime example of an MPDG although the term wasn't coined until 2005 with Kirsten Dunst's character in "Elizabethtown." The trope, however, has existed for much longer than that.
Portman said she reached a "turning point" on set of 2010's "Black Swan," which won her an Oscar.
"That film is about a girl trying to please others and ends up figuring out how to make pleasure for herself," she said. "And it was very much a parallel for me--finding the joy in what I'm doing became a major, major change. I felt like, 'Oh, maybe everyone else got this earlier. I just figured it out and I'm 30.'"
The actress also spoke to the publication about Harvey Weinstein and working with Mira Sorvino, Uma Thurman, and Lauren Holly on the 1996 Miramax film "Beautiful Girls." All three of the actresses later accused Weinstein of sexual misconduct or harassment.
"All the stuff that's going on, it's this weird thing of having been in all of those environments," Portman explained. "Like the set of 'Beautiful Girls' -- every woman in that movie has come forward."
Although Portman was only 15 at the time of filming the drama, she said that she had "heard the rumors about Harvey throughout the years, and took them as truth," but wasn't sure "who it had happened to."
"We're in a culture where it is regular for men to behave badly and for women to be hurt. But it is a complete shift because all of us were like, 'Oh, God, he's a bad dude,' and now it's 'No, this is abusive behavior -- not just a bad dude,'" she said regarding the progress the #MeToo movement has made.
Portman added that even though she wasn't a victim and had a fairly "safe" upbringing in Hollywood, women like Sorvino, Thurman, and Portman's "Where the Heart Is" co-star Ashley Judd, gave insight into the dark side of the industry.
"I was able somehow not to have an experience like that, so it's definitely a weird, privileged place to hold," she said. "Learning what so many women have been through and were going through right next to me. Ashley Judd, Mira Sorvino, Uma Thurman; these were women that I admired so much and felt lucky to work with. They were super-kind to me and super-supportive, amazing role models. It was completely shocking to know that they were going through that."
The November issue of Vanity Fair hits newsstands Tuesday, November 6.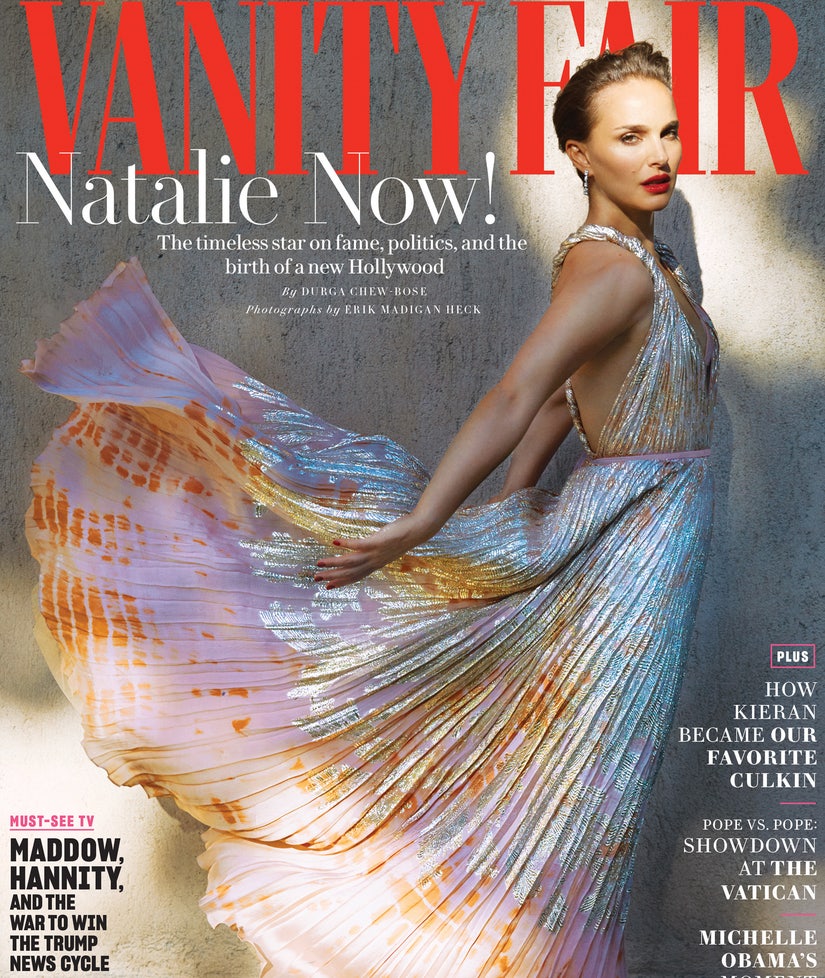 Erik Madigan Heck/VF