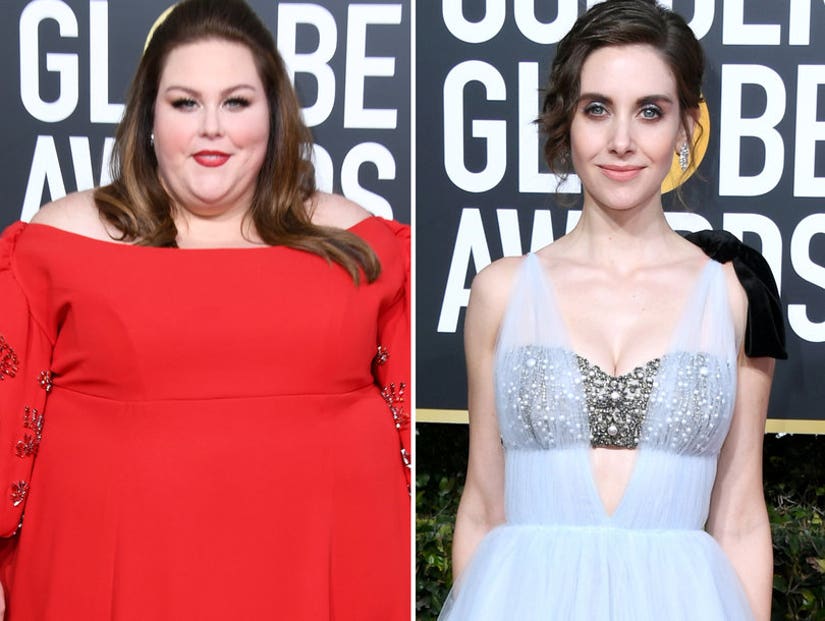 Getty
And the "GLOW" star is reportedly confused by the speculation, as well.
UPDATED 1/7/19 9:21 a.m.:
AJ Gibson, the co-host of the HFPA Facebook red carpet show, has confirmed Chrissy Metz called Alison Brie a "babe," not a bitch.
"While interviewing Chrissy during the HFPA Presents: Globes Red Carpet LIVE pre-show and as our conversation came to its natural conclusion, we were told to wrap and toss over to our co-hosts on another portion of the carpet, who were on standby with Alison Brie," he said in a statement obtained by PEOPLE. "I jokingly asked Chrissy if she knew who Alison was, as a way to transition into the 'toss' and she played along. She then referred to Alison as a 'babe' and the fun exchange ended."
The "This Is Us" star shared an article speculating she was caught on a hot mic calling the "GLOW" star a "bitch" on the Golden Globes red carpet Sunday evening, but Metz made it clear the speculation is unfounded.
"It's terribly unfortunate anyone would think much less run a story that was completely fabricated," she tweeted. "I adore Alison and would never say a bad word about her, or anyone! I sure hope she knows my heart."
The moment in question from viewers came about 25 minutes into the Hollywood Foreign Press Association's red carpet pre-show streaming on Facebook.
"Do you know a girl named Alison Brie?" a co-host asked Metz to tee up the actress arriving. "Well I hear she's at the other end of the carpet."
The audio from Metz' feed faded as the production shifted gears to focus on Brie, but viewers still heard Metz talking to the presenters that were interviewing her. "I'm like, do I? She's such a...."
Babe? Who knows. We honestly have no idea what she said, but we didn't hear "bitch."
Vanity Fair reporter Nicole Sperling tweeted that she asked Brie about this little mixup on the red carpet and said the actress was "very confused by the entire matter."
Just asked Alison Brie about this. She had not heard about Metz's comments and seemed very confused by the entire matter. "But why?," she asked. "I know her. I saw her on the carpet and I told her how beautiful she looked." https://t.co/B7zmEB009s

@nicsperling