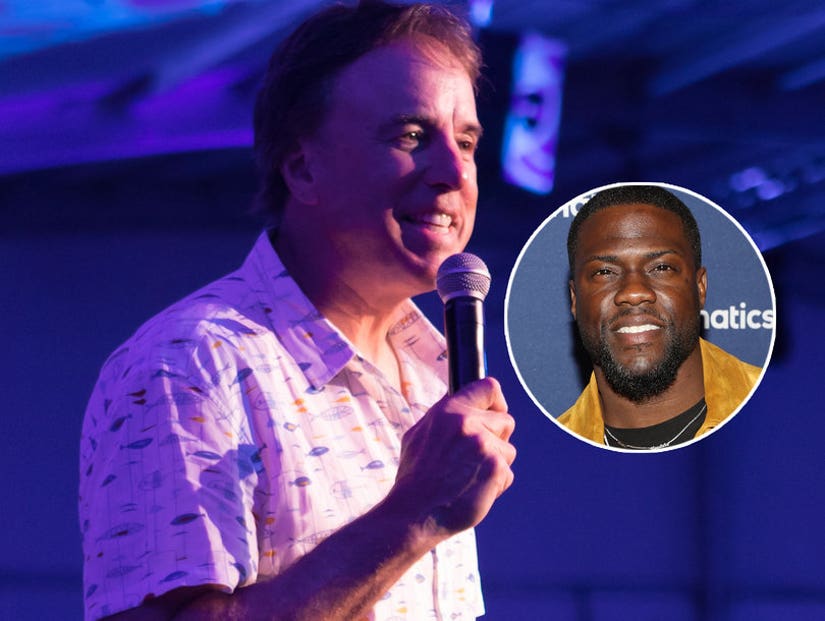 Getty
"There should not be any boundaries on a stand-up's material... but you can't go around spreading hate either."
For the first time in 30 years, the Academy Awards will not have a host... and it's because of tweets posted ten years ago.
Kevin Hart's derailed Oscar journey has polarized many people; but for fellow comedian Kevin Nealon, he sees both sides.
"It's really interesting now because everyone is digging up the past. Before social media there was none of this, people got away with a lot more," the "SNL" star told TooFab exclusively on Grand Cayman Island, where he was performing at the inaugural KAABOO Cayman festival.
"I mean, how many times has he apologized?"
The problem with Hart was that he didn't apologize formally; on December 4 he was announced as the host for the 91st Academy Awards, but stepped down two days later following severe public criticism of various tweets he'd posted between 2009 and 2011, in which he'd pejoratively used the terms "f--" or "gay", or indeed threatened to smash a doll's house over his son's head if he ever caught him playing with one.
Although Hart admitted his previous material was "wrong," he didn't like being told to do so, and didn't want what he called his "apologies" to look like he had intended to offend in the first place — which he insists he wasn't.
The ceremony's producers would be hard-pressed to find a popular comedian who hasn't said something "offensive" in their past, as being controversial is practically part of the job description, according to many in the industry.
Indeed the "Weeds" actor pointed to the example of beloved comedian Eddie Murphy, whose earlier material could easily be described as homophobic.
Incidentally, Murphy pulled out of hosting the 2012 Oscars for a similar reason, when his "creative partner" and then-show producer Brett Ratner resigned after declaring "rehearsing is for f--s".
According to Nealon, no topic should be out of bounds for comics, but they should still be careful how they approach it.
"I don't think we should have any kind of barriers or boundaries on what you do in stand-up, people come to hear your thoughts," he said, but added: "I mean, you can't be inspiring hate."
Even back in his "SNL" heyday in the early '90s, one of his most famous sketches with Dana Carvey —- the muscle-bound Austrians Hans and Franz —- was accused of being homophobic for calling out "girlie men"; the phrase was brought back into the spotlight in the early 2000s when, in a bizarre postmodern turn, Arnold Schwarzenegger borrowed the term while acting as governor of California. (Hanz and Franz were originally a parody of the bodybuilder and comically claimed to be his cousins.)
The 65-year-old reveals that he now uses a sounding board at home —- his wife. For example: "If anything is even slightly MeToo-ish: 'No. Don't do that'.
"People ask me: 'Is there any topics that people shouldn't joke about,' I say 'no.' It depends on how you structure the joke, and how you do it. There is ways of making fun of the #MeToo movement without offending anyone," he insisted.
"If it was someone like Bill Burr he would get away with it; but if it were me I'd take the approach that: men are jerks."
While being famous for his "nice guy" act, Nealon admitted to recently dipping his toe into controversial material for the first time, including right there at KAABOO Cayman... and admitted it brought about some of the best responses yet.
In a gag that drew as much shocked gasps as guilty laughter, he admitted to not liking the late Anthony Bourdain... which was the one thing they had in common.
"I've been a people-pleaser my whole life with my act, you know I don't want to make waves or be controversial. This is the first time that I'm doing something that is controversial. But I've had more people come up to me after my act and say 'don't get rid of that joke'," he shrugged. "You can't please everybody."