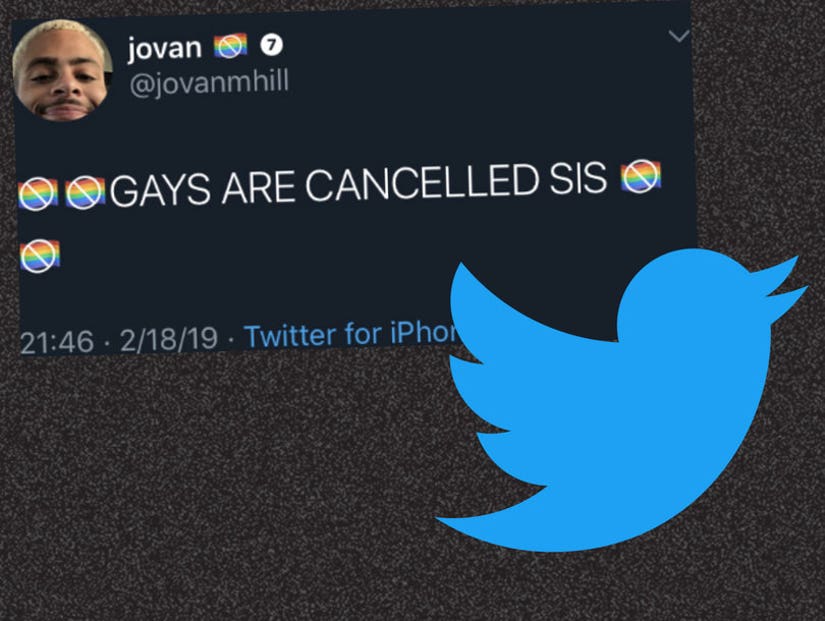 Twitter
Jovan Hill tweeted "Gays are cancelled". Ironically, Twitter then cancelled him.
Twitter accidentally allowed the creation of a "No Homo" emoji this week — and then banned a prominent gay Twitter user for using it.
Jovan Hill was one of the hundreds of perplexed/angry/bemused/ people who discovered this week that Twitter users had access to a new emoji: the pride flag with a "no entry" symbol over it.
The so-called "no-homo emoji" quickly sparked debate on online, with many appalled such a thing existed, but just as many seeing the funny side.
One very-obviously sarcastic tweet came from Jovan himself — whose 120k followers know he is part of the LGBTQ+ community — posting "GAYS ARE CANCELLED SIS" flanked by several of the offending icons.
Just minutes later Jovan —- whose bio reads "Tryna be the gayest influencer" -— was banned from the social media platform... for spreading hate speech.
"You may not engage in the targeted harassment of someone, or incite people to do so. We consider abusive behavior an attempt to harass, intimidate, or silence someone else's voice," Twitter told him, somewhat ironically.
"It's been awful, my entire income and online brand is via Twitter," Jovan told TooFab exclusively on Wednesday. "I couldn't believe a gay guy using an emoji could have his account terminated while Nazis run rampant."
"It's ridiculous but barely shocking, feels like Twitter just finding an excuse to silence specific users again over any comment they can. It didn't even come with a warning or what tweet triggered my suspension."
"I lost about 120k followers and I think what bugs me most is its not like Twitter staff don't know I exist? I've had about 20 articles written about me now," he said.
"I'm not attempting to talk about myself just can't believe the Twitter bots seem to be anti-gay and anti-black at this point because Nazis get away with literal death threats despite staff's best alleged efforts."
He points out that despite his account previously hitting all the criteria, he still hasn't been able to get that invaluable "verified" tick: "I'm convinced it's something deeper at this point as a dog-petting account was verified yesterday despite... no press."
The 25-year-old revealed he had been banned in the past in frustratingly similar circumstances: for tweeting the word "f--". "They really have a shitty system," he said.
Jovan's is one of the most hilarious success stories of the digital influencer age. The college drop-out pays for his Brooklyn apartment — and his considerable weed habit — by simply asking fans to pay for it. And they happily do.
His modus operandi inspired a New York Times article entitled "Live-Streaming Your Broke Self for Rent Money", as well as some less-flattering headlines like "Millennials Are Paying Thousands To This 'Digital Beggar,' An Unemployed Pot Fiend".
The Twitter user who first discovered the anomaly — whose Twitter handle is now "Mitchell (discovered [No Homo emoji])" — told Out magazine he was initially shocked, but was happy to see people use it ironically or humorously.
"I've been embracing it, but it's also dangerous for people to use it hatefully," he added.
TooFab has reached out to Twitter for comment; while the creation of the emoji appeared to be a glitch, Emojipedia founder Jeremy Burge insisted on Twitter that it wasn't, and that the "no entry" emoji could be combined with any other, not just the pride flag.