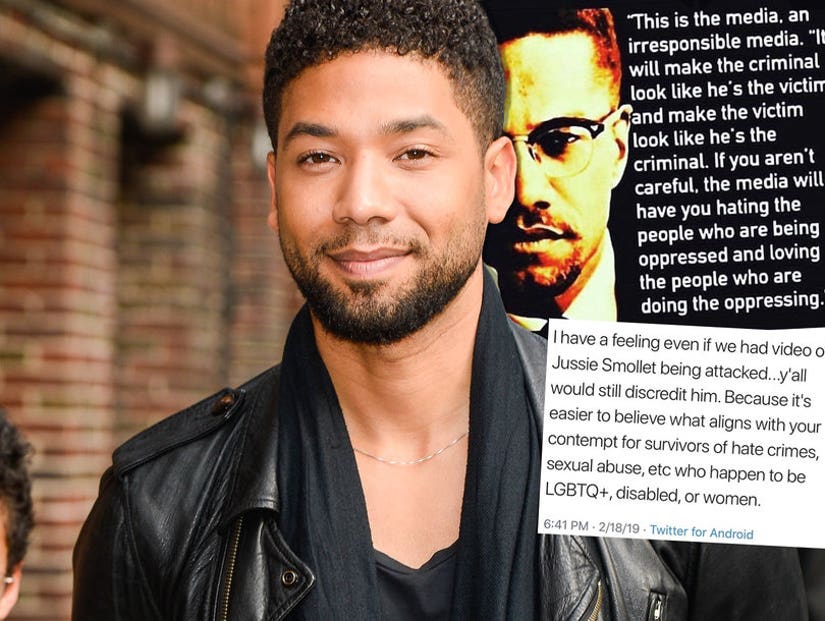 Getty / Instagram
The "Empire" star's sister Jurnee and brother Jocqui both quoted Malcolm X, claiming the media has made "the victim look like the criminal."
Jussie Smollett's siblings believe the media is to blame for what happened —- or didn't happen —- to their brother.
The actor's sister Jurnee Smollett-Bell and brother Jocqui Smollett both posted to Instagram a tweaked quote by Malcolm X in response to the mounting skepticism over the alleged racist and homophobic attack last month.
"This is the media, the irresponsible media. It will make the criminal look like he's the victim and make the victim look like he's the criminal," the post reads.
"If you aren't careful, the media will have you hating the people who are being oppressed and loving the people who are doing the oppressing."
Jocqui also reposted a tweet from a fan which read: "I have a feeling even if we had video of Jussie Smollett being attacked...y'all would still discredit him. Because it's easier to believe what aligns with your contempt for survivors of hate crimes, sexual abuse, etc who happen to be LGBTQ+, disabled, or women."
Last month, Smollett claimed he had been attacked by two masked men who shouted racist and anti-gay slurs — in addition to yelling "this is MAGA country" — before he was viciously beaten and had a chemical poured on him.
But on Saturday Chicago police released a statement confirming a pivot in the direction of their investigation after interviewing the two Nigerian brothers who were initially considered suspects.
"We can confirm that the information received from the individuals questioned by police earlier in the Empire case has in fact shifted the trajectory of the investigation," spokesman Anthony Guglielmi said. Two law enforcement sources also told CNN that CPD are now operating under the belief that Smollett paid the two brothers, who he knew from "Empire," to orchestrate an assault on him; however this has not been confirmed by law enforcement. Attorneys for Smollett claimed that the actor felt "victimized" by the various media reports suggesting he may have been involved in orchestrating his own attack.
Waiting for your permission to load the Instagram Media.
Waiting for your permission to load the Instagram Media.
Jussie is one of six siblings; his family have stood by his account since it was first reported, making the following statement: "In the early hours of Tuesday morning, our beloved son and brother, Jussie, was the victim of a violent and unprovoked attack. We want to be clear, this was a racial and homophobic hate crime."
"Jussie has told the police everything from the very beginning. His story has never changed, and we are hopeful they will find these men and bring them to justice. Our family thanks everyone for their prayers and the huge amount of love he has received. We are thankful to our village for your immense support during this trying time. We are so grateful that God saw him through this cowardly attack alive. Jussie is a warrior whose light cannot be dimmed.
"We want people to understand these targeted hate crimes are happening to our sisters, brothers and our gender non-conforming siblings, many who reside within the intersection of multiple identities, on a monthly, weekly, and sometimes even daily basis all across our country. Oftentimes ending fatally, these are inhumane acts of domestic terrorism and they should be treated as such. They will continue to occur until we hold each other accountable.
"Make no mistake, words matter. Hateful words lead to hateful actions. Radical love is the only solution, but passivity will be our downfall. We, as a family, will continue to work for love, equity and justice until it reigns supreme in our nation and all over the world."
Waiting for your permission to load the Instagram Media.