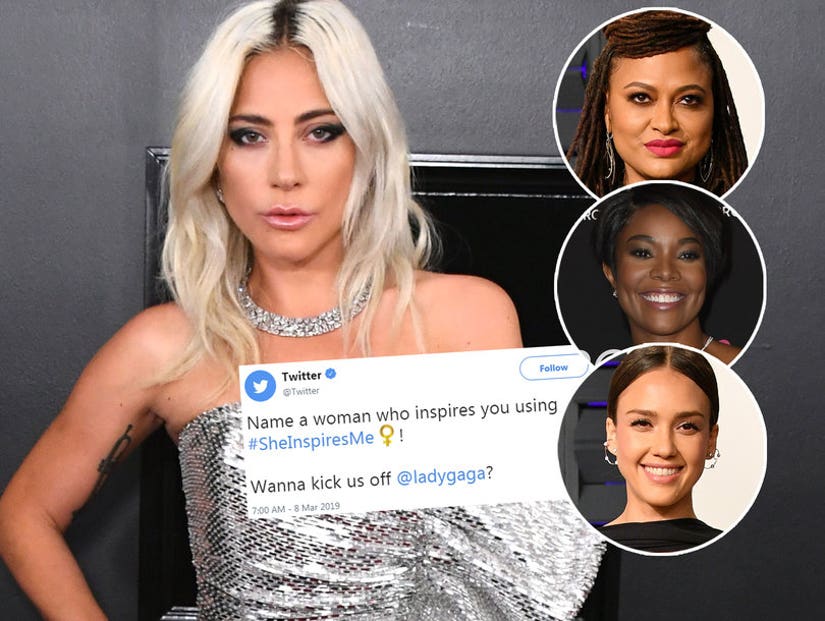 Getty/Twitter
Melinda Gates, Ava DuVernay, Gabrielle Union and Jessica Alba all joined in passing the torch from one to another to another.
Lady Gaga brought back the chain letter with a bang on Friday for International Women's Day.
The Mother Monster was nominated by Twitter itself to "Name a woman who inspires you using #SheInspiresMe! Wanna kick us off @ladygaga?"
She dutifully started the ball rolling by naming her mom, Cynthia Germanotta.
"@momgerm! I celebrate and honor her for #InternationalWomensDay (and every day) for helping me lead @BTWFoundation to create a movement to increase awareness around mental wellness and decrease stigma through programs like #teenMHFA 💝 Who do YOU celebrate? #SheInspiresMe," she wrote.
Gaga senior took the torch, and passed it on to Melinda Gates.
"Thank you @LadyGaga! For #InternationalWomensDay, I want to honor @melindagates who supports the wellness and well being of girls and women GLOBALLY by fighting for equal access to comprehensive health care + education, equal opportunity for economic success, and equal pay!"
"Thanks, @momgerm. You inspire me, too!" she wrote. "I'm tagging in @ava, whose commitment to telling important stories and bringing powerful perspectives to light isn't just changing Hollywood—it's changing the world. #SheInspiresMe"
The "Selma" director accepted the love, and shared hers with #MeToo founder Tarana Burke.
"Thank you @MelindaGates for the positive intention you bring to the world! Especially in Africa! I tag @TaranaBurke, who I've admired for years. Prior to her founding of #MeToo⁠, she's been a tireless activist for justice in our community. I salute you, Queen. #SheInspiresMe."
"Thank you @ava the admiration hoes (sic) both ways, sis. 💕 I'm tagging @itsgabrielleu who has been a voice for survivors of sexual violence for over two decades. Thank you for your friendship and leadership.#sheinspiresme."
The actress kept the flame going by passing it to her LA's Finest co-star Jessica Alba.
"Thank you for your friendship @TaranaBurke," Union wrote. "I'm tagging my work wife @jessicaalba. #SheInspiresMe bc she is unapologetically clear about her dreams & doesn't compromise her worth. Her work ethic is unmatched & she is as determined as a mother & wife as she is a businesswoman."
Despite being busy filling those many roles, Alba joined in, tagging designer Tory Burch.
"I heart you @itsgabrielleu ! I'm tagging my friend/mentor @toryburch - #SheInspiresMe w her dedication to lifting up & giving women opportunities to follow their dreams through @ToryBurchFdn #InternationalWomensDay"
Tory immediately volleyed it onward to Mindy Kaling, and asked her to do the same.
"Thank you for the kind words @jessicaalba! I'm inspired by so many women entrepreneurs who #EmbraceAmbition, including my friend, actress, writer and producer @mindykaling. Mindy – who inspires you #SheInspiresMe"
Mindy didn't take long to nominate Octavia Spencer for some ladies' day love.
Thanks @toryburch! You're such a role model for all, chicness personified," she tweeted. "There are so many people I'd love to @, but I'm passing this to @octaviaspencer. An incredible actress, powerhouse producer, and always, always kind and warm. Octavia—who inspires you? #SheInspiresMe"
Octavia... we're waiting on you!
See the entire amazing chain (so far) below: