The post also accused haters of holding Swift to a double standard.
Before addressing some of her critics at the iHeartRadio Music Awards on Thursday night in Los Angeles, she threw some shade at another adversary from her past on Instagram, thanks to one very telling "like."
Responding to a Twitter thread asking for "unpopular opinions" of West, one user wrote, "The famous music video was straight up revenge porn. not to mention putting abuse victims next to their abusers and celebrating sexual assaulters. it was disgusting and he doesn't get enough crap for it."
The Instagram account reposting the Twitter exchange added, "It's so weird to see how Kanye got away with putting realistic depictions of naked celebrities in his video. I was reading comments the other day and people said they didn't like Taylor because she 'uses songs to humiliate her ex boyfriends', we know that's not true but isn't it strange that they don't apply that same logic to a man putting a naked woman in his music video that's been viewed millions of times because he just doesn't like her."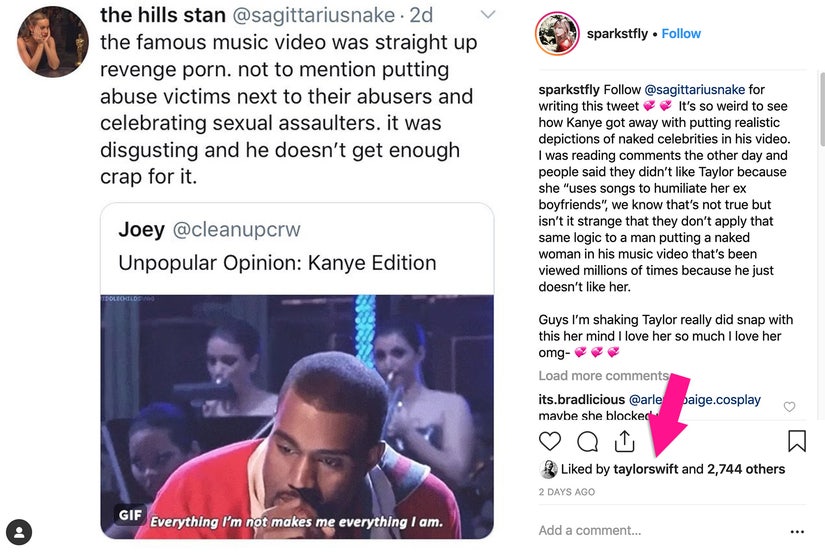 @Sparkstfly/Instagram
Swift eventually liked the post, prompting the original Twitter user to tweet, "OH MY GOD OH MY GOD OH MY GOD OH MY GOD OH MY GOD OH MY GOD OH MY GOD OH MY HOS DJAIISJAOUSJAOSIWBDBDBDIWJ" and the Instagram account to update their caption with, "Guys I'm shaking Taylor really did snap with this her mind I love her so much I love her omg."
The war of words between West and Swift over the lyrics for "Famous" is, well, infamous, with the artists disagreeing over the genesis for the line, "I feel like me and Taylor might still have sex / Why? I made that bitch famous."
West claimed he gave Swift a heads up on the lyrics and she approved them before he released the song. Taylor said Kanye never got her permission, before Kim Kardashian released Snapchat videos of Kanye and Taylor discussing the lyrics over the phone. Swift later clarified in her "I would very much like to be removed from this narrative" statement that she specifically never agreed to being called "that bitch" in the song.
Taylor also addressed some of her haters on stage at the iHeartRadio Music Awards on Thursday, as she picked up her trophy for Tour of the Year.
"I think one of the most wonderful things about the way this whole tour turned out is that for like the entire six months leading up to the first show of this tour, everything I read about the tour said this is going to be a massive failure. This is going to be a flop tour," she said.
"And you know, it really did wonders for my self-esteem. It was really great to hear people saying that I was going to be playing to nearly empty stadiums."