A D&C is a surgical procedure usually performed on a woman who has suffered a first-trimester miscarriage.
One day after Hilaria Baldwin confirmed she had suffered a miscarriage, she shared photos of herself undergoing what appeared to be a dilation and curettage, commonly known as a D&C.
A D&C is a surgical procedure usually performed on a woman who has suffered a first-trimester miscarriage. Once doctors confirm the woman's fetus has no heartbeat, they remove it from her uterus.
"There was no heartbeat today at my scan," she told her Instagram followers.
On Wednesday morning, she shared photos of her wearing a hospital gown. Alec was close by. "Doing this. Wish me luck," she wrote. Two hours later, without explaining why she was in the hospital or what procedure she was undergoing, Hilaria told her fans, "It went well. I'm awake. One foot in front of the other. Thank you for your well wishes."
She went on to ask for privacy and respect -- for her and her family.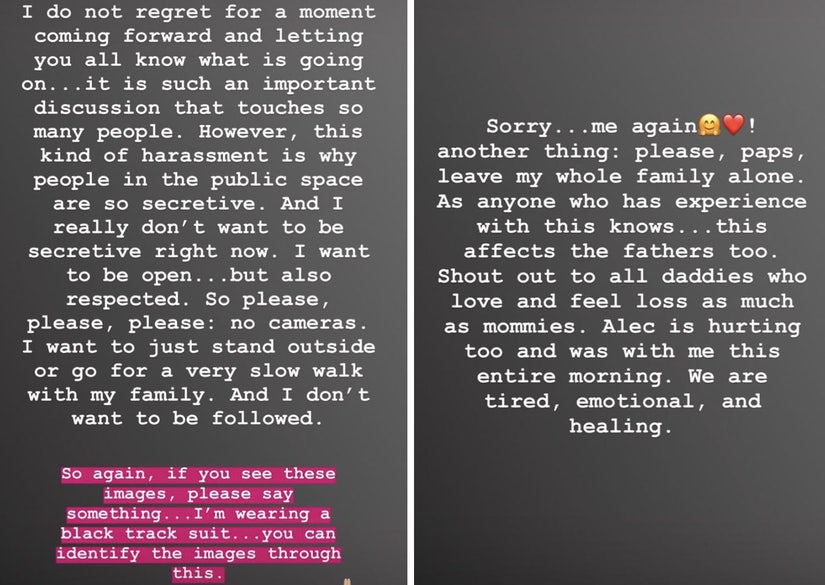 Instagram
As sad as the news was, it wasn't shocking to the mother of four. The day she announced she was pregnant, she also announced she was "most likely experiencing a miscarriage."
"I always promised myself that if I were to get pregnant again, I would share the news with you guys pretty early, even if that means suffering a public loss," she explained in a gut-wrenching Instagram post last Thursday. "I have always been so open with you all about my family, fitness, pregnancies, and I don't want to keep this from you just because it isn't as positive and shiny as the rest."
Hilaria didn't say exactly how far along she was, but most women are encouraged to keep their pregnancies private until they pass the "safe" mark, around the 12th week. She said she felt it was "important to show the truth" to be able to "normalize miscarriage," which happens far more often than we think it does. Hilaria said she wanted to "remove the stigma from it."
"I have no shame or embarrassment with this experience," she shared. "There is so much secrecy during the first trimester. This works for some, but I personally find it to be exhausting. I'm nauseous, tired, my body is changing. I have to pretend that everything is just fine -- and it truly isn't. I don't want to have to pretend anymore. I hope you understand."
Hilaria then went into detail about the status of her baby, who hadn't been "growing very much."
"The embryo has a heartbeat, but it isn't strong," she explained. "So we wait -- and this is hard. So much uncertainty, but the chances are very, very small that this is a viable pregnancy."
She also asked those commenting on her vulnerable post to "please be kind," adding, "I'm feeling a bit fragile, and I need support. I'm hoping that by sharing this, I can contribute to raising awareness about this sensitive topic."
"I think I'm going to have the answer one way or the other," she said. "I'm pretty sure this is not going to stick. And you know, when we agree to be parents, we have to accept the good and the bad. We have to open our hearts and realize that there are going to be hard moments, too."