"Wow. Ur really asleep before 11, I'll be damned," JLaw said of her pal.
On Tuesday night, the comedian shared a hilarious text exchange she had with "The Hunger Games" star on her Instagram Stories. In the conversation, Lawrence sent Schumer multiple text messages, demanding answers about "The Handmaid's Tale."
When the "I Feel Pretty" actress didn't respond immediately, Lawrence accused Schumer of going to bed early because of her baby, 1-month old son, Gene Attell.
"You up? I have questions about hand maids take [sic]," Lawrence began in the convo. "Tale," she then corrected herself.
"It's an emergency. Amy!!! What did she do on season 1 to deserve being in the gallows on season 2," the 28-year-old actress asked Schumer of the Elisabeth Moss dystopian series. "I can't remember where I left off. Are you asleep bc of the baby??? Are you asleep before 11? Is this bc of the baby? Don't make me resent the baby."
"Wow. Ur really asleep before 11, I'll be damned," Lawrence continued.
Schumer then finally responded and answered her pal's questions about the Hulu drama.
"Hi! I'm awake!" Schumer wrote. "She ran away."
The "Snatched" star also added a funny comment about the exchange to her post. "Everybody keeping their cool about me having a baby," she wrote.
See the whole conversation in the photo, below.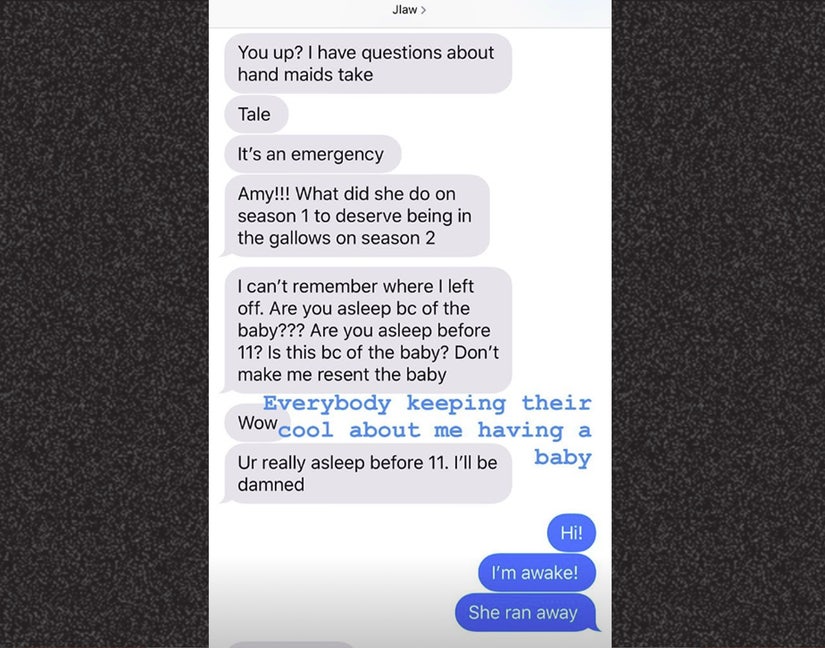 Instagram