"I've always wanted to be mom-shamed!!!!!" the actress commented.
The mom-shamers didn't know what they had coming when they went after Amy Schumer.
The comedian, who gave birth to her son, Gene Attell, earlier this month, faced backlash for returning to standup "too soon," at least according to a number of haters. Schumer's response, you ask? Read on for some Grade-A entertainment.
On Tuesday, the "Trainwreck" star shared a hilarious photo (see below) of her sitting on the edge of her bed, wearing just a nursing bra and underwear along with the ultimate accessory: a breast pump.
"Sending out love to the moms shaming me for doing standup last night!," she captioned the pic. The actress also added a few funny hashtags, including #schumerpumprules, a direct nod to her pumping and the Bravo reality series "Vanderpump Rules."
Although Schumer, who made her first standup appearance post-birth at the Comedy Cellar in New York City Monday, received a lot of flack from fans for returning to work only a few weeks since welcoming baby Gene, the "Snatched" star was also met with support from many fans and celebrity friends. More importantly, Schumer had some sharp comebacks locked and loaded.
Waiting for your permission to load the Instagram Media.
After Schumer shared a photo from her standup set, a critic commented, "Already???? That's insane!!! And inhumane. Contract or not you need to be allowed at least six weeks for maternity."
"Our bodies need time to rest and our babies crave us because all they have known is us," another added. "It's the fourth trimester, I hope you don't have to work anymore. Take this time to bond and heal and settle into this new avenue in life! You'll have the rest of your life to work and this new time with your little one won't happen again..."
Writer and wife of Jimmy Kimmel, Molly McNearney, then warned Schumer in the comments, "here comes the mom shaming ... ughhhhhhhhhhh."
In response, Schumer joked back, "I've always wanted to be mom-shamed!!!!!"
Many celebrities voiced their support for Schumer in the comments section of her hilarious breast pump photo. Selma Blair wrote, "Who the fudge would Shame a mom for doing what she does ? And how the hell did you do it? #schumerwoman"
"SNL's" Aidy Bryant added, "What's the big deal? Just let me try some of the [milk emoji.]"
See how more stars commented in the pic below.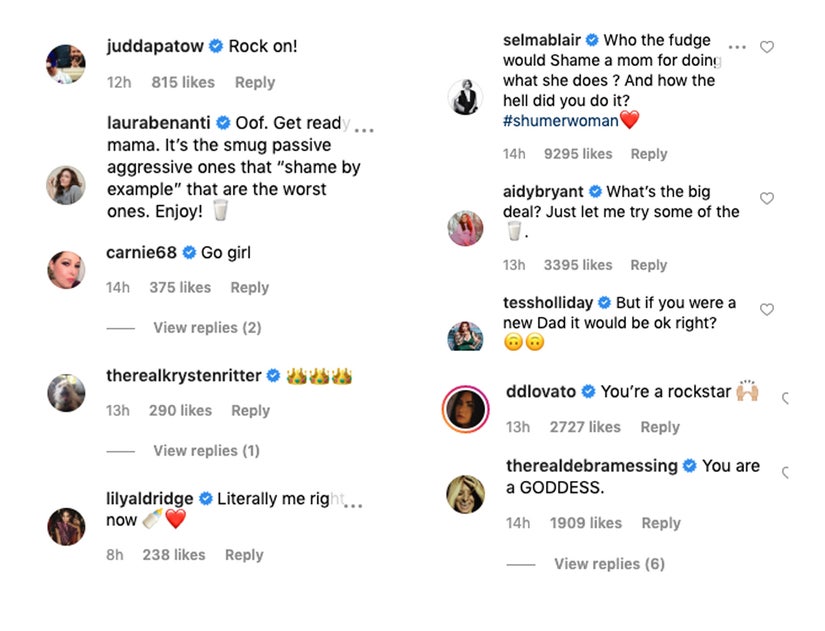 Instagram