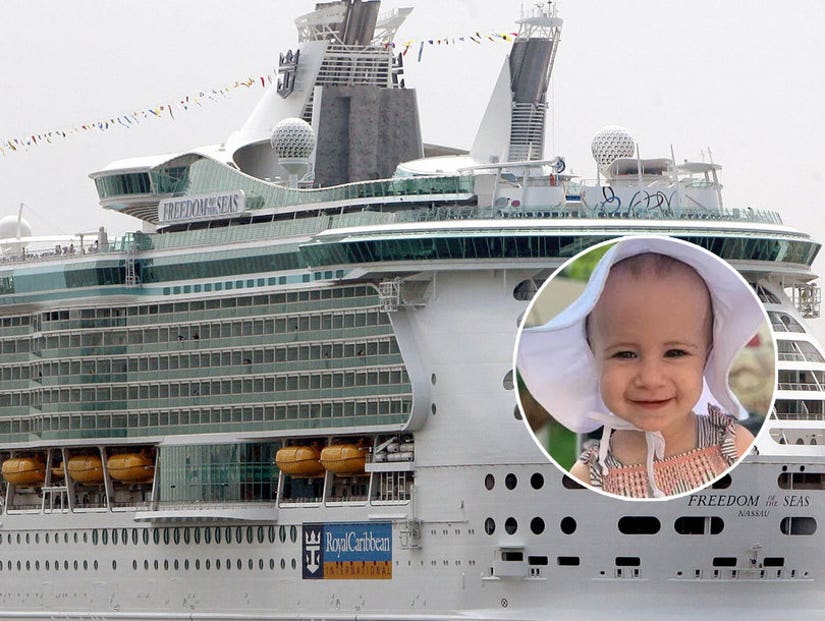 Getty
"Why in the world would you leave a window open in an entire glass wall full of windows in a kid's area?"
The family of the toddler killed in a fall from an 11th floor cruise ship window are claiming a children's play area was unsafe.
19-month-old Chloe Rae Margaret Wiegand died when she fell from her grandfather's arms on Sunday, as the Royal Caribbean's Freedom Of The Seas was docked in San Juan, Puerto Rico.
The family's lawyer Michael Winkleman told NBC News that the tot was in an enclosed play area with clear-glass paneling, when her granddad Salvatore Anello lifted her on to a railing to look outside, as she would do at her brother's hockey games, and she tried to bang on glass that wasn't there.
"Essentially her grandfather lifts her up and puts her on a railing and where he thinks that there is glass there because it's clear, but it turns out there was no glass there," Winkleman said. "She goes to bang on the glass like she would have at one of those hockey rinks, and the next thing you know, she's gone."
Her devastated parents Alan and Kimberly Wiegand want to know why the children's play area had an open window in the wall of glass paneling.
"Why in the world would you leave a window open in an entire glass wall full of windows in a kid's area?" he asked.
TooFab has reached out to Royal Caribbean for comment.
ORIGINAL STORY 11:53AM 7/8/2019:
A toddler has died aboard a cruise ship after being dropped out of a window by her grandfather.
The 19-month-old little girl fell 11 storeys onto a concrete dock after reportedly being "dangled" 150 feet above by her granddad.
The family were aboard the Royal Caribbean Freedom of the Seas, which had just docked in San Juan, Puerto Rico, on Sunday.
"It's a very grave scene, very regrettable and tragic," Elmer Roman of the Puerto Rican Department of Public Security told Primera Hora. "One of the grandfathers, whom it would appear was playing with the little girl, lifted her out of the open window and lost his grip."
The child, who was from Indiana, was on the cruise with her parents, two siblings and both sets of grandparents.
CBS News confirmed on Monday the girl's father is police officer Alan Wiegand; his father-in-law Salvatore Anello had been the one holding her before she fell.
Roman said police were investigating and were interviewing the family, and had requested security footage from the ship. It is understood they believe the death was a tragic accident.
Royal Caribbean told the site that it was "deeply saddened by yesterday's tragic incident, and our hearts go out to the family," adding they had made the "Care Team available to assist the family with any resources they need;" it refused to comment any further out of respect for their privacy.
The ship had just completed a seven-day cruise of the Caribbean islands. After being held back for hours while police investigated, it was eventually allowed to depart on a subsequent cruise with 3,600 passengers.