"You are all I can think about," Cameron said through tears, "My heart aches for you, I'm broken for you. I have close to nothing left."
In a six-part heartbreaking video posted to her Instagram Tuesday night, the 23-year-old actress paid tribute to her friend by reading an emotional letter about Boyce, who passed away on Saturday after suffering a seizure related to "an ongoing medical condition."
Throughout the six clips, Cameron struggled to keep her composure and broke down many times over the loss of her fallen friend.
"I felt really weird about posting about Cameron on social media because I felt really emotional and private and intimate and social media is the opposite of that," Cameron began in the black-and-white video. "I just couldn't quite reconcile the two or make them fit so I didn't know what I was going to do."
"I just got back from therapy and I've decided that the only way to get through it right now is to be expressive and connective. So I wrote something, that I'm going to try to read," she continued, grabbing the letter. "The last 72 hours have felt like two weeks, and I've spent them trying to make my thoughts and feelings into words and communicate about anything I'm feeling."
"I've been unsuccessful thinking about trying to summarize something, where there are no adequate words in the English language, has made me ill and dizzy and I've been mostly quiet or expressive through crying," Cameron added. "I've never stuttered and unable to speak before these last few days. My system is still in shock, my brain is still foggy and full of holes. But I'm going to try to write."
The "Liv and Maddie" star began to cry as she spoke about Boyce's family: his mother, Libby, father, Victor, and sister, Maya.
"You are all I can think about," Cameron said through tears, "My heart aches for you, I'm broken for you. I have close to nothing left, which tells me some small percentage about how you must be feeling. I'm so sorry. And I will never have enough words for the pain I feel and the love and space I have for you."
Waiting for your permission to load the Instagram Media.
Cameron then emotionally recalled her memories of Boyce and spoke about how he helped her through tough times.
"Cameron was one of my favorite people alive in the world. Though I know that's not unique to me, Cameron was magic -- an earth angel," she said. "Over the last six years, since he was only 14, Cameron talked me down from countless ledges, talked me through eating disorders, helped me out of a dark relationship and through endless breakdowns."
"He would whisper the dance moves to me on television when I didn't know what I was doing or hold my hand to communicate wordlessly when we both knew we were both thinking the same thing," she added. "I can't tell you the number of times we would ruin something because we couldn't stop making each other laugh."
The young actress continued to pay tribute to her late co-star, calling him "undoubtedly the most talented person most of us will ever know," "good and kind, "selfless and generous" and "an ultimate example of a human being."
"Goodbye my dear, dear friend and brother," Cameron added. "You leave behind a colossal wake, a profound chasm that can never be filled, but you also leave millions and millions of deeply impacted, hope-filled and loved-filled human beings who are who they are because of you and how you spent your brief 20 years on this Earth."
"What a gift you were; you turned the world on its head," she concluded. "We can all only hope to be half the human that you were and you deserved so much more time ... I will spend the rest of my life missing and loving you, and I'm all the better for knowing you."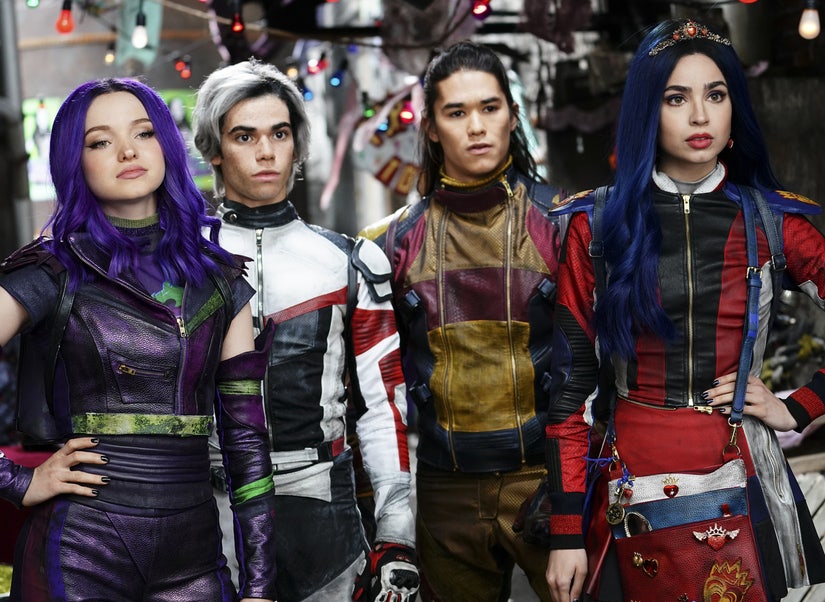 Disney
Cameron and Boyce starred together in three "Descendants" films, the third "Descendants 3" comes out next month. In the DCOM franchise, which focuses on the adventures of the offspring of Disney villains, Cameron plays Mal, daughter of Maleficent, while Boyce stars as Cruella De Vil's son, Carlos.
Cameron wasn't the only one of Boyce's "Descendants" co-stars to pay tribute to their friend, in fact, many members of the cast have spoken about Boyce's death, mainly through heartbreaking social media posts and videos.
Like Cameron, actress China McClain, who plays Uma, daughter of Ursula in the franchise, shared emotional videos on her Instagram.
"I don't really believe that this is actually happening and my mind is just shut down at this point and I'm feeling numb and empty, while going through the emotions," McClain said in one of the clips. "To Mr. Vic, Mrs. Libby and Maya ... I'm so sorry. You guys lost something that the rest of us didn't lose. You guys lost a son, a brother, and I lost, my best friend...my closest friend, my longest friend. I will never again have a friend like Cameron."
Anna Cathcart, who starred alongside Boyce in "Descendants 2" and "Descendant 3," also posted a tribute.
"I am still and will forever be struggling to understand how this is really possible," she captioned a photo of the two of them on set. "I remember sitting beside you at dinner three years ago, wide eyed and in disbelief I was even in the same room as you. Thank you for your kindness and your light and thank you for being someone I could look up to as an actor and as a person. Cameron, you will forever be in our hearts♥️."