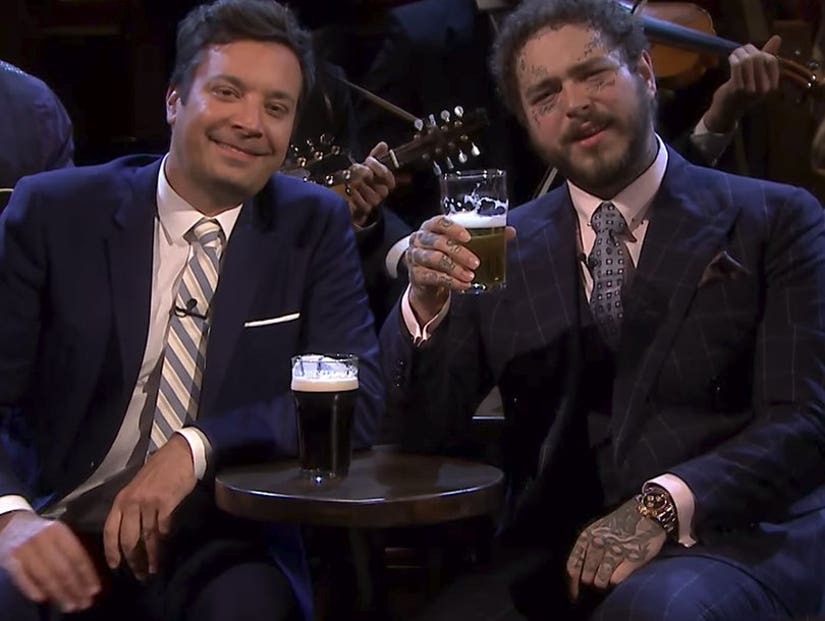 NBC
Fallon struggled to keep it together as they took on The Dubliners
On Tuesday night Malone joined Fallon at a pub-style table in-studio with pints of beer in hand to croon through an impressive rendition of The Dubliners' song, "Seven Drunken Nights." The pair took turns singing verses with the support of The Roots playing behind them.
Fallon played up the effect the alcohol was having on him, unable to get through his parts without feigning difficulty reading the teleprompter and unsuccessfully stifling laughter throughout. Malone for his part, tried his best at an Irish accent, eliciting cheers and laughter from the audience who enthusiastically clapped along.
Corny schtick aside, Fallon also engaged Malone in a game of beer pong complete with Bud Light beer cans emblazoned with Malone's face. Fallon warned Malone, "You know I once beat Betty White at beer pong... I'm not afraid to take America's sweetheart down. You remind me a little of Betty White."
Malone won the game and also shared details of what happens in the backstage green room at one of his shows. "It's not really madness," Malone said seriously before he joked, "It's a lot of Shania Twain. We just eat gummy bears, Cheetos and play beer pong."
Malone also spilled that the second year of Posty-fest is scheduled to take place November 2 in Dallas, Texas. The festival, created in 2018, will once again be headlined by its namesake, with further talent to be announced.
In 2017, Fallon addressed rumors about alcoholism, after a report was published claiming NBC bosses were concerned about his drinking.
"I could never do a day-to-day job if I was drinking every night," he told the New York Times.