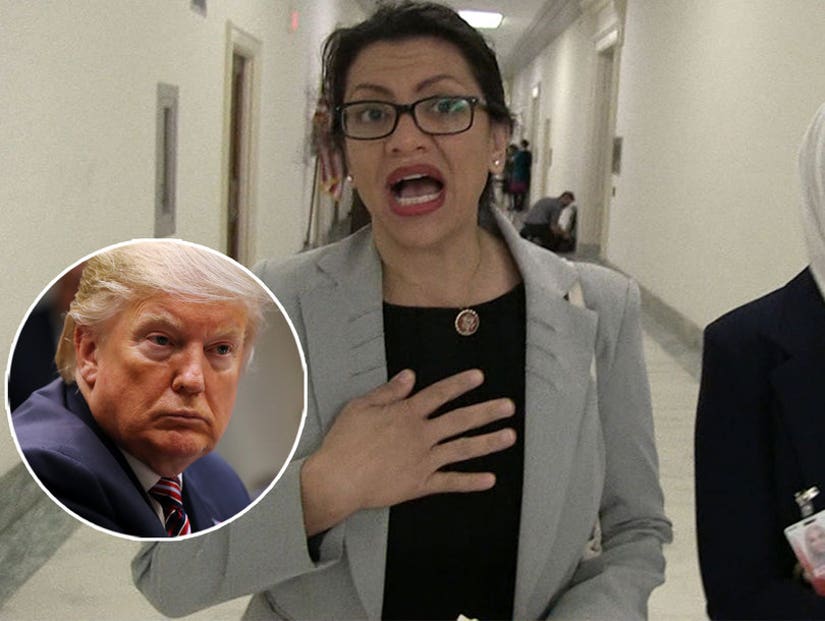 TooFab/Getty
Democrats need a two-thirds majority from a Senate they do not control.
She infamously vowed to "go in there and impeach the motherf--ker." And despite the fact that removing President Donald Trump can seem unlikely, Representative Rashida Tlaib has insisted the push to do so is not a waste of time.
The articles of impeachment have now been drawn up: one for abuse of power, and one obstruction of Congress, revolving around the POTUS's so called quid pro quo of military aid to Ukraine in return for investigations into his political rivals. While the Democrat-controlled House of Representatives has had no trouble getting to this stage, getting past the Republican-controlled Senate will be a different story.
But according to Tlaib, if House Democrats relied on the blessing of Senate Republicans for everything — nothing would get ever done.
"We passed One Fair Wage, increasing the minimum wage to 15 dollars, the Equality Act, the Dreamers," she said on Capitol Hill. "We passed so many things not dependent on whether or not we had the votes in the Senate. We just have to do our job."
"If we didn't do that, we would never have passed reforms on gun reform in our country, or all the things we've been able to pass."
"If we keep relying on [Senate majority leader] Mitch McConnell and whether or not he has the appetite to do what's right for the American people, we wouldn't do anything in the House," she continued.
Currently, the 41-member House Judiciary Committee is debating revisions and additions to the articles of impeachment. With 25 Democrat members, but only 21 votes needed to approve each article, they look very likely to pass.
After a debate, the House will then vote on whether or not to impeach the President; again with the Democrat majority of 233 to 197 Representatives, and only a simple majority of 51 per cent required, this too should pass.
However, after this is a Senate trial, in which the Republican majority Senators would act as the jury. For the President to be removed from office, a super-majority of two-thirds is required.
Out of 100 Senators, 45 are Democrat, 53 are Republican and two are Independent... meaning there would need to be a huge swing away from the party line. On top of this, depending on the rules set for the trial by the Senate, any Senator could propose a motion to dismiss before it even goes to trial.
Nevertheless, Rep Tlaib said the process had to happen.
"It had to. He was too lawless," she said. "I mean, this is a man who doesn't say he got elected, he says he took over the country. You don't take over our country. You get elected and serve the people."
"I think most of my colleagues are very much united in trying to hold the president accountable," she added. "I mean, we're just trying to make him comply with the law."
No US President has ever been removed from office via impeachment. Of the three previous Presidents who faced it, two — Andrew Johnson in 1868 and Bill Clinton in 1999 — were acquitted by the Senate. Richard Nixon resigned in 1974 before it could get to that stage.
If Donald Trump is somehow removed from office, Vice-President Mike Pence would become Commander in Chief.