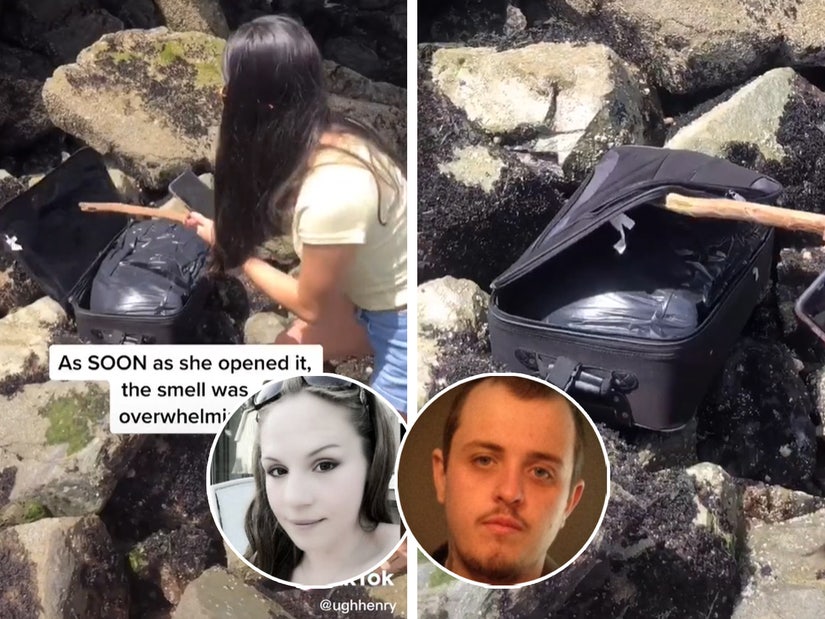 TikTok/GoFundMe
A group of teens filmed the moment they found the bodies washed up on a Seattle shore in June.
A 62-year-old man has been charged in the killing of a young Washington couple.
Michael Lee Dudley, who was the couple's landlord, was charged with two counts of second-degree murder.
The families of 36-year-old Jessica Lewis and her boyfriend of eight years Austin Wenner, 27, confirmed the couple had been renting a room in Dudley's home on Ambaum Boulevard in Burien.
An exact motive for the killing has not been confirmed, but prosecutors believe Dudley was angry with Wenner over unpaid rent and "for bringing potential criminal activity to the Ambaum home," according to the charging documents.
Family members told police that the couple had recently been attacked and beaten by a group of men who showed up at Dudley's home carrying guns.
An incredible statement from a witness claims she moved into Dudley's home on June 9 — the very day the medical examiner believes the couple were murdered.
She said as Dudley helped her move her belongings in, she noticed his glasses were broken and his face scratched.
She told police that after taking a shower, she opened the door to her new bedroom and saw "heaps of clothing" in the middle of the floor — and a hand sticking out from underneath.
She said Dudley told her later that night that he needed to "clean up the mess", and asked if he could take her somewhere else; as they were leaving, she saw him laying out large sheets of plastic in the basement.
When she asked him about it, he told her: "Let's put it this way, his gun misfired and mine didn't," the police report states.
Detectives finally obtained a search warrant, which was only served last week. In the room where the couple had been staying, they found bullet holes, spent casings and blood.
While they were searching the home, neighbors told them they had called 911 on June 9 after hearing gunfire and yelling.
Burien officers had responded that night, but "left the residence a short time later when nobody answered the door," the police report admits.
When questioned about his tenants' murder, Dudley denied any involvement, but "could not explain the bullets or the bullet holes."
He was arrested last Wednesday, charged on Monday, and is due to be arraigned on September 8.
original story 7/7/2020 12:42 pm
The family of the couple found dismembered and stuffed in suitcases are offering a reward to catch the killers.
A group of Seattle teens making a TikTok video filmed the moment they discovered the human remains last month.
User @ughhenry and his pals were using Randonautica scavenger hunt app on June 19, which led them to a stretch of shoreline, and a mysterious black suitcase which had washed up on the rocks.
The video shows one of the laughing teens making her way down the rocks; "We were joking that maybe the suitcase would have money," he wrote.
Two of the girls use sticks to open the case, to find two tightly packed black garbage bags crammed inside.
"As soon as she opened it, the smell was overwhelming," the poster continued.
Is there a serial killer on the loose in Seattle? A group of teenagers who were directed to a random spot on the shoreline by Pike Place Market via an app called Randonautica found a black suitcase filled with human remains. They uploaded the grisly find to TikTok. pic.twitter.com/qgbx2Eby0C

— Ian Miles Cheong (@stillgray) June 22, 2020 @stillgray
"Okay she's calling the police to see if its actually a dead body or just food," he can he heard saying in the video as his friend phones 911, opting not to unwrap the trash bags themselves.
"By this point we were getting a little scared and nervous," the caption reads.
The video then cuts to the teens driving away, as the area is cordoned off by several police and firefighters.
Seattle Police subsequently confirmed the suitcase contained dismembered human remains; they then located another other bag containing the same nearby.
The remains were later identified as Jessica Lewis, a 36-year-old mother of four, and her 27-year-old boyfriend, Austin Wenner.
According to police, Wenner died of a single gunshot, while Lewis was shot multiple times. They were then chopped up and dumped in the suitcases.
Police later confirmed they do not believe the teens were involved in the murders in any way, nor that the video was staged.
No arrests have yet been made; on Monday the victims' family launched a GoFundMe, hoping to raise a $10k reward for help in finding the murderers.
"Somebody knows something," Lewis's aunt Gina Jaschke told King5.
"Whether it's out of their heart they turn somebody in, or out of the cash, it doesn't matter as long as somebody is held accountable for this."
Randonautica is a popular new app among TikTok users; marketed as "the world's first quantumly generated Choose Your Own Adventure reality game," it gives users sets of co-ordinates to visit.
Users also have to "set an intention" before they begin — for example, something they want to encounter on their trek — with other documented creepy results.