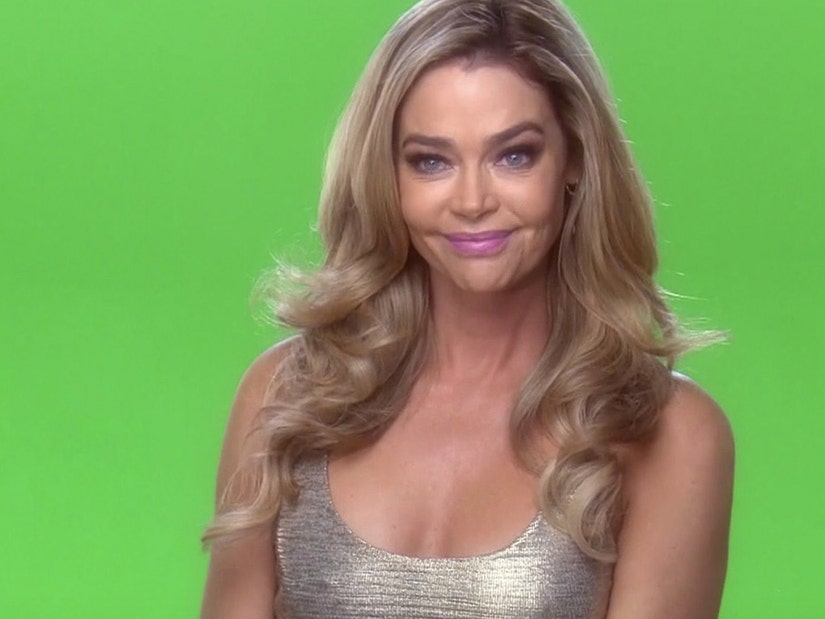 Bravo
The Wild Things star is exiting the show amid Brandi Glanville drama after two seasons.
After news broke of Denise Richards' departure, some of her now-former co-stars on "The Real Housewives of Beverly Hills" have started weighing in. And there clearly isn't much love lost between Richards and some of the ladies.
Erika Jayne kept her response down to one word, with a delightfully unexpected "Small Wonder" meme tossed in to add emphasis to her, "Bye."
Brandi Glanville seemed to allude to the timing of Richards' announcement, coming as it did as the "RHOBH" reunion was dropping on Bravo. "The word of the night is calculated timing," she tweeted. "Are you f--king kidding me?"
She also added in an earlier tweet that she was devastated that she had filmed Wednesday's episode of "Watch What Happens Live" on Tuesday, meaning it was less than live and she wasn't able to respond to Richards' reunion claims against her -- like saying she was harassing her with "inappropriate" messages and slept with another member of the cast -- or her departure announcement.
Richards did find a little support from Bethenny Frankel, even as she admitted she hadn't watched the show at all this season. "I have just read about it & I'm happy Denise will find her privacy again."
This tweet came just seven minutes after an earlier tweet (before the announcement broke) where Frankel said of the overall drama involving Richards, "In the words of the wise prophet @CarolineManzo "if you hang out with trash you start to smell like garbage." To this, Manzo offered a simple winky-face emoji and a retweet.
I am not. I don't know her. I met her once & she was fun & sweet. I literally haven't seen this show this year. Like you I have been in pandemic land raising my daughter. I have just read about it & I'm happy Denise will find her privacy again. https://t.co/pmtK5MQUM4

— Bethenny Frankel (@Bethenny) September 9, 2020 @Bethenny
ORIGINAL STORY 9/9/2020 4:30 PM
A rep for the actress confirmed her exit to Variety, though no other details or statement were released at this time. Bravo had no comment.
Richards joined the show in 2018, ahead of the show's ninth season. It was a mostly-fun ride her first season, which saw Denise marry husband Aaron Phypers ... and get incredibly candid about their sex life with her costars.
When she returned for Season 10, however, things were a little different between her and the other women. Though it was clear they weren't all getting along, everything really blew up when Brandi Glanville showed up with some claims of her own -- saying, on camera, they had sex.
According to Glanville, she was under the impression Denise and Aaron had an arrangement, where she could have sex with other women. After they allegedly hooked up, however, she said Denise told her she couldn't tell anyone and Aaron would "kill her" if he found out. That made Glanville, who has been cheated on in the past, feel like a home-wrecker. She also claimed Denise said nasty things bout both Erika Jayne and Teddi Mellencamp-Arroyave behind their backs.
The claims led to many a showdown between Denise and the other women, with Richards walking out of dinners and throwing cease and desists at production.
She has repeatedly denied anything went down between her and Denise and maintains they "barely" know each other -- something which has continued to play out on the reunions.
Part 2 of the reunion airs Wednesday on Bravo, with the final installment airing next week.